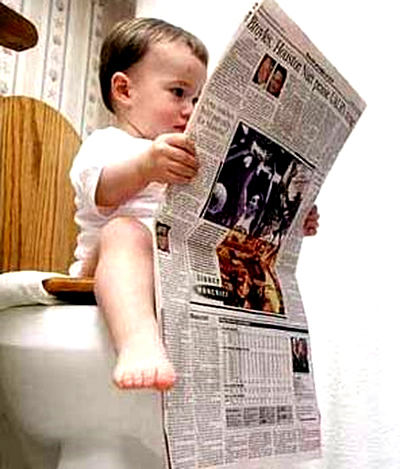 Rain and more rain this early Sunday along California's north coast, all part of a giant and nasty storm system now slapping hard at the US Pacific Northwest.
Sucking up water from former Typhoon Pabuk's moisture, the storm stalled over the Gulf of Alaska in order to build power and then swept into Washington and Oregon last night — this should be the wettest September for Seattle since 1978. And with high winds, too.
Meteorologist Josh Smith with the National Weather Service in Seattle went out on a limb: "The leaves are literally going to be blown off the trees."
Yeah.
Surfing the news, there seems to be storms everywhere, most a by-product of nature, others are created by human assholes, or those with anus-like faces.
(Illustration found here).
This particular rain, though. is warm. According to the AccuWeather link above, temperatures in the northwest seem to be staying in the warmish mid-60 degree range. Out back just now smoking a cigarette, and it feels damp, of course, but way-comfortable for the North Coast.
This is the Seattle region's second big storm this weekend, and with the first one Friday, we only caught the menacing outer rings of just dark clouds and high winds — no rain until yesterday.
Meanwhile, far east of us and our weather, we journey to the land of the before-mentioned peoples of the anus face — Washington, DC. By the way, this august group avoided becoming involved with a major storm system this weekend, supposedly a kind of big one swooping in from the Atlantic, which now will turn nasty out over the ocean, where: Effects from the storm on the U.S. will be minimal.
Any violent disturbance, however, whipped up by an anus face, or those shoulder-bearing assholes, will always by nature create an event of sometimes-way-major effect — this storm could be ugly.
This morning (via HuffPost):
The House voted early Sunday morning to pass a new continuing resolution, 231 to 192, which would fund the government thru Dec. 15.
The plan, which emerged on Saturday, would also impose a one-year delay of Obamacare and a full repeal of the law's tax on medical devices.
"The House has again passed a plan that reflects the American people's desire to keep the government running and stop the president's health care law," House Speaker John Boehner (R-Ohio) said in a statement, adding, "Now that the House has again acted, it's up to the Senate to pass this bill without delay to stop a government shutdown."
…
Another Republican, Rep. Darrell Issa of California, reacted angrily when asked whether he would eventually support a standalone spending bill if needed to prevent a shutdown.
"How dare you presume a failure? How dare you? How dare you?" he said.
A pure example of a shoulder-bearing asshole, though, Issa can be dared.
Life hinges on the Affordable Care Act — on Friday, House GOPers rejected a Senate bill funding government through Nov. 15 because it didn't contain that way-important defund-a-nation (such a word?) of Obamacare. So hence, the House bill this morning, attached with a clause not exactly defunding the ACA, just putting off implementing it for a year.
Yeah.
Politics on the right-sided brain is gone off the charts — i.e. Ted Cruz.
John Dickerson at Slate:
They don't keep Senate records about this kind of thing, but it's likely that no senator has created as many enemies in his party in as short a time as the junior senator from Texas.
Sen. Cruz hasn't been content to stop there.
After angering his fellow GOP senators for days, he capped the week off by making fewer friends in the House.
As Robert Costa of the National Review first reported, just as House Speaker John Boehner was cobbling together support for a measure to fund the government, Cruz advised Tea Party conservatives not to support him and they took his advice.
This entire shebang is really surreal even for longtime-crazy American politics. A hardcore, and full-hypocrite, political fringe, i.e., again, the Tea Party batshit-crazy crowd is doing great damage to this country, and from all indications, really don't give a shit.
And they can't grasp the irony of Green Eggs and Ham!
A small slice of Americans carries a big-ass mouth — although membership in the Tea Party has dwindled within the GOP, 38 percent now, compared to 65 percent in November 2010, the curse of the brand continues: While the tea party label isn't as big a force in American politics, polling has suggested that its ideals — particularly its anti-establishment attitude, including toward the national GOP — remain as strong as ever — and this makes itself heard over the din of other bullshit.
And allows a bunch of Tea Baggers to apparently shut down the government — mainly because apparently they own the US House of Representatives.
Yet, in a new Gallup poll, only 22 percent of Americans claim Tea Party membership, well-down from a 32 percent high three years ago — and from the same survey: Fully half of Americans, 51 percent, currently say they are neither a supporter nor an opponent of the Tea Party, or they have no opinion about it.
So more than half of us either don't give a shit, or are ignorant dumb-asses.
And a crowd whose origins are in big tobacco, now have the power to shut down the government.
And twist the narrative along the way:
"If we have a shutdown, it will be because Harry Reid holds that absolutist position and essentially holds the American people hostage," the Texas Republican said on NBC's "Meet the Press."
"He says, 'I'm not willing to compromise, I'm not willing to even talk. His position is 100 percent of Obamacare must be funded in all instances. Other than that, he's going to shut the government down."
Depends on how dumb are Americans. The last government shutdown — five-days in November 1995, followed by a 28-day gap in December and January 1996 — did some damage, but the big, humongous difference between then and now is 17 years ago the shutdown interrupted a strong expansion that was then developing, whereas nowadays the economy is as fragile as an egg.
Maybe how tasty in reality some green eggs with a side of ham: And I will eat them here and there. Say! I will eat them anywhere! I do so like green eggs and ham! Thank you! Thank you, Sam-I-Am.
Or a dump stool passing in bowel-wrenching agony.