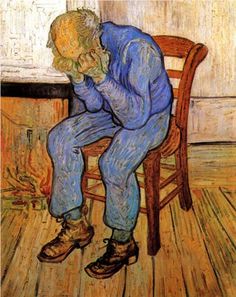 Clear and cold this early Friday on California's north coast with icy rain due sometime later today in a frigid start-up to the weekend.
Cold here, cold everywhere, especially across Texas and most of the US Midwest — Dallas Home Depot Manager James McGilberry: "It's almost like a Black Friday, but I guess we'll call it an Ice Friday."
Cute and right-on.
Beyond the cold weather this morning, the overwhelming news is the death of Nelson Mandela, the freedom-fighting icon from South Africa — tributes are showing up all over and at least in this particular one all the sorrow and hype is way-more than justified.
The greats are few and way-far between.
(Illustration: Vincent van Gogh's 'Old Man in Sorrow (On the Threshold of Eternity)' found here).
The Bay Area has always been a force for the anti-apartheid movement and shared a connection with Mandela.
From the San Francisco Chronicle:
In 1986, California became the largest government in the U.S. to require divestment of South Africa-related investments — $11 billion at the time. Deukmejian endorsed the move.
"In apartheid, we saw the epitome of evil," said Pedro Noguera, who was UC Berkeley's student body president in 1985, leading protests and being arrested at anti-apartheid demonstrations on campus.
Now a professor of education at New York University, Noguera said, "People who are for progressive causes are often used to losing. But they can point to this one and say, 'We won.'
"Mandela was more of a mythic figure at that point," Noguera said. "He was more of an inspirational symbol to us."
…
"Part of (the connection) was that the United States also was dealing with its issues of racism," said Wilson Riles Jr., who was a member of the Oakland City Council when it divested its South African-related holdings in the mid-1980s.
Riles said his lasting memory of Mandela will be how he walked out of prison in 1990, "head held high, back straight, and with his values intact."
Incredible to spend nearly three decades in prison, then come forth with a resounding freedom call.
Not everyone feels that way.
Like this from 13 years ago in the middle of a despairing presidential race:
When Rep. Dick Cheney voted against a 1986 resolution calling for the release of Nelson Mandela and recognition of the African National Congress, Americans did know this man had been waiting decades for his freedom.
In a larger sense, so had all black South Africans. The tenets of American democracy—one man, one vote—were denied to the majority of citizens, along with the most basic economic and educational needs.
Yet Republican vice presidential candidate Cheney still defends his vote, saying on ABC's "This Week" that "the ANC was then viewed as a terrorist organization. … I don't have any problems at all with the vote I cast 20 years ago."
What, then, does this tell us about what information Cheney considers before he takes a decision? And what the long-term consequences are likely to be, and on whom?
…
Dick Cheney has had to make life-and-death choices of his own.
His handlers are burnishing his star in large part based on his role in the Gulf War, a conflict that took on an elephant-and-flea aspect as American tanks rolled over fleeing Iraqi soldiers.
Now, in the most American of parlays, Cheney has come back, briefcase in hand, to help Iraqi oil interests rebuild. Both partisan allies and veteran journalists call him a civil man, an intelligent man.
But while people deride knee-jerk liberalism, there is such a thing as knee-jerk conservatism, as well, as evidenced by the laundry list of Cheney votes on issues from armor-piercing bullets to voting to cut funding for Head Start.
The Dick was a dick even as a younger asshole.
Even Mandela was concerned about the shithead:
He's very blunt about it he says one of the many reasons why he fears Dick Cheney's power in the United States, and Mandela does say, he understands that Cheney is effectively the President of the United States, he says, one of the many reasons that he fears Dick Cheney's power is that in the late 1980's when even prominent Republicans like Jack Kemp and Newt Gingrich were acknowledging the crime of Apartheid, Dick Cheney maintained the lie that the ANC was a terrorist organization and a fantasy that Nelson Mandela was a terrorist leader who deserved to be in jail.
Frankly it begs very powerful question.
If Dick Cheney's judgment was that bad in the late 1980's, why would we believe that it's gotten any better in the early 21st century?
However, there's one consolation — it's Friday!
Weekend now only hours away.
Ice or no ice.