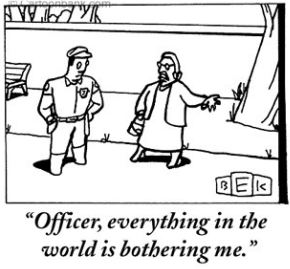 Overcast, foggy and damp this early Wednesday on California's north coast, and although there's moisture in the air, it ain't rain.
Or what we want to be considered rain — yesterday afternoon, last night, at tops, nothing more than sprinkles.
Which will make life a little tougher.
Forest fires: "It's unprecedented for us to do this in January," said Battalion Chief Mike Giannini, whose Marin County Fire Department is one of the first to be called upon to send aid north.
Drought has become the "new normal" for these parts.
(Illustration found here).
Up here in Humboldt County, we've just 28 percent of our seasonal rain average, and to the east, Redding, at the northern end of the Sacramento Valley, has received only 23 percent of normal for early January.
Just 20 miles east of where I'm located, in just three days, the so-called Red Fire has burned more than 300 acres and is about 70 percent contained — fires already this early doesn't look too good for the rest of the year.
California has now seen three drought years in a row, and no end in sight.
In other California news, we're Left Coast in all brain scans — take this, you asshole NSA:
The bipartisan bill introduced Tuesday at the state capitol would deny access to power and water from public utilities to NSA facilities in California.
It would also slap sanctions on companies that try to fill that void, and would outlaw NSA partnerships with state universities.
But that's not all.
"The bill bans California agencies and officials from cooperating with the NSA when they seize electronic or meta data on our citizens, unless NSA can produce a specific warrant," Lieu said.
President Obama is supposed to bring forth a "pretty definitive statement" this month on the situation with the NSA, but where that lands is anybody's guess — "pretty" as in attractive, or "pretty" as somewhat near a statement.
And Obama, it seems, can't get any kind of break. Now it's former DOD honcho and longtime GOP ass-kisser, Bullet Bob Gates, who in a book takes some swings at the president.
Via CNN:
Gates' comments come in his memoir "Duty: Memoirs of a Secretary at War," set to be released next week.
The New York Times and the Washington Post, which obtained copies of the book before its release, reported that Gates questioned the President's support for the troops' mission in Iraq.
According to the New York Times account, Gates writes, "[Obama] eventually lost faith in the troop increase he ordered in Afghanistan, his doubts fed by top White House civilian advisers opposed to the strategy, who continually brought him negative news reports suggesting it was failing."
…
According to the New York Times account, Gates writes of a pivotal 2011 meeting in which Obama questions the abilities of Gen. David H. Petraeus.
"As I sat there, I thought: The president doesn't trust his commander, can't stand Karzai, doesn't believe in his own strategy and doesn't consider the war to be his…For him, it's all about getting out," Gates writes, according to the Times.
No shit, Bob, get the fuck out! And from another DC dufus Bob, Woodward, at the Washington Post, in a review of Gates bullshit:
Gates wanted to quit at the end of 2010 but agreed to stay at Obama's urging, finally leaving in mid-2011.
He later joined a consulting firm with two of Bush's closest foreign policy advisers — former secretary of state Condoleezza Rice and Stephen Hadley, the national security adviser during Bush's second term.
The firm is called RiceHadleyGates.
In October, he became president-elect of the Boy Scouts of America.
Gates writes, "I did not enjoy being secretary of defense," or as he e-mailed one friend while still serving, "People have no idea how much I detest this job."
No wonder the US is in such a dire straight — assholes flock together and fuck shit up together.
And in the mundane, as manager of a liquor store, I plea guilty, indirectly:
At least 38 million adults drink too much and most are not alcoholics, according to a new report from Atlanta-based Centers for Disease Control and Prevention.
Drinking too much includes binge drinking, high weekly use, and any alcohol use by pregnant women or those under age 21.
The CDC describes binge drinking as men drinking five or more alcoholic drinks or women drinking four or more, in about two to three hours.
Such drinking causes about 88,000 deaths in the United States each year, and costs the economy about $224 billion annually, the CDC reports.
Despite the wide use of alcohol, only one in six people has talked with their doctor or other health professional about alcohol use, the CDC adds.
But, yet: The poll results also indicate that Americans see marijuana as the least threatening in a range of substances, including already legal ones. Almost 75 percent of Americans say marijuana is less dangerous than alcohol and nearly two-thirds of respondents say that tobacco is more harmful.
A bowl every two hours, and don't call me in the morning.