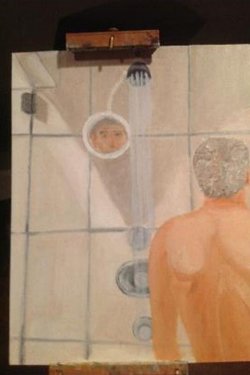 Clear and more on the warm side this early Thursday on California's north coast, and from here, the weekend is just hours away.
Or words to that effect.
Despite another double-tornado incident, this time in North Dakota, or a major-league no-hitter, the unfolding horror of Iraq continues to dominate the news cycle — and as it should. Now President Obama wants Iraqi Prime Minister Nouri al-Maliki to get the shit out of Dodge, or in this case, fuckin' Baghdad, or get no US help in halting a national collapse.
A small sliver of light for the prime minister: Mr Maliki's best chance of staving off calls for his departure is that the threat to Baghdad will get so severe that Washington and Tehran will have to give support even if he stays.
A nightmare created and fertilized by Americans.
(Illustration: George Jr. introspects himself, found here).
And this unpleasant dream, however, ain't no fantasy hallucination. The whole scheme was woven out of whole cloth by the little weasel-shit shown right above washing his insane ass in the shower — George Jr. and his crowd should at the way-minimum be in jail cells, or on their way to a hangman's noose.
Including one of world history's greatest assholes — The Dick Cheney.
Yesterday, The Dick, and the Dick's Delightful Daughter, Liz, popped out an editorial in the Wall Street Journal just lambasting Obama for screwing-up Iraq, and without a clue/hint/taste of history and self-awareness: "Rarely has a U.S. president been so wrong about so much at the expense of so many…He seems blithely unaware, or indifferent to the fact, that a resurgent al Qaeda presents a clear and present danger to the United States of America."
And Obama press secretary, Jay Carney, responded most accordingly: "Which president was he talking about?" he deadpanned at his final White House briefing. "It's always good to hear from former Vice President Dick Cheney," he added.
The trouble with this entire scenario, however, is Obama.
Glenn Greenwald, in his Guardian days, explained why US history has a tortured-Iraqi gap in its reality:
To see what a farce this is, it is worthwhile briefly to review the timeline of how Obama officials acted to shield Bush torturers from all accountability.
During his 2008 campaign for president, Obama repeatedly vowed that, while he opposed "partisan witch-hunts", he would instruct his attorney general to "immediately review" the evidence of criminality in these torture programs because "nobody is above the law."
Yet, almost immediately after winning the 2008 election, Obama, before he was even inaugurated, made clear that he was opposed to any such investigations, citing what he called "a belief that we need to look forward as opposed to looking backwards".
Throughout the first several months of his presidency, his top political aides, such as the chief of staff, Rahm Emanuel, and his press secretary, Robert Gibbs, publicly — and inappropriately — pressured the justice department to refrain from any criminal investigations. Over and over, they repeated the Orwellian mantra that such investigations were objectionable because "we must look forward, not backward".
As Gibbs put it in April 2009, when asked to explain Obama's opposition, "the president is focused on looking forward. That's why."
On 16 April 2009, Obama himself took the first step in formalizing the full-scale immunity he intended to bestow on all government officials involved even in the most heinous and lethal torture.
On that date, he decreed absolute immunity for any official involved in torture provided that it comported with the permission slips produced by Bush department of justice (DOJ) lawyers which authorized certain techniques.
"This is a time for reflection, not retribution," the new president so movingly observed in his statement announcing this immunity.
…
Far worse, though, is that Obama officials have bolstered the warped precept at the root of so many of America's disasters: that crimes committed by and at the behest of the powerful reside above and beyond the rule of law.
In so doing, they have ensured that Bush officials who authorized torture continue to command mainstream respectability, while future leaders tempted to torture again have no reason whatsoever to refrain from doing so.
If we'd had a real, decent look at George Jr.'s clown-house of assholes, maybe the US and the whole world wouldn't be taking a shower in shit right now.