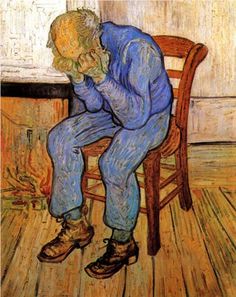 Near-crystal-clear this early Friday on California's north coast with a jagged half-moon rising late in the far eastern sky. And the sun should come up like cold thunder in a couple of hours.
But it's Friday!
On the eve of summer — officially starts tomorrow at 6:51 AM EDT — life in its manifest bullshit seems to be gathering steam all over the place with no escape from the calamity a-coming.
Beyond the pressure-cooker caldron of Iraq, events seem to be spiraling not only out of control, but in a strange, and kind of bizarre direction, a path not fun.
George Carlin said it years and years ago: "I wanna live. I don't wanna die. That's the whole meaning of life: Not dying! I figured that shit out by myself in the third grade."
(Illustration: Vincent van Gogh's 'Old Man in Sorrow (On the Threshold of Eternity)' found here).
The problem being we're all pass the third grade in some form or another — dying is now the end result. Or at least, in some abstract configuration coming in the mode of retirement.
I'm 65, and about six weeks ago, applied for Social Security — takes two of three months for the process to play itself out, and I'm supposed to actually, physically, retire at the end of this summer, or maybe sooner. The problem is I should have done this whole shebang six months ago and I wouldn't be going through this right now.
And, the 'this' is a depressed, sad, sense of futile thought.
Sunday will mark seven years I've worked at the liquor store I now manage — the way-longest I've worked anywhere since I started employment in the summer of 1965 with my very-first job at Avis-Rent-A-Car (car washer), even longer than my term with the USAF, but that was mandatory — and up until very recently, an enjoyable place.
Now, I'm fairly sick of it, and way-sick of even the thought of going to work this morning — a starting pitcher retired in the fifth inning — and as one of those hard-charging, hard-working baby boomer, I'm more than sick of punching a clock.
Retirement and stop working are two totally different things.
From MarketWatch this morning:
Whatever the motivation, it's clear that the old model of retirement — days of decline and disengagement, a period of withdrawal and mass leisure — is thankfully on its way to being retired, as our goals and values change with the times.
Research from the Transamerica Center for Retirement Studies found that two-thirds baby boomers plan to work past age 65 or not to retire at all.
And as the world moves toward its largest-ever population of older citizens, both scientific and financial opportunity offer an encouraging new path.
Working longer offers significant health benefits.
Research shows that older people who remain mentally and physically active give themselves an immeasurable gift.
Those who work and are active are less likely to develop diseases associated with aging.
They have a greater possibility of living longer lives, mostly free from disability.
In fact, people who extend their years in the work world, whether for pay or volunteer activities, are more satisfied with life and have better mental well-being, less depression and higher cognitive performance, according to research.
One study found that as few as 100 hours a year of work helps protect older people against poor health and early death.
What kind of work?
Engaging, enjoyable and purposeful work.
That should be the goal.
Studies suggest that life satisfaction and quality of life are enhanced when people's work fits with their priorities and preferences.
'Work' is not "Engaging, enjoyable and purposeful," or it wouldn't be called work. I.e., work: a job or activity that you do regularly especially in order to earn money.
And if you are sick of it? Even if it's a new job?
Jump:
But if you're truly miserable, begin your search again immediately. You could think of your predicament one of two ways, Moore says. "One way is from a résumé and LinkedIn perspective, where oh my gosh, it's obvious you only worked a job for nine months," she says.
"The second way is to remember this is your life and your time on the planet.
"You shouldn't spend too much time doing something that simply isn't working for you." ??
And if nothing seems to be working, then scream and retire — do what you want. In my case, try and sell the novel that's been finished and ready-to-go for more than a decade, or longer.
Or sleep maybe until sun-up for a change.
I'm sick of this shit…