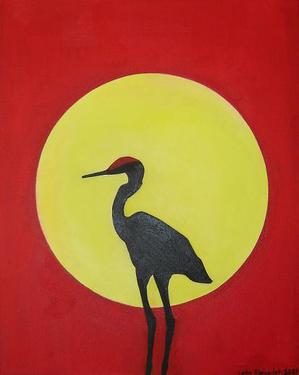 Foggy again this early Thursday on California's north coast, but supposedly we're into a nice stretch of weather, especially with the big holiday tomorrow.
Although just a mile or so inland temperatures are expected to be in triple digits the next few days, for us here on the shoreline, it will be in the balmy 60s and 70s — firework conditions.
Meanwhile, the July 4 celebrations on the East Coast will be minimum at best with Tropical Storm Arthur now considered a Category 1 hurricane with winds up to 75 mph — Gov. Pat McCrory of North Carolina on Arthur's treacherous ways: "Don't put your stupid hat on," he said, as he urged surfers and swimmers not to get in the water regardless of how good the waves might be. "Our major goal is to ensure that no lives are lost during this upcoming storm."
(Illustration found here).
An interesting take on our Independence Day goings-on comes from Emma Brockes at the Guardian this morning — Americans and Brits celebrate their countries the same, and completely different.
Some highlights:
But this is how the Americans do their patriotism: There are these small baskets at the cash registers in regional airports, accompanied by a sign urging travelers to purchase and deposit items for the US military – M&Ms, a tube of Arm & Hammer toothpaste, a copy of Men's Health magazine.
Once at the gate, military personnel are invited to board first and other passengers, led by cabin crew, invariably give them a round of applause.
Just last week, the actress Amy Adams was showered with praise for giving up her first-class seat to a soldier seated in coach.
If someone ever tried to give up her seat for a squaddie in Britain, my hunch is it would be met with bafflement all around.
Indeed, the only time you see anything like that American jingoistic spirit in Britain is when an opportunity presents itself to get a rise out of Germany.
But Americans on Independence Day are far more good-natured, and in any case, anti-German sentiment is not so much about defining who we are as Britons as jeering at who we're not.
And we – British expats and allies – are emphatically not Americans, nor do we really want to be for more than 90 minutes and maybe some extra time.
One of the most visible differences between the two sensibilities is the way in which Americans love loving America, with all the accessories that entails, in contrast to British default nationalism; arrogant sheepishness doesn't really lend itself to props.
So fire up that nutcracker, dude.