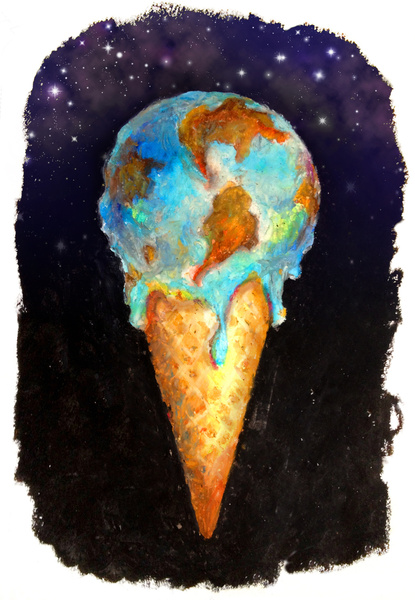 Bright and breezy this late afternoon as the day is slowly falling-darkly away.
Those gosh-awful midterms last week should have been called the 'apathetic election' as it had  the worst turnout in 72 years — just 36.3 percent of eligible voters went to the polls.
Up here in Humboldt County we followed suit — just 39.06 percent of qualified voters took the time to vote. (Lost Coast Outpost has a good piece on the numbers).
Apathy will soon be replaced with WTF! Political-life vs flesh-life (Via USAToday): 'Sen. Mary Landrieu, D-La., with the backing of like-minded Democrats, helped secure an agreement for a vote next Tuesday on legislation that would immediately authorize TransCanada to build the Keystone XL pipeline…"I've stood against my leadership when I've had to, and this is one of those times," Landrieu said.'
(Illustration above found here).
She's about to lose her senatorial ass in Louisiana to GOP House nit-twit, Bill Cassidy, who's after her job. Voters down there so didn't give a shit, these two clowns are now in a run-off next month. Landrieu shows politics/gender don't hinder an asshole. Today, in a way-obvious, fawning ploy, sided with Republicans on the dumb-ass, obviously-real-shitty for the environment piece of legislation to authorize construction of Keystone XL tar-sands oil pipeline, which if completed, as noted by climate guy, James Hansen, would spark the "fuse to the biggest carbon bomb on the planet," and then sooner/later, "game over."
And she's slated to lose her ass, anyway.
And in other lame, though most-horrible, climate news was the announcement last night in Beijing, China, of a 'broad-ranging package of plans to fight climate change,' between the US and China. The big news came after President Obama met with Chinese President Xi Jinping.
From Mother Jones:
This is the first time such a policy has come from the very top, President Xi Jinping.
Previously, the first and only mention of "peaking" came from Vice Premier Zhang Gaoli at the UN climate talks in New York in September.
"This is clearly a sign of the seriousness and the importance the Chinese government is giving to this issue," said Barbara Finamore, Asia director for the Natural Resources Defense Council, the environmental advocacy group, in an interview from Hong Kong.
"The relationship [between the US and China] is tricky, but climate has been one of the areas where the two sides can and are finding common ground."
Yet in America that ground has become blighted Landrieu-like — although the agreements might end up being more style than substance, the news is at least a good show of positive — but the big problem is US home grown.
Via CNN:
Senate Minority Leader Mitch McConnell, House Speaker John Boehner and Sen. Jim Inhofe, who is expected to chair the Senate Environment and Public Works Committee, slammed the agreement in statements released shortly after the deal was announced Wednesday.
"I read the agreement – requires the Chinese to do nothing at all for 16 years while these carbon emission regulations are creating havoc in my state and other states around the country," McConnell, who hails from the coal state of Kentucky, said on Capitol Hill.
…
Boehner called the deal another example of Obama's "job-crushing policies."
"And it is the latest example of the president's crusade against affordable, reliable energy that is already hurting jobs and squeezing middle-class families," Boehner said in a statement Wednesday.
Inhofe criticized the deal as unfair and knocked the Chinese pledge to produce 20 percent of its energy from zero-emission sources as "hollow and not believeable."
"The United States will be required to more steeply reduce our carbon emissions while China won't have to reduce anything," Inhofe said.
According to exit polls from last week's midterm elections, more than half of voters (57percent) considered climate change or global warming a serious problem, compared to 41 percent who disagreed.
Breaking the numbers down by party, 70 percent of Democrats said it was a serious problem, while only 29 percent of Republicans felt the same way.
The China/US climate thingy even its face, and most-likely, too-little, too-late, is at least a somewhat move in some decent direction. From Climate Progress and climate scientist Michael Mann: "My take is that this is an historic agreement for a number of reasons, not the least of which is that we now have a good faith effort on the part of the planet's two leading carbon emitters to work together to lower planet-warming greenhouse gas emissions."
Now on to the apathetic polar vortex…
(Illustration out front found here).