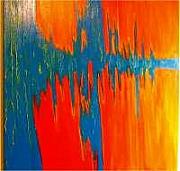 Partly cloudy and still this Wednesday afternoon on California's north coast — enough sunshine, though, to maybe make it also more-than partly sunny.
Despite my first sense earlier this afternoon while attempting to catch a nap, I dozed off to sleep — that initial reaction came from a weird feeling, and a perception of earthquake. I remember hearing some neighbor kid yell something about the same time as I nestled down under my coverlets.
Should have gone with my gut, earthquake-fearing instinct.
(Illustration: 'Earthquake,' by Jakara Art, found here).
So just now, during routine check of the Lost Coast Outpost, and sure enough — a 5.7 earthquake down in Ferndale, about 47 miles southwest of where I had been floating, innocent-like off to sleep. Two decent-sized aftershocks, too, one at 3.3, and the other, a 2.6 on the Richter scale, along with seven others so far, most pretty low in size, and the last an hour ago at 1.8.
The big one was pretty-near the surface, too, according to the USGS, only about 10.5 miles deep. And from the USGS map, seemingly the big aftershocks were located northeast from the site, on land underneath Eureka.
I don't like the looks of that shit. This is our second biggie this month — a 5.1 early New Year's Day, and 2015 gets off to a shifting start.
In the comments section of the Outpost story, there's a couple from my town, Mckinleyville, one claimed they felt it, the other didn't — and then there was me, who felt it, but was too complacent to join that kid and start screaming, or whatever.
Ain't I ever gonna learn?