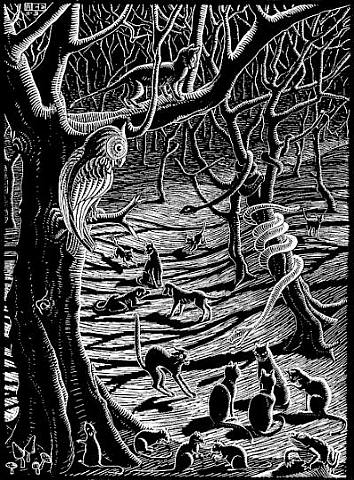 Clear-looking to the east this early Friday on California's north coast, and a bright sun-up if the fog don't get here first — chilly a bit now, though, supposedly we could see/feel 70-degrees today.
Unlikely to happen, as this afternoon's wind-chill factor will keep any soothing warmth out of the air.
Although we're a few minutes to official sunrise, it's been light for about an hour or so, and this little period a 'peak-early-light' time — don't seem to last long, though, a few weeks maybe, and soon back to 'darker-longer' in the mornings. (A lament of an way-too-early riser).
Also coming to light, nefarious industrial incompetence in that Santa Barbara oil spill a couple of weeks ago — yesterday, California Attorney General Kamala Harris remarked via legal-drama: '"We're going to go where the evidence takes us."'
(Illustration: M.C Escher's 'Scholastica,' found here).
And with a political stance, too, Harris rolled along — from the LA Times yesterday afternoon:
Harris' office is conducting criminal and civil investigations of the oil spill and its aftermath.
She visited the cleanup command center Thursday, meeting with officials from more than a dozen federal, state and local government agencies.
…
Harris' tightly choreographed visit came as she runs for U.S. Senate and had all the trappings of a campaign event.
For decades, candidates have used Santa Barbara County's scenic coastline as a backdrop to highlight their dedication to protecting California's environment.
Harris' aides barred the media from most of her tour, allowing her to be photographed only from a roped-in area at Refugio State Beach, with the turquoise ocean behind her.
The visit was the latest of many displays of how Harris' state duties dovetail with her political needs for the June 2016 Senate primary.
Too bad, too. And insane considering the spewing of more than 100,000 gallons of crude onto a nine-mile stretch of used-to-be pristine beaches and the clean-up continues, and considering this story via Southern California Public Radio:
Two weeks before an oil pipeline rupture spilled over 100,000 gallons of crude on the Santa Barbara coast, a test was run that would reveal serious wear in that stretch of corroded pipe.
Preliminary results showing the pipe lost nearly half the metal near the break vastly underestimated just how thin the pipe had become.
Federal regulators said Wednesday that examination indicated more than 80 percent of the pipe had worn down.
The new finding does not pinpoint the cause of the May 19 rupture, but it exposes possible short-comings with the technology used to gauge pipe reliability and with those who analyze the results.
…
Whether a more accurate test could have prevented the spill seems unlikely because Plains All American Pipeline, which operates the pipe, said it had not received the results at the time of the spill. It typically takes several weeks to analyze data from high-tech instruments that can gauge the thickness of pipe walls, detect cracks and measure internal and external corrosion.
The instrument known as a smart pig, however, has limits.
"The smart pig term is an oxymoron," said Robert Bea, civil engineering professor emeritus at the University of California, Berkeley, who has worked three decades with the pipeline industry.
"As you may guess, the primary weaknesses show up in the human interpretation. They're only as smart as the people who are interpreting the signals."
…
Federal regulators said Wednesday that the current levels for the system "appeared to be adequate."
However, the agency also said corrosion "would not be expected" with the system running at that level, posing another riddle.
The report noted that the area that failed was close to three repairs made because of corrosion found in 2012 inspections.
It also said the smart pig tests revealed that three other sections of pipe had extensive corrosion with metal loss ranging from 54 percent to 74 percent.
"Those devices are not 100 percent," said Don Deaver, a former Exxon pipeline engineer who now works as a consultant and expert witness, primarily for plaintiffs.
"When you have an area where you have a lot of corrosion, the error in those smart pigs goes up dramatically."
Dumb-ass from all directions. The pipeline company knew that particular pipe section was dangerous — from Wednesday's Guardian: 'The agency said investigators found corrosion at the break site had degraded the pipe wall thickness to about 1.5mm (one-16th of an inch). The report also said the area of the pipeline that failed was close to three repairs that had been made because of corrosion after 2012 inspections.'
Pigs…and tar balls…