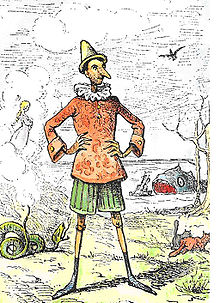 American history is fairly warped, recognition only to the beholder.
A sad footnote most-likely way-buried amongst the news cycle — from the Washington Post:
Tyler S. Drumheller, a high-level CIA officer who publicly battled agency leaders over one of the most outlandish claims in the U.S. case for war with Iraq, died Aug. 2 at a hospital in Fairfax County. He was 63.
…
But he was best known publicly for his role in exposing the extent to which a key part of the administration's case for war with Iraq had been built on the claims of an Iraqi defector and serial fabricator with the fitting code name "Curveball."
(Illustration: 'Pinocchio,' by Enrico Mazzanti, found here).
Of course, if you're aware of warped Americana, "Curveball" was 32-year-old Rafid Ahmed Alwan, a supposedly chemical engineer in Saddam's Iraq, who gave George W and The Dick, and a whole host of incompetent assholes, a bogus, total-con-job big-big reason to invade Iraq — yet so Iraqi-bloodthirsty was the Bush Administration, "Curveball," was apparently just easy evidence..
Drumheller interviewed by Bob Simon on CBS' 60 Minutes in November 2007: 'Asked how important Curve Ball was in taking us to war in Iraq, Drumheller tells Simon, "If they had not had Curve Ball they would have probably found something else. 'Cause there was a great determination to do it. But going to war in Iraq, under the circumstances we did, Curve Ball was the absolutely essential case."'
Read the whole 60 Minutes feature — peels back the nasty, lying onion.
Continuing from the Post obit:
Mr. Drumheller later came forward to say that he had learned early on that German authorities had grave doubts about Curveball's credibility.
In his book "On the Brink" (2006), written with Elaine Monaghan, he recounted the Curveball debacle in detail, noting that his German counterpart had cautioned that Curveball "could be a fabricator. He's a very erratic character."
Mr. Drumheller said he relayed that warning to top CIA officials, and even attempted to strike the language on mobile labs from an early draft of Powell's speech, only to be stunned to learn that the text was subsequently restored.
In "On the Brink," Mr. Drum-heller described feeling his "heart sinking" as he watched Powell's speech.
…
"We had failed," he wrote.
"It was bad enough that we had not prevented the Sept. 11 attacks and we were being blamed for that.
"Now the nation was about to embark on a war based on intelligence I knew was false, and we would surely be blamed for that, too."
A scathing 2005 report on the intelligence failures in Iraq did not mention Mr. Drumheller by name but concluded that officials in the agency's European division had "expressed serious concerns about Curveball's reliability to senior officials at the CIA," and that the warnings were inexplicably dismissed.
And Drumheller's wife was Company, too — their marriage, a neat-sounding, way-romantic story in "overfed George Smiley" fashion:
He met Linda Blocher while she was working at the spy agency as a secretary in the Africa division, and proposed to her in a stairwell at CIA headquarters after learning that he would soon be sent to Zambia.
It was the first in a series of stops for the couple that would also include South Africa, Portugal, Germany and Austria.
Two and sometimes three pet dogs accompanied every move.
And the nasty, lying culprits of one of the biggest, deliberate fuck-ups in US history are free as a bird…free on a curved ball.