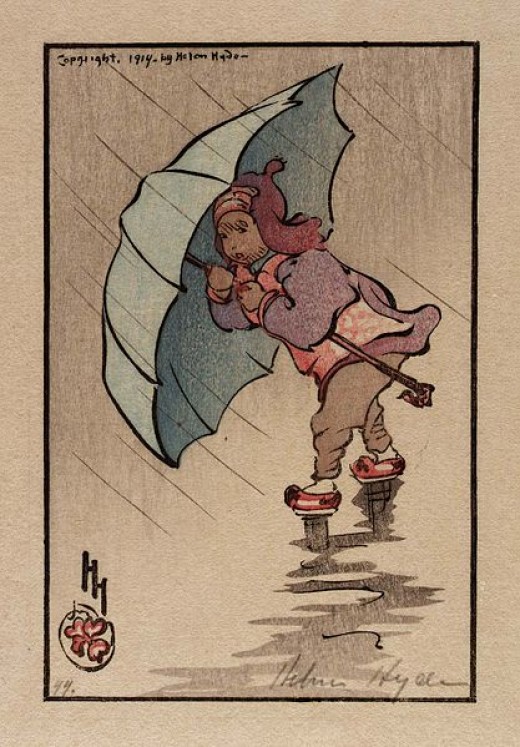 Thick, heavy rainfall carried by gusty winds this Saturday afternoon here on California's north coast as a fairly-strong 'atmospheric river' pours across the shoreline.
Started raining in earnest last night, and with only occasional short, dark spaces of dry, has been continuously hammering down all day.
The NWS advises thunderstorms with small hail could accompany the rain — messy next couple of days.
Return of the fabled El Niño-influenced waterworks — from SFGate this afternoon: 'A seven-day total could approach 20 inches of rain in Northern California and up to three inches in the southern end of the state, where rain is expected to arrive Sunday.'
Second round in this season's attempt to quench California's drought, reliving rain like last December, back on the 'conveyor-belt' system.
(Illustration: 'The Blue Umbrella 1914,' by Helen Hyde, found here).
This particular storm is packing the weight — according to the NWS's weather thingy, we had nearly a quarter-inch of rain just in the last half-hour or so, and apparently it will keep-on-keeping-on until tomorrow.
Maybe this late series might lend a drought-helping hand — via Gizmodo yesterday:
This is one of those infamous "atmospheric rivers," jets of moisture-charged air from the subtropical Pacific Ocean.
These are the storms that are responsible for recharging our reservoirs and building up our snowpack.
And there are likely multiple ones headed our way over the next two weeks, hence the "Miracle March" on tap.
Which means a shit-ton of snow.
And rain!
…
Those same atmospheric rivers which bring all the moisture can also be full of very warm air since they are, after all, coming from the extra-warm El Niño-fied tropical waters of the Pacific.
A new study by NASA, plus Scripps Institution of Oceanography and the Earth System Research Laboratory shows that atmospheric rivers might increase the chances of a phenomenon called "rain-on-snow," which is pretty much what you'd expect: rain falling on top of snowpack, which would accelerate the melting of the snowpack.
This, of course, happens normally later in the spring, but if it happened now, it would not be good.
However, if the storm is accompanied by colder temps — and the difference of a few degrees could make all the difference — the moisture would fall snow-on-snow, boosting the snowpack back to normal.
Predictably unpredictable…