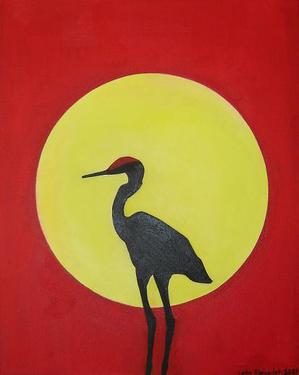 Bright sunshine and a bit on the chilly side this early Monday on California's north coast as we launch into a maybe-extended period of nice weather.
Chilled when it's clear, so it goes, and according to the NWS, some inland areas will see frost in the mornings for awhile, no pertinent rain forecast until Wednesday of 'next week' — our chance-of-precipitation indicator looks near-about flat-lined through at least Friday.
Although the shoreline will escape the lowest temperatures, we could still experience 'Patchy Frost,' maybe due to ocean breezes, or whatever.
Monday again, but at least here on this small slab of ground, pinched between that ocean and closely-inland mountains, the skies are clear, the sun is shinning.
(Illustration found here).
Indeed, ain't so in a shitload of places.
Beyond the carnage news this morning, another event across that vast Pacific, about 2,004 miles as-the-crow-flies and near-directly northwest from where I'm sitting on my ass, the Pavlof Volcano has again erupted, spewing ash miles high, spreading rapidly northeast.
Located about 600 miles southwest of Anchorage in the Aleutian Islands, Pavlof has a history.
This bit via Mashable:
On Monday, the Federal Aviation Administration cited pilot reports and satellite data showing that the ash cloud had risen in height and spread rapidly northeast.
The cloud is now as high as 37,000 feet, which is in the typical cruising altitude range of most jetliners.
This is likely impacting some flights across the Pacific, since modern jetliners can experience major engine malfunctions — possibly even engine failures — if they fly through clouds of volcanic ash.
…
The Alaska Volcano Observatory has issued a "red" aviation alert and a warning for the Pavlof Volcano due to the new activitity.
According to the U.S. Geological Survey (USGS), the volcano is "a largely snow-covered, cone-shaped mountain" that contains a caldera, which is a large volcanic crater.
…
The volcano's name means "Paul" or "Saint Paul" in Russian, the USGS says on its website.
The volcano has a long history of significant eruptions, having sent ash clouds to nearly 50,000 feet in the past.
The observatory calls it "one of the most consistently active volcanoes in the Aleutian arc."
Officials continue to monitor the volcano through seismometers, satellite imaging techniques and web cameras, among other tools.
Supposedly, the volcano "abruptly erupted" yesterday after becoming quickly-quiet last November following a series of eruptions.
I couldn't find any earthquake recordings pinned to Pavlof, so all the force went upward, instead of other ground-shaking directions.
And on into the day, into the week, shaking ground or not…