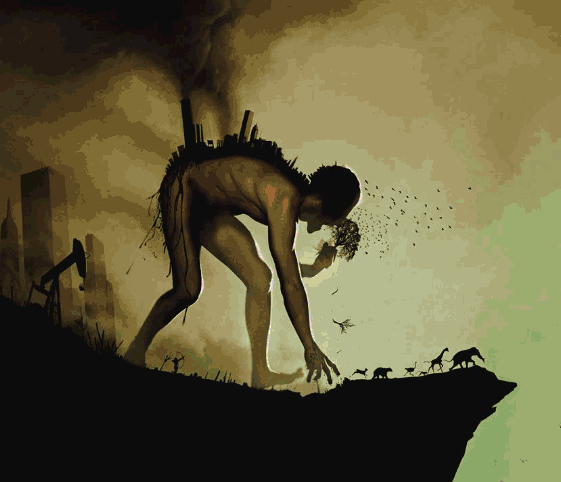 (Illustration found here).
In just a week, a bit of frightful climate news — maybe more frightful than usual.
Starting off last Monday, the World Meteorological Organisation (WMO) released its Status of the Climate Global Climate report, and the card looked real bad (via Climate News Network) — WMO secretary-general Petteri Taalas:
"The future is happening now," he said in a statement released alongside the report.
"The alarming rate of change we are now witnessing in our climate as a result of greenhouse gas emission is unprecedented in modern records."
The report detailed the string of climate and weather records that were broken in 2015, including global temperature records, exceptional rainfall, devastating droughts, unusual cyclone activity and intense heatwaves.
Conclusion:
But the WMO report spells out starkly one inescapable reality.
The world may now be intent on cutting future greenhouse gas emissions in order to prevent climate change reaching levels beyond human ability to affect.
But the emissions which have already reached the biosphere are long-lived, and they may persist long enough to damage the natural world irreversibly, no matter what we do now.
The WMO's evidence suggests that massive damage is indeed inevitable…
Emphasis off the WMO's report from the Guardian:
Dr Sarah Perkins-Kirkpatrick from the University of New South Wales in Australia said the language was very strong for the WMO.
"They are usually very conservative," she said.
"We have to put this report in context. 2014 was the hottest year on record to date too. We've had something like 15 out of the 16 hottest years on record since the turn of the millennium," she said.
"Things aren't getting better, they're getting much much worse, and the tone of the report reflects this."
Perkins-Kirkpatrick said the statistics revealed an emergency.
"We haven't experienced a month that has been below average for over 30 years … I think people forget climate change started happening a long time ago, before a lot of us were even born. Honestly, it's frightening."
Indeed — another jolt came Wednesday from a major research study/paper by some authoritative scientists led by James Hansen, the former NASA guy, and climate-change expert, '…that suggests the impact of global warming will be quicker and more catastrophic than generally envisioned.'
Science writer Chris Mooney at the Washington Post terms Hansen's study/paper more 'a synthesis' of the research — key points:
The sweeping paper, 52 pages in length and with 19 authors, draws on evidence from ancient climate change or "paleo-climatology", as well as climate experiments using computer models and some modern observations.
Calling it a "paper" really isn't quite right – it's actually a synthesis of a wide range of old and new evidence.
"I think almost everybody who's really familiar with both paleo and modern is now very concerned that we are approaching, if we have not passed, the points at which we have locked in really big changes for young people and future generations," Hansen said.
…
Most notably, perhaps, the editorial process led to the removal of the use of the phrase "highly dangerous", in the paper's title, to describe warming the planet by 2C above pre-industrial levels.
The original paper's title was Ice melt, sea level rise and superstorms: evidence from paleoclimate data, climate modelling, and modern observations that 2C global warming is highly dangerous.
The final title is Ice melt, sea level rise and superstorms: evidence from paleoclimate data, climate modelling, and modern observations that 2C global warming could be dangerous.
But nonetheless, Hansen's climate catastrophe scenario now takes its place in the official scientific literature relatively intact.
Despite the evidence, the reality is real and coming faster than expected. There's many news items last week on Hansen's paper, a major fright for the future, and people who have sense should be acquainted with the shit.
Coupled with this via Climate News Network yesterday, and more the scare:
The world is increasingly investing in renewable energy.
Last year, according to UN figures, global investment in solar power, wind turbines and other renewable forms of energy was $266 billion.
…
But right now, the report says, renewable energy sources deliver just 10.3 percent of global electrical power.
Neither the report's authors nor anyone else thinks that is enough to slow climate change driven by rising global temperatures as a consequence of greenhouse gas emissions from fossil fuels.
…
In the last century, this has already climbed by 1°C.
In Paris in December 2015, 195 nations agreed on a global plan to limit global warming to a figure no more than 2°C above the long-term average for most of human history.
This will be difficult, according to Glenn Jones, professor of marine sciences at Texas A&M University in the US.
"It would require rates of change in our energy infrastructure and energy mix that have never happened in world history and that are extremely unlikely to be achieved," he says.
Mostly what's required is a movement similar to America gearing up after Pearl Harbor and for WWII, but way-quicker, and way-harder. A good read at Scientific American this afternoon about the US and climate change — point: '"If we want to tell the nation the risk, we need to [do it] in plain English," Alice Hill, the National Security Council's senior director for resilience policy, told scientists at a gathering in Washington, D.C., last week. As her boss, Susan Rice, often notes, Hill said, "climate change is a dire threat to the prosperity and safety of the American people."'
Sunshine and rainbows…