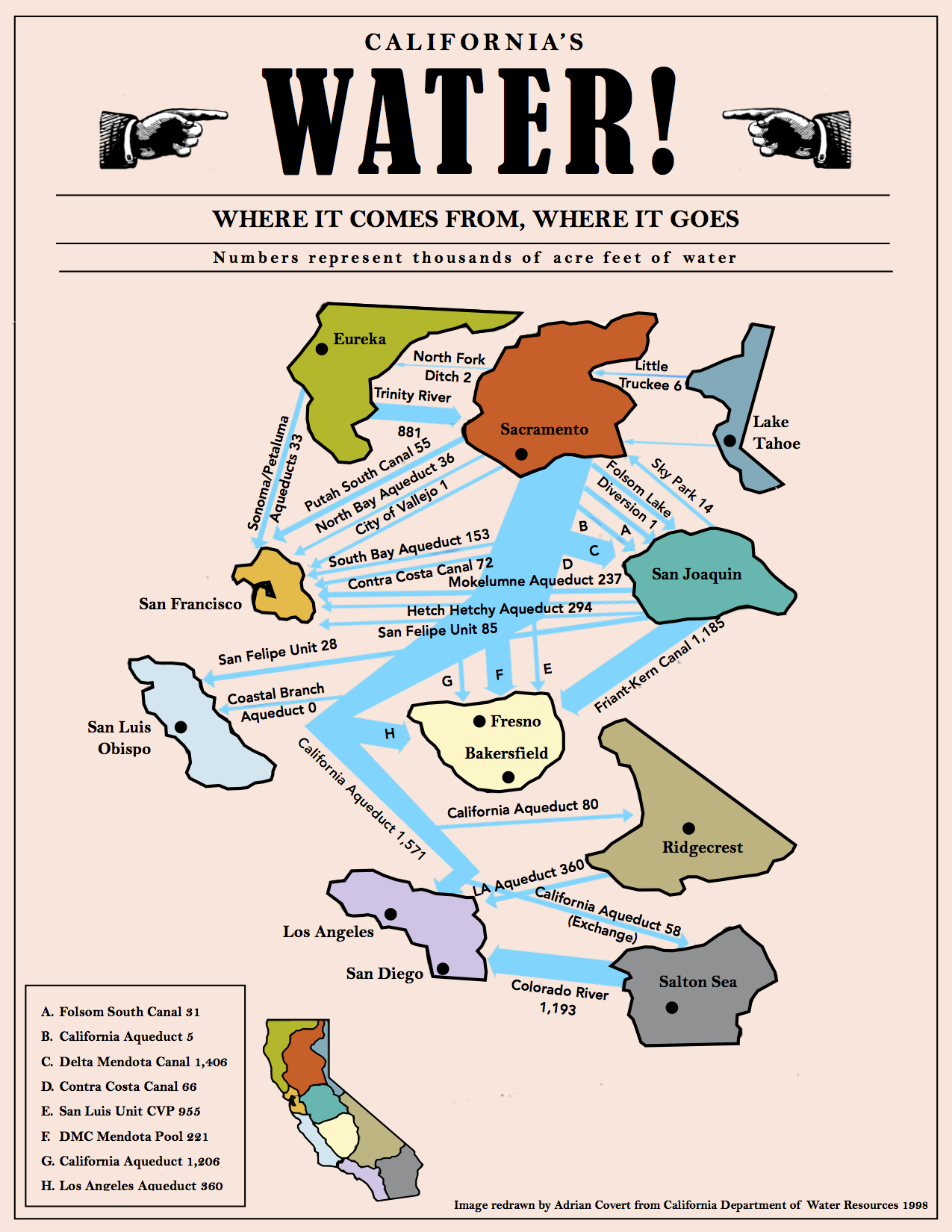 Drizzly-fog and gray skies this early Wednesday on California's north coast, and our weather continues its predictable unpredictability — yesterday, no sunshine until way-late in the afternoon.
Most-likely today will be the same…
Despite our air-wetness up here, last week's Drought Monitor reported all of  California still covered in some-type dry, and getting so bad California might give up 8 percent of the state's Colorado River water intake if the situation continues, and it probably will.
Frank Gehrke, California's chief snow surveyor, reported reality: '"The conventional wisdom was that a strong El Niño, which we did have, portended a wet winter for southern California. That just didn't happen."'
Water, water, where art thou..?
(Illustration above: 'California Water Map,' found here).
Maybe deep in the ground, but getting to it could be a bitch — reports this week new water sources have been discovered, but with caveats.
The good salted with the bad (via Climate Central):
California's Central Valley has three times more freshwater in underground aquifers than previously thought, drinking water that could help the state weather future drought and fortify itself against a changing climate, according to a new Stanford University study.
But tapping that water, locked thousands of feet beneath the ground, will be expensive and comes with an enormous risk  — it could cause the valley floor to sink, according to the study, published Monday in the Proceedings of the National Academy of Sciences.
Sinking land in the Central Valley is threatening roads, homes and other infrastructure, and reduces the amount of water some aquifers can hold.
The sinking is already a problem — from the Sacramento Bee last summer:
The NASA study, based on satellite imaging, showed significant rates of subsidence in recent times.
A spot near Corcoran, in the Tulare basin, sank 13 inches in one recent eight-month period.
Researchers found a stretch near the California Aqueduct, the key highway of the State Water Project, that sank 8 inches in four months last year.
The problem isn't limited to the San Joaquin Valley; a spot near Arbuckle in Colusa County sank 5 inches during the last half of 2014, according to the NASA report.
"Roads can be broken by fissures, pipelines have been exhumed, and the slope of the land can be altered, changing drainage patterns," the NASA researchers wrote.
In this week's new water study, there's even more extraction problems tied to California's oil industry — from Phys.org:
Another concern the Stanford scientists uncovered is that oil and gas drilling activities are occurring directly into as much as 30 percent of the sites where the deep groundwater resources are located.
For example, in Kern County, where the core of California's oil and gas industry is centered near the city of Bakersfield, one in every six cases of oil and gas activities was occurring directly into freshwater aquifers.
For useable water — water that the U.S. Environmental Protection Agency deems drinkable if treated — the number was one in three.
Although called California's "Water Windfall," the whole project is years of more drought away…and more fall than wind.