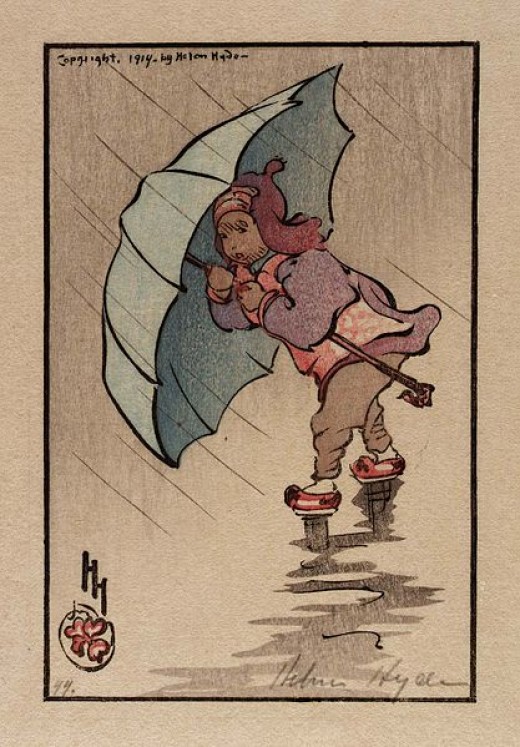 Steady downpour this early Thursday on California's north coast — right now with rain coming straight down, the storm is maybe-directly overhead, apparently stalled in barely-noticeable wind.
Heavy at times, it's been raining nearly-continuous since late last night, dousing a lot of water on us.
Our weather lately strongly-influenced by moisture from typhoons out of the western Pacific Ocean — however, starting tonight and extending into Friday, we'll get another drenching impacted with ingredients off Hurricane Seymour, currently off Baja. Except a supposedly-short dry spot this afternoon, and maybe tomorrow morning, the next week to 10 days will be fairly-wet. (via the North California Weather Blog).
In this era of weather extremes, dry is not an oddity, but part of the not-normal normal…
As California enters its sixth year of official drought, there's a split in this dry — the last couple of years, we here in the northern part of the state have received more than our fair share of rainfall totals, while SoCal bakes in record thirst.
From the LA Times this morning:
Despite a rainstorm set to hit the Southland this week, the region continues to face an unprecedented lack of precipitation, recording only 60-percent of average rainfall this month.
By contrast, communities from the Bay Area north to the Oregon border have recorded 200-percent to 300-percent of the average this month, according to the National Weather Service.
It's a pattern Californians saw last winter, when the much-hyped El Niño phenomenon was expected to soak Southern California but instead steered north, blanketing the northern Sierra Nevada in snow and leaving Angelenos and their neighbors in the dust.
"We can only hope as the winter progresses we'll get the rains to go farther south," said Reginald Kennedy, a National Weather Service hydrologist.
"Nothing in the climate forecast wants to tip its hat."
…
Since Oct. 1, the start of the water year — which forecasters use to measure annual precipitation — cities and mountain communities from the Bay Area to the Oregon border have been drenched by an atmospheric river of tropical storms.
It's rained more than 18 inches this month in Gasquet, a rural community in Del Norte County, and 12 inches in Crescent City, Kennedy said.
The rainfall was enough that the U.S. Drought Monitor considered the northwest corner of California, or about 7-percent of the state, to be in normal condition instead of "abnormally dry" or worse.
That much of California has not been considered normal since March 2013.
And all this weird shit, of course, is just another effect of a rapidly-changing, worldwide climate. Another new study on another 'indirect effect' reports on warming in the Arctic, which could be influencing the jet stream — allowing severe cold weather to invade more temperate areas.
Via the MorningTicker this morning:
Jet stream winds can be "wavy" or "not so wavy," and scientists have always seen a fluctuation, but during the waring of the Arctic in the last couple of decades, climate change appears to have amplified these fluctuations.
This is an important discovery because it could allow scientists to better predict how climate change affects the jet stream, and therefore make better long-term predictions of winter weather in some parts of the world.
"Scientists agree for first time that climate change may be intensifying the effects of the jet stream, causing extreme cold weather in the UK and US. Study could improve long-term forecasting of winter weather in most populous parts of the world," the University of Sheffield statement reads.
"More accurate forecasting could help communities, businesses and economies prepare for severe weather and make life and cost-saving decisions. Scientists have agreed for the first time that recent severe cold winter weather in the UK and US may have been influenced by climate change in the Arctic, according to a new study."
While we're on the issue of side-effect of climate change, with a double-dose of asshole human.
From the Guardian yesterday:
The number of wild animals living on Earth is set to fall by two-thirds by 2020, according to a new report, part of a mass extinction that is destroying the natural world upon which humanity depends.
The analysis, the most comprehensive to date, indicates that animal populations plummeted by 58-percent between 1970 and 2012, with losses on track to reach 67-percent by 2020.
Researchers from WWF and the Zoological Society of London compiled the report from scientific data and found that the destruction of wild habitats, hunting and pollution were to blame.
The creatures being lost range from mountains to forests to rivers and the seas and include well-known endangered species such as elephants and gorillas and lesser known creatures such as vultures and salamanders.
The collapse of wildlife is, with climate change, the most striking sign of the Anthropocene, a proposed new geological era in which humans dominate the planet.
"We are no longer a small world on a big planet. We are now a big world on a small planet, where we have reached a saturation point," said Prof Johan Rockström, executive director of the Stockholm Resilience Centre, in a foreword for the report.
And it becoming even more than just a "…rainy night in Georgia…"
(Illustration above: 'The Blue Umbrella 1914,' by Helen Hyde, found here).