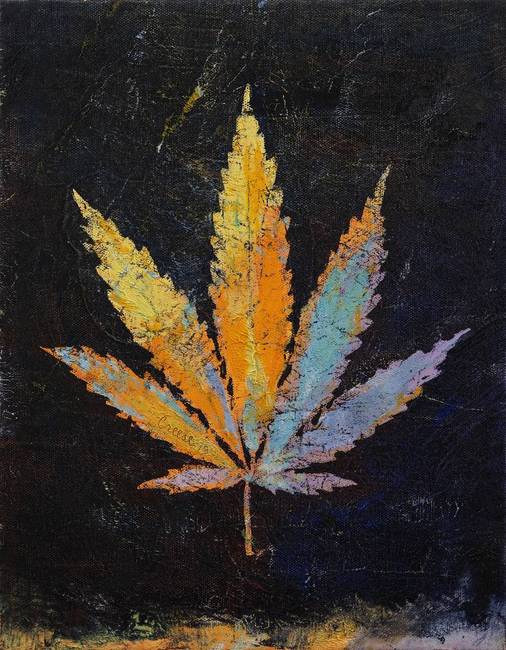 Overcast and chilly this early Monday on California's north coast, as the NWS forecasts 'Mostly Sunny' for us today, which I hope becomes reality.
Election Day tomorrow can supposedly be considered 'Partly Sunny' for our region, and we can hope.
Hopefully, too, T-Rump will be driven 'completely' back down the sewer-hole from which he came, and at least this election will be in the rear-view mirror. T-Rump is so, so shitty, however, the stench will be in the air for awhile even well after the ballot-box ballet ends — weird-ass year.
Along with T-Rump and Hillary Clinton, tomorrow will also most-likely usher in a new chapter in the saga of marijuana — voters in five states will choose whether pot should be legal for recreational use.
(Illustration: 'Cannabis,' by Michael Creese, found here).
Including us out here on the Left Coast, stoned-already — Prop 64, leading to the Adult Use of Marijuana Act, in part summary:
Legalizes marijuana and hemp under state law.
Designates state agencies to license and regulate marijuana industry.
Imposes state excise tax on retail sales of marijuana equal to 15-percent of sales price, and state cultivation taxes on marijuana of $9.25 per ounce of flowers and $2.75 per ounce of leaves.
Exempts medical marijuana from some taxation.
Establishes packaging, labeling, advertising, and marketing standards and restrictions for marijuana products.
Allows local regulation and taxation of marijuana.
Prohibits marketing and advertising marijuana to minors.
Authorizes resentencing and destruction of records for prior marijuana convictions
Nice that last part, wiping away old weed convictions (BoingBoing): 'Under Prop 64, which will legalize the recreational use of marijuana, people who've been convicted for felony cultivation (growing more than six plants at a time) will be able to petition for resentencing, to have their felony convictions reclassified as misdemeanors. The courts will be empowered to destroy records of prior convictions, including people convicted for possession without a medical marijuana card.'
The LA Times this afternoon has a handy guide on the initiative.
Polls last month indicated 51-percent favored, about 40-percent against — other markers show a 58-34 for/against the measure, and with California being a place of our own, the voting tomorrow will supposedly have a big influence on how marijuana is treated by the rest of the US.
Good overview of this concept at Forbes yesterday — key points:
Jessica Rabe, research associate Convergex, a global brokerage company based in New York, said that the great size of the California economy — sixth largest in the world if it were a standalone country, with GDP of $2.5 trillion in 2015 — will "put pressure on the government to reclassify or deschedule the drug to help 'cannabusinesses' better conduct their operations with more access to banking services."
According to cannabis investment company MedMen, passage of Proposition 64 could add $8.38 billion in annual sales to an already robust medical market worth an estimated $2.83 billion.
CEO Adam Bierman said that the California vote is one of the major milestones in the institutionalization of the marijuana industry.
"I have a meeting on Tuesday in San Francisco with half a dozen of what some people would refer to as the illuminati of Silicon Valley," said Bierman.
"That meeting doesn't happen six months ago. That meeting doesn't happen two months ago. It's happening now."
…
"The exponential increase in mainstream venture capital interest will attract talent from the established industries that the state has long supported from tech to aerospace and agriculture, which will be a boon for innovation and job creation across the diverse spectrum of cannabis companies," said Mike Bologna, Chief Executive Officer of Green Lion Partners.
"The potential economic impact of Prop 64 cannot be understated, and we hope that a victory in California will inspire other state governments to reconsider their archaic and destructive stance on cannabis."
…
In addition to the financial and cultural aspects, there is also the feeling it will benefit the medical community.
Rob Hunt, President of Teewinot Life Sciences said, "California is the epicenter of biotechnology and there are many scientists that are desperate to study the efficacious nature of cannabinoids,"
He went on to say, "Legalizing cannabis provides a great deal of insulation to these people and provides them comfort in conducting trials that will ultimately lead to breakthroughs in medicine. It is ironic that the passage of adult use may drive cannabinoid based science far more than a medicinal law ever did."
"While the economic benefits of fully legalizing marijuana for adults has been clearly articulated, I believe that one of the greatest social impacts that hasn't been publicized enough is that non-violent criminals who are in prison because of activities associated with cannabis will be released," said Derek Peterson of Terra Tech Corp..
"Not only will this save the state taxpayer dollars, but it will allow these people a second chance to be productive members of society."
Along with the legals — business, and a weed delivery app — from LawStreet Media:
Scooping up a recent bundle of investments worth $13 million, marijuana delivery app Eaze is officially the highest-funded pot startup in the world.
The new infusion of cash–courtesy of Fresh VC, DMC Ventures, Tusk Ventures, Winklevoss Capital and more–brings the young firm's capital to nearly $25 million.
Eaze, based in San Francisco, and active in 100 cities in California, connects medical marijuana patients to local dispensaries.
Some call it the "Uber for Weed."
"Eaze remains committed to providing the best patient experience and will use the latest financing to accelerate product innovation, grow its world-class team, and expand its technology to additional markets," the company said in a press release announcing its  new investments.
The funding comes at a potentially lucrative time for the cannabis industry in California.
On November 8, California residents will vote on Proposition 64, a ballot measure that, if passed, would legalize recreational marijuana in the state.
If the drug is legalized, some predict that the legal marijuana market in California will grow from $2.8 billion today, which only includes medical marijuana, to $6.5 billion in total by 2020. Early polls indicate the legalization measure will likely pass.
Dude, that's like, a lot of money…