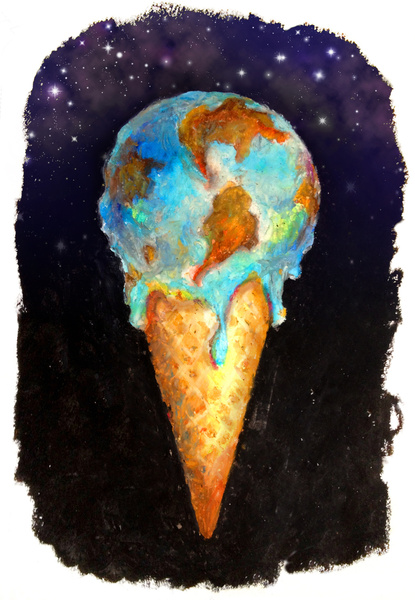 Thick, wet marine layer blankets California's north coast this early Thursday — supposedly, the fog will burn-off into a 'Mostly Sunny' day.
Hope springs eternal…
Yet reality of T-Rump  — slim-jim-shit-head Paul Ryan gleefully gushed about the future of our planet:
Look, it's not just the health care law that we can replace, because we now have shown the willingness and the ability to do it.
There are so many more things that I am excited about.
Think about the laid-off coal workers now who see relief coming.
Think about the farmers here in Wisconsin who are being harassed by the EPA in the waters of the USA.
Think about the ranchers in the west who are getting harassed by the Interior Department or the laid-off timber workers.
(Illustration above found here).
Beyond a long list of bad-shit blowback off T-Rump's win, the most-fatal sinks our only environment. He's a climate-change denier from way back, the whole situation a "hoax," cooked-up by the Chinese — an asshole idiot, the worse-case scenario for all assholes, and for all idiots.
Along with dip-wad Ryan's blushing endorsement, T-Rump already sets the stage (Science magazine): 'Domestically, Trump has appointed a prominent climate skeptic, Myron Ebell, to lead his transition team at EPA. Ebell, who leads the Center for Energy and Environment at the right-leaning Competitive Enterprise Institute, has warned against climate "alarmism" and called the agency's Clean Power Plan, issued in August 2015, "illegal."'
And further, T-Rump's choice to head the Interior Department could also include Sarah Palin — yes, Sarah-fucking-Palin!
However, the most-likely pick for Interior is reported to be Forrest Lucas, the 74-year-old co-founder of oil products company Lucas Oil, keeping pipelines a-flowing.
No matter, climate waits for no nothing.
On Tuesday, the NOAA reported October was the third warmest on record, while 37 US states experienced one of their five warmest January-October periods in recorded history. And we're still scorching our way toward another hottest year, three-in-a-row now. Worldwide, 2016 could easily be 'the' hottest ever.
Via Climate Central: 'The average temperature of the contiguous U.S. for October was 3.6°F (2°C) above the 20th century average of 54.1°F (12.3°C) — the warmest in 122 years of record-keeping, according to NOAA.'
And only to get worse — throw in T-Rump, and we be fucked.
From the UK's Independent this morning:
However new research by an international team of experts who looked into how the Earth's climate has reacted over nearly 800,000 years warns this could be a major under-estimate.
Because, they believe, the climate is more sensitive to greenhouse gases when it is warmer.
In a paper in the journal Science Advances, they said the actual range could be between 4.78C to 7.36C by 2100, based on one set of calculations.
Some have dismissed the idea that the world would continue to burn fossil fuels despite obvious global warming, but emissions are still increasing despite a 1C rise in average thermometer readings since the 1880s.
And US President-elect Donald Trump has said he will rip up America's commitments to the fight against climate change.
Professor Michael Mann, of Penn State University in the US, who led research that produced the famous "hockey stick" graph showing how humans were dramatically increasing the Earth's temperature, told The Independent the new paper appeared "sound and the conclusions quite defensible".
"And it does indeed provide support for the notion that a Donald Trump presidency could be game over for the climate," he wrote in an email.
"By 'game over for the climate', I mean game over for stabilizing warming below dangerous (ie greater than 2C) levels.
"If Trump makes good on his promises, and the US pulls out of the Paris [climate] treaty, it is difficult to see a path forward to keeping warming below those levels."
…
Mark Lynas laid out what would happen as the temperature rises in his award-winning book, Six Degrees: Our Future on a Hotter Planet.
He was shocked by the researchers' results.
"It sounds on the apocalyptic side of bad and, in some ways, it is realistic because 'business as usual' just got more likely as Trump wants to rebuild the pipelines … the complete 'fossilisation' of the US," he said.
"It was game over at six [degrees] to be honest. I don't think there was much more to add, other than turning the planet into Venus."
Now — imagine four years from now…