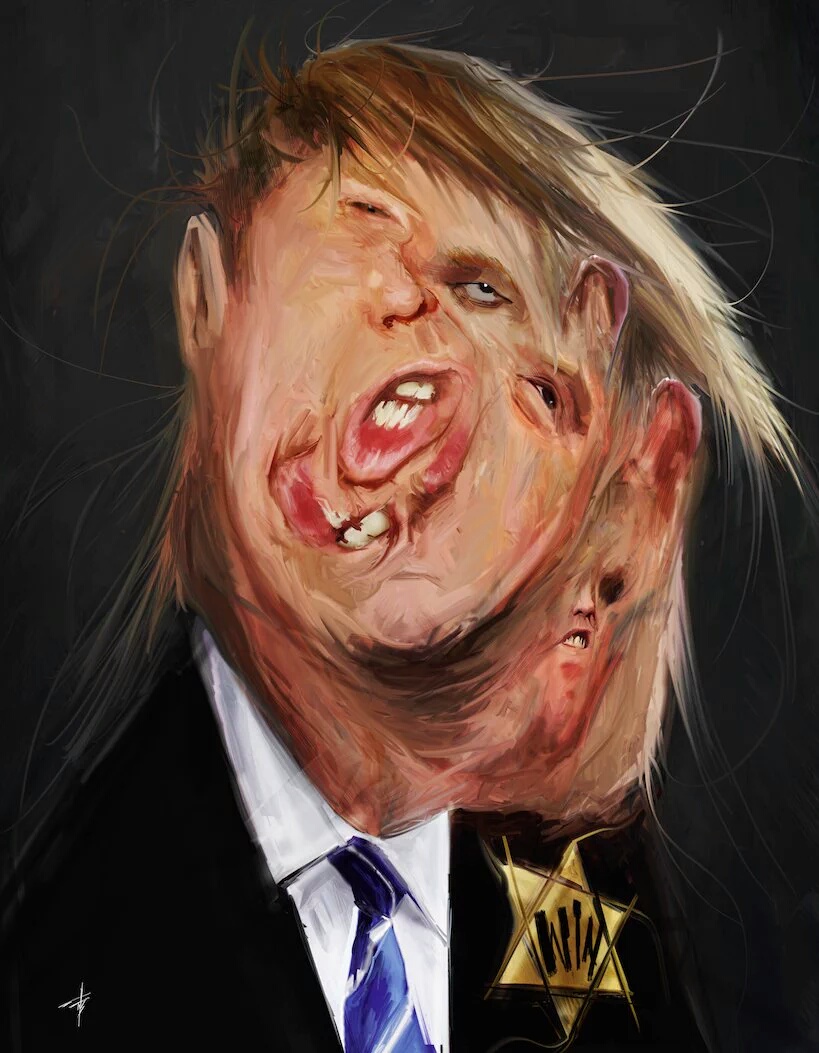 Sunshine briefly this Wednesday morning here on California's north coast — bright gaps in an otherwise rolling weather system churning northward, bringing mostly just heavier-than-drizzle precipitation.
And continuing to weather the T-Rump age — already lost in transition.
Philip D. Zelikow, a former director of the Miller Center of Public Affairs at the University of Virginia and a senior figure in the George W. Bush transition (Washington Post): "Confusion is the norm (for transitions), but there are some unusual features here, because they're trying to make some statements…They feel like their election was a lot of the American people wanting to throw a brick through a window. They want to make appointments that make it sound like glass is being broken."
(Illustration: 'President Trump,' by Jonathan Bass, found here).
Eliot A. Cohen, former counselor to Condi Rice, and a long-time T-Rump opponent, who at first advised folks to work for the T-Rump administration, now has transitioned out of that mental-mode, claiming the operation "will be ugly."
In a nutshell on the future, Cohen nailed it: '"It became clear to me that they view jobs as lollipops, things you give out to good boys and girls, instead of the sense that actually what you're trying to do is recruit the best possible talent to fill the most important, demanding, ­lowest-paying executive jobs in the world."'
And T-Rump continues as king asshole (New York Post):
President-elect Donald Trump gave the press the slip on Tuesday night so he could sneak out and enjoy some grub at the 21 Club in Midtown.
The billionaire was spotted inside the upscale steakhouse around 7:30 p.m. — just over an hour after his spokeswoman, Hope Hicks, told pool reporters he was bedding down for the night.
"I wasn't aware of this movement," she later explained, adding that she would never purposely "leave the press in the dark."
Yeah right…