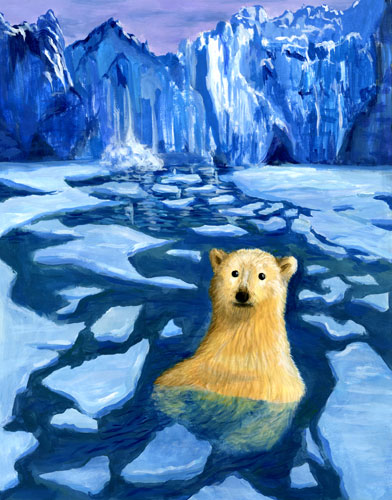 Rain and a chilled wind this early Tuesday on California's north coast — supposedly, showers the rest of today.
The UN reported Monday, 2016 will most-likely be the hottest year ever, third record as such in a row.
Noted climate scientist Michael Mann of Penn State University (via the Guardian):
"It is almost as if mother nature is making a statement. Just as one of the planet's two largest emitters of carbon has elected a climate change denier [Donald Trump] — who has threatened to pull out of the Paris accord — to the highest office, she reminds us that she has the final word…The US and world are already behind; speed is of the essence, because climate change and its impacts are coming sooner and with greater ferocity than anticipated."
(Illustration found here).
T-Rump is more-quickly ushering in a way-dark age, on many, many levels. Although there's a lot of bad shit in the US/worldwide right now, the primary goal should first to keep our only planet safe. Climate change the way-biggest problem we face, bar none.
According to the UN, the latest report means 16 of the 17 hottest years on record will have been this century, which remember is closing in on just 17-years old.
Further from the Guardian:
The scorching temperatures around the world, and the extreme weather they drive, mean the impacts of climate change on people are coming sooner and with more ferocity than expected, according to scientists.
The World Meteorological Organization (WMO) report, published on Monday at the global climate summit in Morocco, found the global temperature in 2016 is running 1.2C above pre-industrial levels.
This is perilously close to to the 1.5C target included as an aim of the Paris climate agreement last December.
…
The forecast for 2017 is another very hot year, but probably not a record breaker.
"As the El Niño wanes, we don't anticipate that 2017 will be another record-breaking year," said Dr Peter Stott at the UK's Met Office.
"But 2017 is likely to be warmer than any year prior to the last two decades because of the underlying extent of [human-caused] warming due to the increasing atmospheric concentration of greenhouse gases."
One situation off this heat is the die-off of the Tufted Puffin, and the warming of cold water.
From EcoWatch last week:
The charismatic puffins, with their bright-orange bills and feet set off by a white face and dark body, range throughout the North Pacific Ocean.
While populations have declined dramatically or even disappeared from former nesting sites in California, the bird is abundant in the North Pacific.
However, bycatch in fishing nets kills thousands of tufted puffins each year.
Nate Mantua, an ecologist at NOAA's Southwest Fisheries Science Center in Santa Cruz, California, isn't looking at bycatch as the possible culprit in this case.
"The Bering Sea has been off-the-charts warm," he said.
It may be due to the Pacific Ocean "Blob," which has been disrupting seas and weather since 2014.
According to Mantua, warm water and air blew into the Bering Sea this October from the south, where the Blob has set up. It's had an effect on sea life up and down the food chain.
…
"Seabirds are another one: There were some species with some very large mortalities, with lots more dead seabirds washing up on the beaches," according to Washington's state climatologist Nicholas Bond.
…
The Bering Sea is among the largest and most valuable commercial fisheries in the world.
Salmon, crab, cod and Alaska pollock are all landed in large numbers.
The salmon season this year was disastrous, causing a collapse in the value of salmon permits in Alaska.
This year, summer surveys revealed that crab numbers had crashed.
Crab quotas have been cut from 70 million pounds last year to just 30 million pounds for the season which opened Oct. 15.
"We've never seen anything like this," said Mantua. "We're in uncharted territory. We're in the midst of an extraordinary time."
Nature can't be trumped…