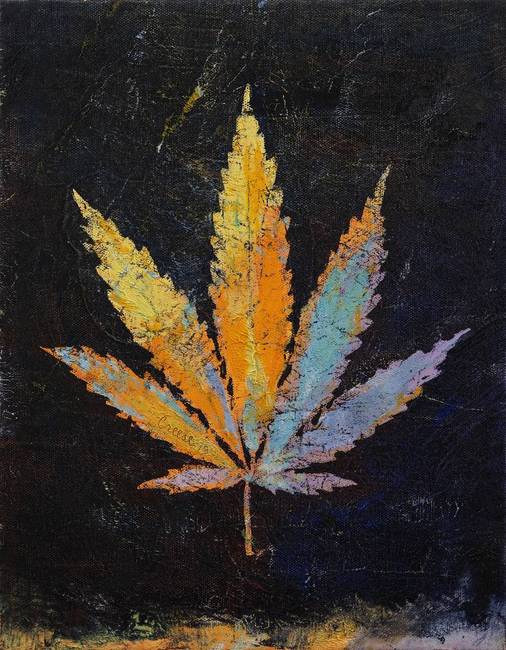 Steady rainfall pushed by a chilled wind this bleak, not yet black Friday on California's north coast — a drenching through the weekend.
As smoke clears off the turkey, one local issue of concern in the continuing T-Rump travails is the question on the status of marijuana.
Mark Kleiman, who served as Washington state's top pot consultant,feels bleak : '"Look, a President Trump could shut down the legal cannabis industry everywhere in the country with the stroke of a pen…All you have to do is take a list of the state-licensed cannabis growers and sellers into federal district court and say, 'Your Honor, here are the people who have applied for and been given licenses to commit federal felonies.' '''
Remember, T-Rump is an asshole…
(Illustration: 'Cannabis,' by Michael Creese, found here).
Although neither Hillary Clinton nor T-Rump showed much flavor for/against marijuana — neither claimed they smoked — Hillary did call for the removal of pot from the federal government's Schedule 1 list of the government's most dangerous drugs, which includes heroin and LSD.
T-Rump made his gesture by appointing asshole-racist Jeff Sessions as AG — hence, lies the smell of shit.
From the Washington Post last Saturday:
Sessions is a vocal opponent of marijuana legalization whose elevation to attorney general could deal a blow to state-level marijuana legalization efforts across the country.
At a Senate drug hearing in April, Sessions said that "we need grown-ups in charge in Washington to say marijuana is not the kind of thing that ought to be legalized, it ought not to be minimized, that it's in fact a very real danger."
He voiced concern over statistics showing more drivers were testing positive for THC, the active component in marijuana, in certain states.
Sessions further argued that a lack of leadership from President Obama had been one of the drivers of the trend toward marijuana legalization in recent years.
"I think one of [Obama's] great failures, it's obvious to me, is his lax treatment in comments on marijuana," Sessions said at the hearing.
"It reverses 20 years almost of hostility to drugs that began really when Nancy Reagan started 'Just Say No.' "
He added that lawmakers and leaders in government needed to foster "knowledge that this drug is dangerous, you cannot play with it, it is not funny, it's not something to laugh about…and to send that message with clarity that good people don't smoke marijuana."
…
Sessions "is by far the single most outspoken opponent of marijuana legalization in the U.S. Senate," Kevin Sabet, of the anti-legalization group Smart Approaches to Marijuana, said in an email.
"If I were betting on the prospects for marijuana legalization, I'd be shorting."
Yet there's much hope in the ash — pot is popular.
In a nutshell via AlterNet:
Legalization has won in every state where's it been on the ballot, with the exception this year of red-state Arizona, where a multi-million-dollar "no" campaign managed to barely defeat it.
And it is an increasingly popular position nationwide, with public opinion polls the last couple of years consistently reporting majorities in favor.
The latest Gallup poll, from October, has support at an all-time high of 60-percent, including 70-percent of independents, 67-percent of Democrats and even 42-percent of Republicans.
Trump supporters undoubtedly include people who support marijuana legalization.
And Trump really didn't do very good in the election — a majority of voters went Hillary.
Clinton is already ahead by nearly 2.1 million votes, and that's with nearly 1.5 million California ballots still to be counted.
As in reality (via Lawyers,Guns&Money):
Most of the rest of the uncounted votes comes from places like New York and Washington, collectively home to 27 million coastal elites.
By the time all the ballots are counted, Clinton could well have THREE MILLION more votes than Trump.
Note that 40-percent of the United States of America have total populations of less than three million.  In 34 of the 50 states, Clinton's projected vote margin is larger than all the votes cast in the presidential election in those states.
So don't hide the bong…yet.