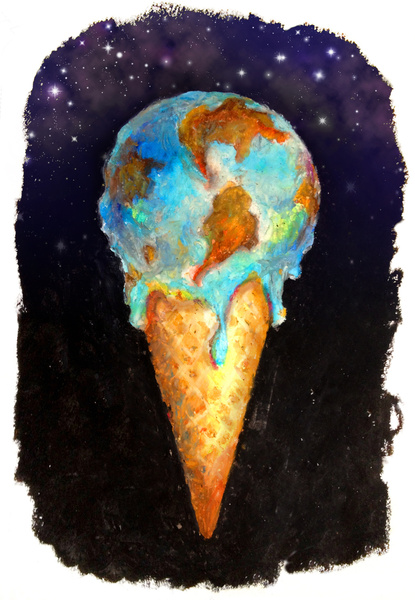 Bright sunshine with some huge, fluffy clouds this near-noon Monday on California's north coast, and all tempered by a chilly ocean breeze.
A last cold gasp before we start to warm-up for awhile –rain tonight and tomorrow, then ending as the NWS reports the leading edge of a High system with enter the area early Wednesday and the start of 'an extended period of dry and increasingly mild weather,' which is more-than-okay.
Weather is forever and everywhere. Despite the way-not-mildy-nauseous T-Rump, our environment continues its onward march into weird, and not-nice territory as according to our weather — climate change should be the top of any agenda for all humans.
Alas, until the penny drops…
Until then — yesterday via Climate Central: 'Alaska's soils are taking far longer to freeze over as winter approaches than in previous decades, resulting in a surge in carbon dioxide emissions that could portend a much faster rate of global warming than scientists had previously estimated, according to new research.'
Although the weather is really-nice here right now, the same can't be said for everywhere. These new studies on climate change generally have a similar motif — shit is happening quicker, faster than previous studies/research indicated, and that proverbial-penny is edging closer to a drop zone.
Scientists are smart, but they don't know everything about all kinds of shit — our environment is the only one we have, and once it won't support us…
Further from Climate Central:
Measurements of carbon dioxide levels taken from aircraft, satellites and on the ground show that the amount of CO2 emitted from Alaska's frigid northern tundra increased by 70-percent between 1975 and 2015, in the period between October and December each year.
Researchers said warming temperatures and thawing soils were the likely cause of the increase in CO2 at a time of year when the upper layers of soil usually start freezing over as winter sets in.
…
The result is a huge and continuing expulsion of CO2, a planet-warming gas, into the atmosphere.
In 2013, a particularly warm year racked by wildfires in Alaska, around 40m more tons of CO2 was given out by soils than absorbed by vegetation — an amount four times larger than that emitted by the state's use of fossil fuels.
"A lot of models were predicting this thawing would happen, but not for another 50 to 100 years — we didn't think it would happen this quickly," said Roisin Commane, researcher at the Harvard John A Paulson School of Engineering and Applied Sciences and lead author of the report, published in the Proceedings of the National Academy of Sciences.
"The timescale of this surprised many of us," she said.
"There is a lot of potential CO2 from these soils, which worries people. We'd prefer the carbon stays there."
In the same regard, from meteorologist Bob Henson at WunderBlog this morning:
A burst of desert air swept from northern Africa into southeast Europe over the weekend, bringing temperatures more akin to August than May.
Readings above 35°C (95°F) were widespread across Greece on Saturday.
The city of Argos (one of the world's oldest) reported a high of 40.6°C (105.1°F), which ties a 40.6°C reading set in nearby Astros in May 1988 for the warmest May temperature on record for Greece.
The Athens airport notched its highest temperature ever recorded so early in the year: 33.4°C (92.1°F) on Saturday, beating 32.6°C from May 13, 2007.
Monthly records are especially impressive when they manage to occur toward the front end of a transition-season month such as May.
Friday was one of the hottest days ever recorded in northern Africa for the first half of May, said international weather records expert Maximiliano Herrera.
A high of 47.0°C (116.6°F) was reported in Zuara, Libya, where the all-time national high is 45.7°C for April and 49.9°F for May. Tripoli's airport officially hit 45.0°C (113°F), and nearby personal weather stations reported highs close to 48°C (118°F).
Meanwhile, Sean Spicer on MSNBC right now — a horrific diversion, can't watch, can't look away.
(Illustration above found here).