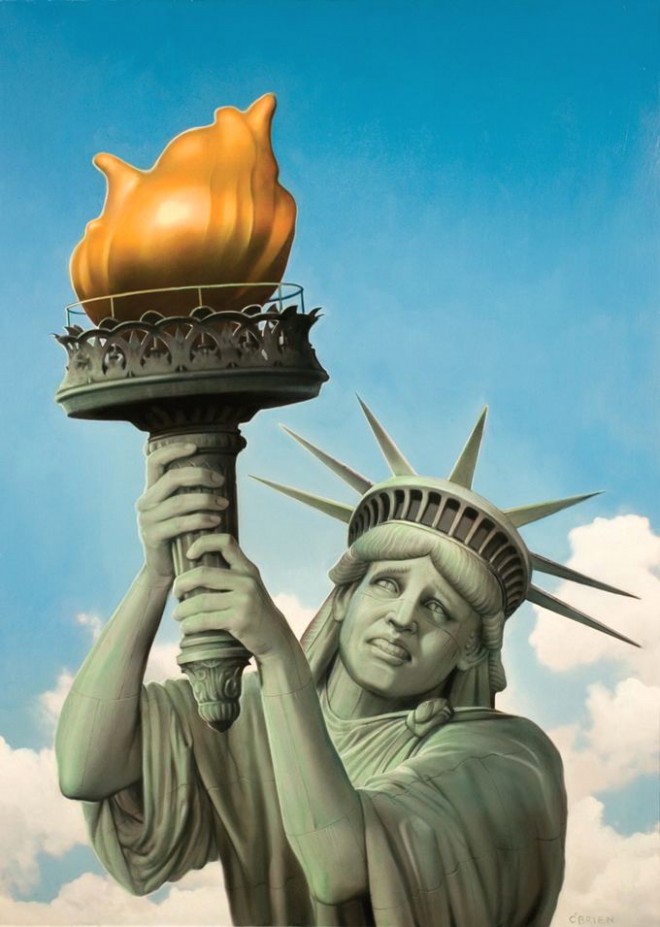 Weak, near-pathetic sunshine this early-evening Wednesday on California's north coast, trying hard to break through the merging marine layer, and previewing a wet-cloudy future the next few days.
According to the NWS, 'unseasonably heavy rain' will spatter the region starting tonight and continuing through Monday — an out-of-season 'Atmospheric River,'
This afternoon, however, the huge focus is on the release of former FBI Director James Comey's opening statement details the day before he's set to appear before the Senate Intelligence Committee. A bombshell — best note came from Benjamin Wittes, Senior Fellow in Governance Studies at the Brookings Institution, in an essay at Lawfare:
Despite this sparseness, or maybe I should say because of it, it is the most shocking single document compiled about the official conduct of the public duties of any President since the release of the Watergate tapes.
(Illustration: Artwork by illustrator and portrait painter, Tim O'Brien, found here).
Read the whole article, as Wittes, editor in chief of Lawfare, lays out the scenario for a crisis, ending with this:
So what does it all mean? We will learn more tomorrow, of course, when Comey is asked to expand on the points he makes in this document, when he is asked
about incidents to which he makes no reference here, when he is asked about the circumstances of his firing, and when he is challenged by those senators who may be skeptical of his account.
We will also learn more as we see which parts of this document, if any, the White House contests.
But I will make three general observations based on this document alone.
First, Comey is describing here conduct that a society committed to the rule of law simply cannot accept in a president.
…
Second, we are about to see a full-court press against Comey.
I don't know what it will look like.
But the attack instinct always kicks in when a presidency is under siege.
…
Finally, it is also critical — though probably fruitless to say — that we eschew partisanship in the conversation.
If we get straight-shooting on this mess — major, major-problems with this entire T-Rump horror-show-scenario have been Republicans. They enabled this terrible predicament, and they just won't put the sake of the country first, and continue to stonewall despite the larger-than-life shitbird indulging in nasty, crude performance-art in the Oval Office.
The USA, and the world, has seemingly been so incredibly-unfortunate to have placed one of the most-detestable of human beings to the most-vital, and most-powerful position on earth.
And really creepy-like frightful — from the direct transcript of Comey's statement (via CNN), an ominous scene of nefarious intent:
The President and I had dinner on Friday, January 27 at 6:30 pm in the Green Room at the White House.
He had called me at lunchtime that day and invited me to dinner that night, saying he was going to invite my whole family, but decided to have just me this time, with the whole family coming the next time.
It was unclear from the conversation who else would be at the dinner, although I assumed there would be others.
It turned out to be just the two of us, seated at a small oval table in the center of the Green Room.
Two Navy stewards waited on us, only entering the room to serve food and drinks.
The President began by asking me whether I wanted to stay on as FBI Director, which I found strange because he had already told me twice in earlier conversations that he hoped I would stay, and I had assured him that I intended to.
He said that lots of people wanted my job and, given the abuse I had taken during the previous year, he would understand if I wanted to walk away.
My instincts told me that the one-on-one setting, and the pretense that this was our first discussion about my position, meant the dinner was, at least in part, an effort to have me ask for my job and create some sort of patronage relationship.
That concerned me greatly, given the FBI's traditionally independent status in the executive branch.
I replied that I loved my work and intended to stay and serve out my ten-year term as Director.
And then, because the set-up made me uneasy, I added that I was not "reliable" in the way politicians use that word, but he could always count on me to tell him the truth.
I added that I was not on anybody's side politically and could not be counted on in the traditional political sense, a stance I said was in his best interest as the President.
A few moments later, the President said, "I need loyalty, I expect loyalty."
I didn't move, speak, or change my facial expression in any way during the awkward silence that followed.
We simply looked at each other in silence.
The conversation then moved on, but he returned to the subject near the end of our dinner…
Ambiance worthy of 'The Godfather.'