A child will lead us, though, maybe too late — the UN climate conference in Katowice, Poland, is happening now, and today 15-year-old Greta Thunberg laid-down the real:
"For 25 years countless people have come to the UN climate conferences begging our world leaders to stop emissions and clearly that has not worked as emissions are continuing to rise. So I will not beg the world leaders to care for our future," she said.
"I will instead let them know change is coming whether they like it or not."
"Since our leaders are behaving like children, we will have to take the responsibility they should have taken long ago," she said.
"We have to understand what the older generation has dealt to us, what mess they have created that we have to clean up and live with. We have to make our voices heard."
The conference aim is supposed to be how to formulate concrete plans in order to get a handle on climate change before it's too late. Odds are…
Yesterday, noted naturalist  Sir David Attenborough didn't mince words either (the Guardian): '"Right now we are facing a manmade disaster of global scale, our greatest threat in thousands of years: climate change," he said. "If we don't take action, the collapse of our civilisations and the extinction of much of the natural world is on the horizon."'
Window of opportunity is closing, though, maybe dropping off the horizon altogether…
Hope springs eternal, but the facts — the Washington Post this morning:
"There's no silver bullet," said Andrew Jones, co-founder of the modeling firm Climate Interactive.
"There's silver buckshot: many actions in many domains."
As the 24th U.N. conference on climate change kicks off this week, a steady drumbeat of scientific reports have sounded warnings about current climate trajectories.
…
The world has waited so long that preventing disruptive climate change requires action "unprecedented in scale," the U.N. Intergovernmental Panel on Climate Change said in an October report.
William Nordhaus, the Yale University professor who just won the Nobel Prize for his work on the economics of climate change, recently described his outlook like this: "I never use the word 'pessimism'; I always use the word 'realism,' but I'd say it's a kind of dark realism today."
Climate scientists and policy experts realize that they walk a fine line between jolting consumers and policymakers into action and immobilizing them with paralyzing pessimism about the world's ability to hit climate targets.

"If you're driving on a highway and the car in front of you stops short, and you slam on brakes and realize that you're going to hit the guy no matter what, that's not the time to take your foot off the brake," said John Sterman, a professor of management at the Massachusetts Institute of Technology's business school.
"And you certainly don't step on the gas."
One great reason for the pessimism, or the 'dark realism,' is the T-Rump and his bullshit cronies, no brakes with a full throttle — pulling out of the Paris climate accord, while at the same time, opening up every square foot of land/sea area to oil drilling, and lessening environmental controls, they're running hard in the opposite direction, down, toward disaster.
Samantha Gross, a fellow at the Brookings Institution's Initiative on Energy and Climate (CNN): '"If we don't lead, who does? It's not clear who that's going to be and if anyone will fill that role."'
T-Rump has already caused great damage in a short space of time, but hopefully, his shit days are numbered. In this period of solid stories on the bad-ugly life of the T-Tump, Rebecca Solnit, also at the Guardian today, constructed a meaty, happy read — maybe the end of the T-Rump nightmare will be coming soon.
Some bits:
Who talks of how grotesquely he groveled before Vladimir Putin and denied his own intelligence agencies' conclusions in the long-ago, far-away world of July 2018 when so much has happened since?
Who remembers the abrupt firing of the FBI director James Comey in the ancient days of May 2017, when the abrupt firing of Attorney General Jeff Sessions on 7 November is so fresh?
The Washington Post's running list of lies (up to 5,000 in September) and the New York Times catalogue of people, places, and things he's insulted on Twitter (548 as of Monday) are helpful.
…
He has lived his life in a world without consequences — his father's money smoothed the way for a life in which he made messes and others cleaned them up.
He appears to be one of those people who was so rarely told that what he was saying was wrong, boorish, or inane that he has no sense of how he's perceived or what people are thinking or, often, how things work.
Feedback is what steers most of us straight, and power and privilege mean that you can avoid it if you want.
When you're a star they let you do stupid things, and he has done so many.
…
All this trouble exists in addition to whatever the Mueller investigation will bring as allegations and charges and perhaps grounds for impeachment.
On 29 November, the Mueller investigation seized tax records from the law offices of Trump's Chicago lawyer, Ed Burke.
Maybe the most important new possible charge, a law professor noted to me, emerges from the report in BuzzFeed that Trump planned to offer Putin a $50m condo if he succeeded in building a Trump Tower in Moscow, while he was running for the presidency.
If true, it is a spectacular violation of the Foreign Corrupt Practices Act.
This 1977 law makes it "unlawful for certain classes of persons and entities to make payments to foreign government officials to assist in obtaining or retaining business".
Trump seems to have admitted he was doing exactly that and apparently thinks that justifying it aloud was good enough.
Of course, Trump denied that he was doing business with Russia or in contact with Russian officials many times during the election and since.
…But it seems likely that for the first time in his life, nothing can protect Donald J Trump from the trouble he's made, and the sheer scale of it is astonishing.
Justice means there are consequences for your actions.
Read the whole piece, well worth your time. It will make you feel better…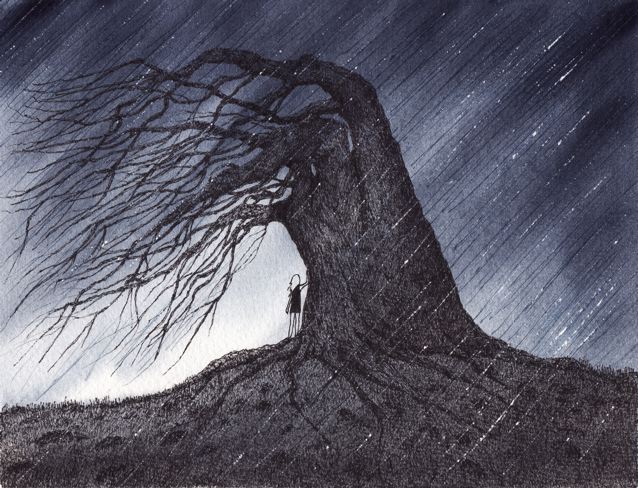 (Illustration found here)