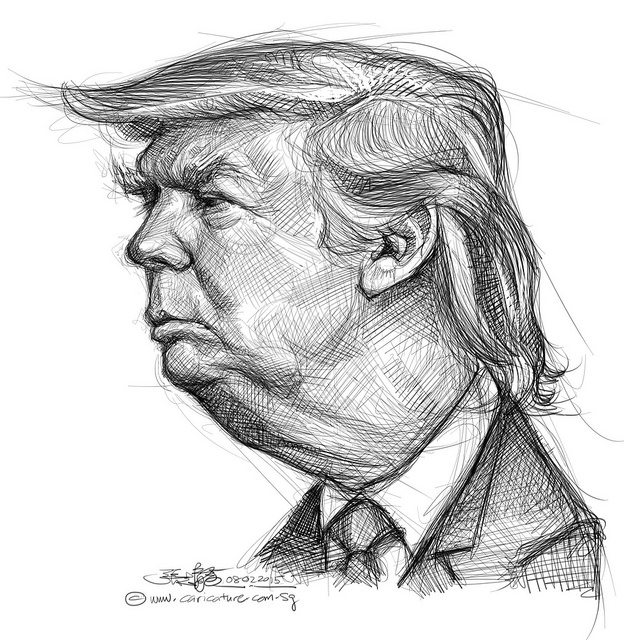 (Illustration: Donald Trump, 'Basic Shapes,' by caricaturist/illustrator Chong Jit Leong, found here).
Cloudy and a bit chilly this Monday evening on California's north coast, dark and overcast all day, though, some faded-weak sunshine appeared later in the afternoon, and more sun forecast for tomorrow — decent rain storm scheduled to start on Friday, supposedly lasting through the weekend.
A new work week in the land of the T-Rump — Huckleberry Sanders this afternoon held her first White House press briefing in nearly six weeks, and the function is now reached beyond surreal levels. The entire T-Rump brand is fucked after the 'cave' on the wall, and the shut-down ended. Pretense no longer, these people are mean-nasty incompetents, and it's now even more obvious.
Authentic gibberish — Jezebel this evening:
The first White House presser in 40 days featured a motley crew of Trump administration officials dedicated to avoidance.
At one point, Sarah Sanders was asked to comment on news that the Trump Organization hired and recently fired undocumented immigrants who have been in their employ for years.
The Washington Post's Josh Dawsey asked, "What does the president think should happen to a business that employs illegal immigrants?"
Sanders, naturally, dodged: "I think that's one of the reasons that the president wants to fix the problem. He's one of the people that's identified that we have a problem and we should fix our immigration system."
Huh?
'Huh?' indeed — In that sense, Huckleberry, the T-Rump is the one-and-only problem.
And Americans are facing up to the music, there's a childish psychopathic idiot occupying the Oval Office. Not only is he the actual worse president ever, we all know it.
From Newsweek this morning:
The survey from ABC News/Washington Post, conducted by Langer Research Associates, found that just 32 percent of Americans viewed Trump favorably.
Fifty-nine percent viewed him unfavorably.
Even some of the people typically thought of as Trump's core supporters don't really like him.
Twenty-nine percent of evangelicals, 24 percent of "strong conservatives" and 22 percent of Republicans had an unfavorable view of the president, according to the survey.
Trump's 32 percent favorability rating overall is dismal, even for a president who has been unpopular during his entire tenure in office.
It is just 2 percentage points higher than the lowest figure registered by former President Bill Clinton, which came amid his sex scandal and impeachment proceedings.
What's more, at that time Clinton's job approval was 64 percent.
Trump has never sniffed an approval rating that high.
The ABC News/Washington Post survey pegged his approval rating at just 37 percent on Friday.
…
The poll from ABC News/Washington Post suggested that Americans might not have much faith that Trump will figure out how to fix the problem.
Almost half of Americans — 48 percent — said they had no confidence "at all" in the president.
The T-Rump 'Never sniffed' anywhere close to anything at all.