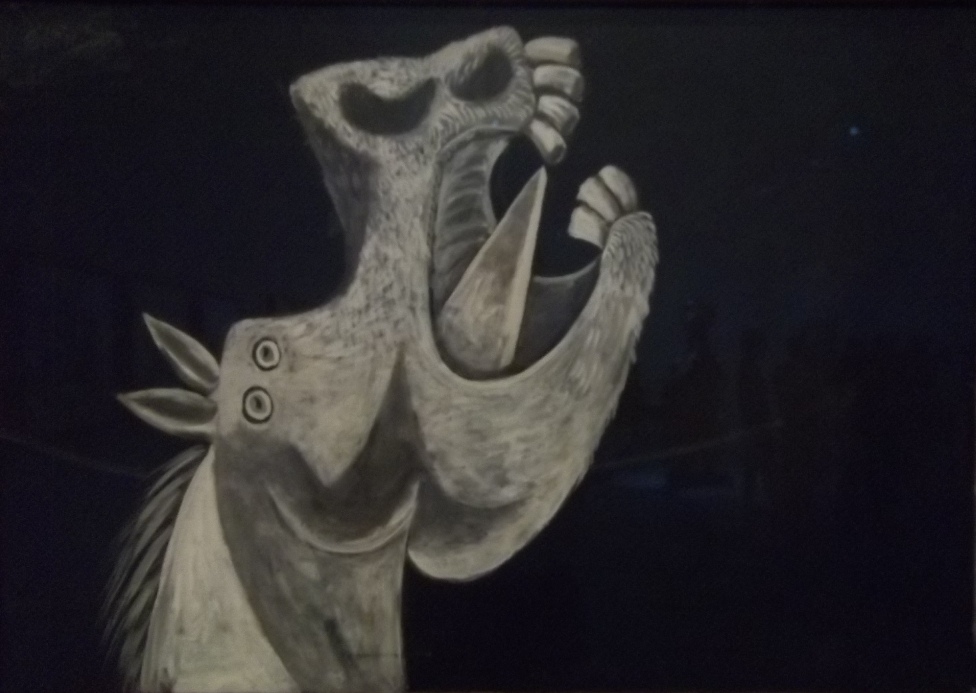 (Illustration: Pablo Picasso's 'Agonizing Horse,' found here).
Clear and chilly this early-evening Friday on California's north coast, a beautiful way to end our last few days of dry — gorgeous-bright and warm this morning without much wind at all, but cooled-off by mid-afternoon with the arrival of a sharp, crisp breeze. Yet still 'good-as-it-gets' for around here, even for this time of the year.
As it goes, this morning could have been a day in July. Rain expected tonight, with decent showers tomorrow, with maybe some hail/snow mix for tomorrow night.
So far this end of the work week carries no big news-dump, though, we were treated to another presentation in our ongoing, never-ending theater of the absurd series — today's particular performance was the nasty-arrogant, so-called testimony of Acting AG Matthew Whitaker before the House Judiciary Committee.
Whitaker is a full-blown turd-ball — Jeff Sessions' chief of staff, and T-Rump lackey. He'd lie, cheat, steal, whatever. Or act the straight-shooting asshole (Daily Beast late this afternoon):
While recapping the oversight hearing, Deadline: White House host Nicolle Wallace turned to Frank Figliuzzi, a former FBI assistant director for counterintelligence, to get his take on the acting attorney general's performance.
Figliuzzi almost immediately charged that the nation's top cop was less cooperative than some terrorists he dealt with while working at the Federal Bureau of Investigations.
"I'm not kidding when I say I have interviewed terrorists who are more cooperative and respectful than Matt Whitaker was today," Figliuzzi deadpanned while Wallace broke out in laughter.
"I gotta tell you, I say that with sadness, because the attorney general's role is America's lawyer."
Figliuzzi went on to argue that Congress represents the American people and, thus, Whitaker's behavior demonstrated "utter disdain" for the public.
"This is basically thumbing your nose at oversight by the people," the MSNBC analyst declared.
"And the way he conducted himself today is an indication that he's not America's attorney; he's essentially seeing himself as [President] Trump's attorney."
Wallace added that she believes that Whitaker — who will soon be replaced by attorney general nominee William Barr following confirmation by the Senate — was auditioning for another job in the Trump administration and was performing for "an audience of one, and that was Donald Trump."
And Charles P. Pierce at Esquire adds his right-on observation:
And he alienated everyone by getting snotty right off the bat with chairman Jerrold Nadler of New York. sniping that Nadler's allotted five minutes were up.
Bald, nasty, and stupid is no way to go through life, son.
Yes, he ducked and dodged.
Yes, he obfuscated and deflected.
He refused to say one way or the other if the Mueller probe was a witch hunt.
But he was so everlastingly bad at it that he made himself appear more unlikable than dishonest, which is a helluva trick, given that nothing he condescended to say about his relationship with the president* made any sense at all.
…
And Jamie Raskin of Maryland pretty much ridiculed Whitaker's entire career, getting all the way up Whitaker's nose until Whitaker finally accused Raskin of challenging his character.
At which point, Collins erupted again and we were treated to Masterpiece Parliamentary Theater one more time.
They have to get better front men if this con is going to survive.
A telling-tell of how horribly-incompetent, and way-petty the entire T-Rump universe/operation came when Rep. Pramila Jayapal (D-WA) asked Whitaker about those thousands of migrant children separated from their families as part of Justice Department stratagem. He was Jeff's chief of staff when that policy was implemented last spring.
Via Vox, also late this afternoon:
Whitaker's response: "There was no family separation policy."
While it's true that there is no DOJ document called "family separation policy," there was a formal "zero tolerance" policy, which resulted in parents being prosecuted for illegal entry and their kids being taken away.
Sen. Jeff Merkley (D-OR) recently released an internal government memo indicating that officials were aware the zero-tolerance policy would result in families being separated.
Jayapal asked Whitaker: "Were you aware of this memo at the time?"
"No," Whitaker replied.
"So as the chief of staff, you were not aware of what your boss was doing?" she asked.
Whitaker didn't have a response.
In the bowels of the T-Rump world, you either lie, or have no 'response.'
And this way-obvious act of bullshit:
Acting Attorney General Matthew Whitaker said it was "deeply concerning" to him how CNN was present during a raid on the home of political operative Roger Stone.
"It was deeply concerning to me as to how CNN found out about that," Whitaker stated during an oversight hearing to the House Judiciary Committee on Friday morning.
And the reality:
CNN's justice correspondent Evan Perez responded to Whitaker on "CNN Newsroom" on Friday morning.
"He knows exactly what's happening here," Perez said.
"There's a bit of a conspiracy being hatched and Matt Whitaker knows the answer to this. He could simply pick up the phone and get an answer to this, but he's choosing to kinda play along with this conspiracy, which is frankly just false."
Whitaker did not share if the Department of Justice (DOJ) has proof that CNN was told about the Stone raid in advance.
CNN Communications tweeted: 'CNN's ability to capture the arrest of Roger Stone was the result of determined reporting and interpreting clues revealed in the course of events. That's called journalism.'
And Rep. Hakeem Jeffries (D-NY) copped the case:
"I'm confused. I really am. We're all trying to figure out, who are you? Where did you come from?" Jeffries, a member of Democratic House leadership seen as a possible future Speaker, asked Whitaker during the House Judiciary Committee hearing.
"And how the heck did you become the head of the Department of Justice?" Jeffries stated.
"Hopefully you can help me work through this confusion."
When Whitaker began to respond, Jeffries promptly cut him off and chided: "That was a statement, not a question."
"I assume you know the difference," he said.
Terribly partisan in a big way, but to be expected…