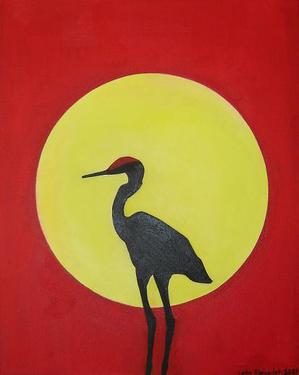 (Illustration found here).
A warm and bright Monday afternoon on California's north coast. Despite temperatures only in the mid-50s around noon-time, the lack of any decent wind fostered a much-more-warmer feeling.
Walking the dogs earlier out on Little River State Beach the air felt actually, 'hot.' Even if using that word too soon in the year is exaggerating, today was a wondrous, but fleeting glimpse into spring.
The dogs — Cowboy, a Healer, and Kuru, a Borgi — love the beach. We usually visit the Ma-le'l Dunes near Manila, or maybe different spots on Samoa Peninsula, but after recently relocating to the north side of Arcata, we go north. And the North Beach Trail at Little River is now the route to the beach.
Just enjoy — the NWS forecasts rain for tonight and all day tomorrow, but sunshine and dry conditions crank-up again on Wednesday, and the local-coastal weather is expected to continue in that mode for awhile.
Although decreasing now, rain has been a big factor this winter, here and all over — the National Oceanic and Atmospheric Administration reports it's been the wettest on record:
The average precipitation, including rain and melted snow, was 9.01 inches during meteorological winter, which spans December, January and February.
That amount was 2.22 inches above normal and broke the record of 8.99 inches set during the winter of 1997-1998.
Our own record snowfall along the coast last month was the most in 29 years:
The zone from the Pacific Northwest to the Great Lakes was hit repeatedly by winter storms that unloaded historic amounts of snow.
Record February snowfall was observed in Seattle (20.2 inches); Pendleton, Oregon (32.5 inches); Great Falls, Montana (31.3 inches); Rochester, Minnesota (40.0 inches); Minneapolis (39.0 inches); and Eau Claire, Wisconsin (53.7 inches).
In addition, numerous California ski areas in the Sierra Nevada, blasted by a series of atmospheric rivers, witnessed record snowfall in February. Mammoth Mountain and Squaw Valley reported record snowfall over 200 inches.
…
U.S. precipitation over the past three, six and 12 months has been unsurpassed.
While precipitation over a short period cannot be conclusively linked to climate change, a greater frequency of heavy downpours is projected in a warming world, which would increase the likelihood of any given period being abnormally wet.
And of climate change — via WunderBlog last week:
Despite periods of intense drought in recent years, especially toward the Southwest — with the impacts worsened by rising temperatures — the overall trend over the last century has been toward wetter U.S. conditions.
The 48-state annual precipitation average is now around 31" compared to 29" a century ago.
…
The turn toward frigid conditions across much of the U.S. in February failed to counterbalance unusual warmth in December and most of January, which left meteorological winter on the mild side compared to all winters since 1895.
This was the 38th warmest of the past 124 winters, according to NCEI.
South Dakota was the only state that fell significantly below average on temperature, while four states across the Southeast had a top-ten-mildest winter.
A preliminary all-time state record low was set on January 31 when Mount Carroll, Illinois, dropped to –38°F, yet Illinois still ended up with its 33rd mildest December-to-February period on record.
This may be a good example of where memories of a given winter will be shaped more by a single intense event rather than by the three-month statistical average.
By any yardstick, climate change is the number-one problem above all others right now. A major-major obstacle for all of humanity. Studies/research/reports/whatever have pretty-much indicated the earth is fucked if we don't do something, and the longer we wait, the more drastic the measure required.
One such new study reports on the directions we need to go 'now' in order to handle the environment in 30-50 years. From Discover Magazine this afternoon:
The window for such a livable future is closing rapidly, the team reports Monday in the journal Nature Climate Change.
The analysis shows that an acceptable future depends on two things: how fast we eliminate CO2 emissions and how sensitive the climate is to emissions.
Right now, the climate's reactivity is a major factor.
If our climate turns out to be highly insensitive, meaning it's resilient to rising CO2 levels, then there's a 50-50 chance we have until mid-century to achieve a tolerable future, the researchers found.
And if the climate's sensitivity is mild, then we've got about the next decade or so — by 2030 — to change course and have a 50-50 chance of success.
But if the climate ends up being any more sensitive than that, then we've already closed the window to achieving a tolerable future with a 50-50 chance of success.
Although climate sensitivity plays a central role in determining whether the world is able to meet this tolerable future goal, the actions society takes are also a major factor, the researchers found.
Whether we lower emissions now will likely not affect the climate we will experience in the next 20 to 30 years, but they will determine what the climate will look and feel like for generations to come, according to the researchers.
"Our analyses actually show that when you go out to the end of the century, so sort of what our children and grandchildren will be experiencing as a climate, at that point climate sensitivity is not actually the major controlling factor of the climate they're experiencing," Lamontagne said (Jonathan Lamontagne, a systems analyst at Tufts University in Massachusetts, who led the new research).
"It's actually what climate actions were taken earlier in the century."
…
But if we continue on our current trajectory, a tolerable future is out of the question.
Still, Lamontagne takes an optimistic outlook.
"Even if achieving 2 degrees C by the year 2100 is impossible, the world would be better off for having tried," he added.
"2.5 degrees C (4.5 degrees F) of warming is surely going to be better than 4 degrees C (7.2F) or 5 degrees C (12.96F) or 6 degrees C (10.8F)."
Duh!