First post at Compatible Creatures in 17 days, how time seems to fly.
Frantic life we lead — an actual whimsy from Dictionary.com:
Time passes quickly, as in It's midnight already?
Time flies when you're having fun, or I guess it's ten years since I last saw you — how time flies.
This idiom was first recorded about 1800 but Shakespeare used a similar phrase, "the swiftest hours, as they flew," as did Alexander Pope, "swift fly the years."
And if a goodly-part of that time is a road trip, clocks and calendar-days are pretty much swift-flying.
Near-about this time last year, I had a medical emergency, or maybe a couple of them at the same time, it does happen. After surgery in mid-summer, I've had a bunch of follow-up doctor's appointments, some here on California's north coast, but probably the most important (though, all are important, I guess), is down at UC Davis in Sacramento, down, way-down in the Central Valley — the latest just last week.
The medical engagement also allowed for a decent-sized visit with a daughter completing her PHD at UC Merced, located oddly in Merced, about two hours south of Sacramento. She was on spring break, so we had a good time.
During the 1980s I lived in the San Joaquin Valley, first in  Visalia, then later in Fresno, so I recognize the physical/mental madness of the region, though now worse. Due to academia, my daughter is resigned to it.
However, after living for nearly three decades along the Pacific shoreline, including soon-to-be 12 years here on the North Coast (last place was the Central Coast, San Luis Obispo County), I found the heat and flatness surreal and aggravating. Yet it was just spring!
Even in spring time — now late afternoon Saturday, just earlier we up here were sitting at 62-degrees, while Merced at the same time was 76, at least according to WunderBlog's weather thingies, a 15-dregee difference, and that's just craziness in temperatures. Don't get me started with the air…
Anyway, time flies if you're having fun, or on a road trip, but because of the nowadays even in doing absolutely nothing, times flies…
This seemed to spark the period (h/t Susie):
And a counter sense from Ms Emily Dickinson, 'Immortality'
It is an honorable thought,
And makes one lift one's hat,
As one encountered gentlefolk
Upon a daily street,
That we've immortal place,
Though pyramids decay,
And kingdoms, like the orchard,
Flit russetly away
Sort of like time flying, though, actually more kicky-split in a flit russetly…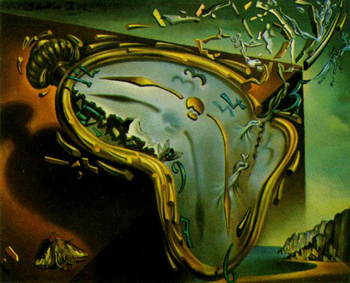 (Illustration: Salvador Dali's 'Soft Watch at the Moment of First Explosion,' found here).