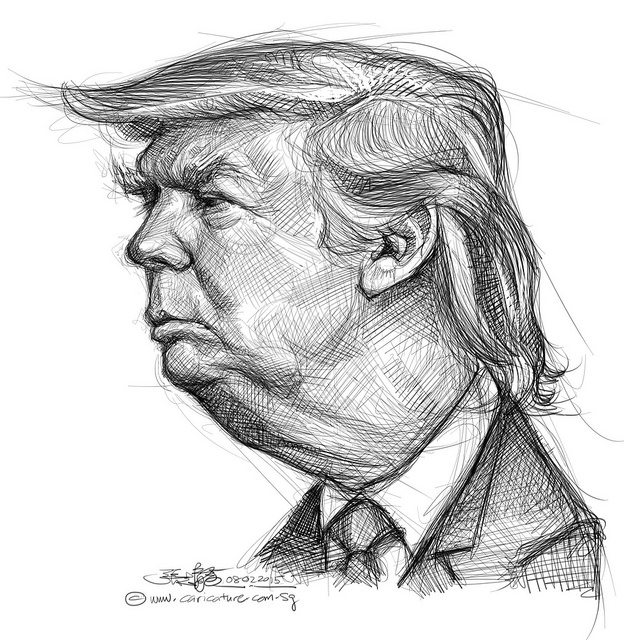 Sunny and windy this early-evening Wednesday here on California's north coast — overhead all day were big pieces of fluffy clouds pacing across the sky, the movement creating dramatic, on-and-off different shades of dark to the air.
I sat outside for awhile in early afternoon — terrific in a wind-break, pretty warm. too.
Dog run to Little River Beach was bright, but windblown — maybe Ma-le'l Dunes tomorrow.
Wait-and-see…
You have to just 'wait-and-see,' mainly due to the way-shitty hombre pictured in the artwork to the left — titled 'Basic Shapes,' by caricaturist/illustrator Chong Jit Leong (found here).
Got to wait — never know what terrible consequences will reverberate off that asshole.
The T-Rump has got to be one of the worst human beings ever. If allowed to vent his full agenda, he'd be just as horrifying as Hitler, or any other counterpart/bully-asshole who's ever lived. 'Basic Shapes' nails the lack-of-humanity basics of the turd — bloated with nefarious, arrogant ugliness. My favorite T-Rump artwork (absolutely-not in a good way, 'favorite'), a pug-side-mug-shot of pure malevolent idiocy.
In the case of protestors in London, the T-Rump lied: '"There was great love, there was an alliance and I didn't see the protesters until just a little while ago and it was a very, very small group of people put in for political reasons, so it was fake news," he said.'
Wrong, asshole!
Trump sounded delusional when he said there were thousands welcoming him in London. I didnt see them. And that small crowds of protestors were put out for political reasons. These not are some frog marched, bussed in protesters. pic.twitter.com/nf0BMRaCPs

— Richard Engel (@RichardEngel) June 4, 2019
Delusional is putting it mildly — and cruelty the mark (CBS News): 'The Trump administration on Wednesday moved to end all educational, recreational and legal services offered to migrant children in U.S. custody, warning the public and Congress that it is running out funds to take care of unaccompanied minors detained near the southern border.'
And this previously not seen — the T-Rump acting the sexual turd.
Via today's Courthouse News:
Attorneys for President Donald Trump argued before a federal judge Wednesday for the dismissal of a lawsuit from a former campaign staffer claiming Trump forcibly kissed her before a 2016 rally in Florida.
Alva Johnson, a black 43-year-old event planner from Alabama, made the accusation as part of a larger class action brought in Tampa federal court which also claims the Trump campaign paid female and African-American staffers less than their white male counterparts.
…
Johnson joined the campaign in 2015 as the director of outreach and coalitions for Alabama.
She later became part of the campaign's "national strike team" that dropped into important states to quickly organize volunteers and events.
Johnson was named operations administrative director for Florida in the last months of the campaign.
She claims she was working in that role when, inside an RV before an August 2016 rally in Tampa, Trump grabbed her hand and leaned in "close enough that she could feel his breath on her skin" for a kiss on the mouth.
She turned her head and Trump landed the kiss on the corner of her mouth, according to the lawsuit.
"Ms. Johnson was wearing a baseball cap with the bill facing forward. Given her baseball cap, defendant Trump's kiss on Ms. Johnson's mouth was deliberate and required intention," the complaint states.
"Immediately afterwards, the Secret Service ushered defendant Trump away, off the RV.
Ms. Johnson stayed in the RV, in shock about what had just transpired.
She felt confused and humiliated."
Johnson quit the campaign less than two months later before the November 2016 election.
Trump has yet to comment publicly on the lawsuit.
At the end of the hearing, the judge hinted Johnson's battery claim could be difficult to dismiss outright.
"That's not going anywhere," (U.S. District Judge William) Jung said.
"She is entitled to her day in court."
Situation does seem to get more shitty by the day, hence, wait-and-see on everything…