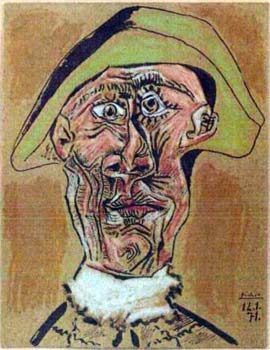 Sunshine right now coupled with a cool, brisk ocean breeze this late-afternoon Friday here on California's north coast.
Earlier mostly cloudy with just a little sun, but who knows…
Pablo Picasso's 'Harlequin Head,' (found here), from 1971, sure does resemble President Obama, in a surreal form, of course, and excellent art for a post about an interesting poll published yesterday at Pew Research Center:
When asked which president has done the best job in their lifetimes, more Americans name Barack Obama than any other president.
More than four-in-ten (44-percent) say Obama is the best or second best president of their lifetimes, compared with about a third who mention Bill Clinton (33-percent) or Ronald Reagan (32-percent).
Also 19-percent of those same respondents claimed the T-Rump has done the best or second best job of any president of their lifetimes, and oddly about the same as Obama fared in 2011 (20-percent).
People's views of the best president of their lifetimes are partly tied to their ages.
Millennials, who are currently ages 22 to 37, are far more likely than older generations to name Obama as one of the best presidents in their lifetimes: About six-in-ten Millennials (62-percent) view Obama as one of the top two, with nearly half, 46-percent, naming him the best president.
Older generations are much more likely than Millennials to name Reagan as one of the best presidents.
Reagan was president before most Millennials were born.
Gen Xers (ages 38 to 53) are divided in their assessments: 45-percent of Gen Xers name Reagan, while nearly as many mention Obama (41-percent) or Clinton (39-percent).
What? Reagan? '…the top choice among Boomers (ages 54 to 72) and Silents (ages 73 to 90); about four-in-ten in the two older generations name Reagan (42-percent of Boomers, 38-percent of Silents). But within both generations, there are a range of opinions, with Obama, Kennedy, Clinton and Trump all receiving mentions from 15-percent or more Boomers and Silents.'
Boomers are really pathetic, we've caused a lot of generational shit…
Another interesting survey, this one from Public Policy Polling this past Tuesday — U.S. soccer star Megan Rapinoe beats the T-Rump in a hypothetical 2020 election contest:
The hypothetical survey pits Rapinoe as the Democratic nominee and shows her with a 1-point advantage over Trump, 42 to 41-percent.
The survey did not list a margin of error, though her lead appears to be within a typical margin.
Previous PPP polls have shown Trump with between 40 and 42-percent support in head-to-head matchups against eight Democratic hopefuls.
Trump's approval rating is at 42-percent in the latest poll, with 52-percent of voters disapproving of him.
Although Rapinoe, 34, is unlikely to run for president, the survey from the left-leaning polling outlet does show potential concerns for Trump's reelection campaign.
"Rapinoe may be an unlikely Presidential candidate but her numbers still speak to a broader truth about Trump's standing- the fact that he polls in the low 40s against any Democrat he gets tested against shows that electability concerns are overrated and Democrats should feel comfortable voting for the candidates they like the best, not just the ones they think have the best chance of beating Trump," PPP said in a statement.
A whole-other story…