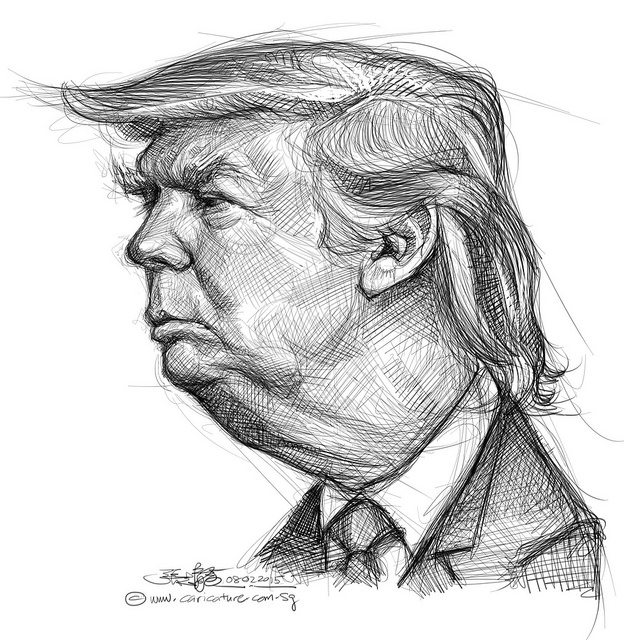 Asshole T-Rump is even worse than we already know — today's PsyPost:
New research suggests that President Donald Trump's affinity for fast food can influence the public's dietary intentions, and potentially contribute to a greater disease burden on society.
The new study, published in the journal Appetite, builds upon research that has shown a link between media coverage of a public figure's health and changes in public behavior.
He fucks up every fucking thing…
(Illustration: 'Basic Shapes,' by caricaturist/illustrator Chong Jit Leong found here).
And further:
"I noticed there was a decent amount of news coverage and general media commentary about President Trump's love of fast food, and it was in stark contrast to most of the food-related media coverage of the Obama presidency, which focused more on Michelle Obama's garden and the pressure she put on President Obama to eat healthy," explained Jessica Gall Myrick (@jessmyrick), the author of the study and an associate professor of media studies at the Pennsylvania State University.
"That observation sparked my curiosity about the possibility that the media coverage of Trump's fast-food-heavy diet could be related to the public's view of how acceptable it is to eat fast food as well as how likely they are to actually eat it themselves.
"And, because obesity is such a serious health problem in the United States and fast food consumption is associated with higher rates of obesity, it seemed like an important topic to investigate."
…
"For both Republicans and Democrats, greater attention to media coverage of Trump's diet was related to more positive attitudes toward fast food.
"However, for Republicans, this relationship was nearly twice as strong, meaning that as attention to media coverage of Trump's diet increases, Republicans are quicker to report positive attitudes toward fast food than are Democrats."
Meanwhile, beyond a loaded cheeseburger with fries — the UK's Independent this morning:
Major US arms companies have seen their stock prices jump following the Trump administration's assassination of Iranian military commander Qassem Soleimani.
…
Defence technology company Northrop Grumman saw its stock up by 5.43-percent on Friday, while Lockheed Martin stock gained 3.6-percent and Raytheon stock rose by 1.5-percent.
The killing of Soleimani, a powerful military commander, has sparked fears of an all-out war between the US and Iran, which would lead to increased military spending.
…
Stock market analysts tracking the defence market believe the escalated tensions in the region could lead to increases in military spending, according to The Washington Post.
Oil prices also surged following the strike on Friday, with US crude oil climbing by 3.1-percent, while stocks fell broadly on Wall Street.
Roman Schweitzer, from the Cowen Washington Research Group, has said the airstrike is a "major escalation" that shifts US-Iran tensions towards a direct confrontation.
"This is the equivalent of Iran killing the US chairman of the joint chiefs of staff or the director of the Central Intelligence Agency and then taking credit for it" Mr Schweitzer wrote in an analyst note.
Sheila Kahyaoglu, an analyst for Jefferies Investment Bank, also wrote to investors that the threat of conflict in the Middle East "points to the broad threat profile that supports elevated levels of spending", according to The Post.
And one Predator drone with my "hamberder," if you please…