My greatest anxiety-spiked fear, a most-legitimate fear — Democrats are notorious for self-fucking-up, but this no time for it, as tomorrow this shit gets real (h/t Susie):
Top Democrats turn on each other after Iowa, complicating the party's chances against Trump https://t.co/gFD9aCHxrC

— ToddT (@Tst1933Todd) February 10, 2020
Beyond all the twisted lies, cherry-picked 'alternate facts' and conspiracy theories to be unleashed by Republicans from now til November, especially from the bowels of the T-Rump, the big unwieldy bummer is Democrats penchant for self-disaster. And they're already performing to nature.
My fear is freakin' real: '"Panic is a natural state for Democrats, but as Freud once said, sometimes a cigar is just a good cigar," said David Axelrod, the chief strategist of Barack Obama's 2008 campaign. "A strengthening Trump. A very uncertain picture surrounding the nomination. There is reason for concern."'
No shit, Sherlock.
In retrospect, and a point for the nowadays, a funny-sad, but major historical Demo fuck-up happened to Ed Muskie, campaigning for the New Hampshire primary in February 1972 — he wept a little, maybe. Enough, however, yet mild compared to the nowadays:
Earlier that year, the Maine senator was the front-runner for the Democratic presidential nomination.
A two-term governor of Maine before joining the Senate, Muskie gained national recognition as the vice presidential candidate in Hubert Humphrey's unsuccessful 1968 presidential race.
And with a 6-foot-4-inch frame, he had an imposing and intellectual presence that drew comparisons to Abraham Lincoln.
"We thought he was the only one that could most easily beat Nixon," says Barry Wanger, Muskie's New Hampshire press secretary.
And then came what Muskie himself later called "a watershed incident."
A few weeks before the New Hampshire primary, William Loeb, the influential, conservative publisher of the Manchester Union Leader newspaper, ran two scathing pieces.
An editorial accused Muskie of using an ethnic slur against French-Americans, a large voting bloc.
Loeb published as evidence a letter from a Florida man that would later be determined a hoax planted by the Nixon White House.
The next day Loeb implied that Muskie's wife took an unladylike pleasure in drinking and telling jokes.
Exhausted by the campaign but furious over the accusations, Muskie organized a press conference in front of the Union Leader offices.
During a morning snowstorm, with shoulders heaving and voice breaking, Muskie called Loeb a "gutless coward" for attacking his wife.
Muskie denied that he cried at that press conference.
Any water on Muskie's face was melted snow, aides would say, but the damage was done.
National newspaper reporters wrote that he wept, and many voters wondered if Muskie had the strength and composure to run the nation.
Muskie would go on to win the New Hampshire primary, but it was Sen. George McGovern's strong performance that made headlines.
For Muskie, it was the beginning of the end.
Coming in fourth in the Florida primary in March sealed Muskie's fate, and he withdrew the following month.
McGovern would go on to take the Democratic nomination, only to lose in a landslide to Nixon that November.
The T-Rump is a way-talented ratfucker from way back, way-way-beyond dishing-out bullshit about '…unladylike pleasure in drinking and telling jokes.'
In our particular case, the T-Rump also has the entire government at his beck-and-call, as witnessed by how the 'Treasury Department turned over Hunter Biden's confidential financial records to Republican senators despite refusing to release President Donald Trump's tax returns as required by law.'
Or AG Bill Barr proclaiming today of the Justice Department's new policy of an '…"open door" to any individuals, including former New York City Mayor Rudy Giuliani, who have information on issues involving Ukraine, and noted that the agency would "scrutinize" this information.'
Just for starters on the side of bad tidings.
So way-not the time for internal squabbles. Yet it's apparently happening — a sampling of the news coverage on this shit via the Washington Post yesterday afternoon:
Democratic leaders have edged toward the brink of open war with one another in recent days after a series of jarring setbacks that could jeopardize the party's chances against President Trump, who continues to solidify his iron-fisted control over the Republican election apparatus.
The infighting focuses largely on the failed caucus process in Iowa, with state and national Democratic leaders at odds over who deserves blame, as well as an increasingly bitter dispute over the rules governing who gets into future nationally televised candidate debates — a process that could allow billionaire Mike Bloomberg to make the stage later this month.
In a particularly stark sign, supporters of Sen. Bernie Sanders (I-Vt.) have returned to bashing the Democratic National Committee, reviving grievances from the divisive 2016 primary race.
In that campaign, Sanders backers said that the system had been stacked against the democratic socialist — a view later affirmed when WikiLeaks released hacked internal emails — and supporters of nominee Hillary Clinton blamed Sanders for failing to sufficiently rally his base on Clinton's behalf in the general election.
…
The brew of resentment and anxiety represents a sharp turn for a presidential primary race that began last year with a historically diverse field and intense optimism that Democrats could harness the same energy that helped them win big in 2018.
Now party unity is breaking down just as voters express rising concerns that none of the remaining candidates is fully equipped to take on an incumbent president who regularly scoffs at political norms of civility and accuracy.
Still here we be, again.
Finish with some happy uplift — just spied a sweet particle at Balloon Juice, creating anew of not-necessarily being sad:
Far be it from me to get in the way of a Dems in Disarray media frenzy … but it the latest Quinnipiac poll has Trump at 42% and losing to every potential Democratic nominee

Bloomberg 51 – 42
Sanders 51 – 43
Biden 50 – 43
Klobuchar 49 – 43
Warren 48 – 44
Buttigieg 47 – 43

— Michael Cohen (@speechboy71) February 10, 2020
No Muskie tears…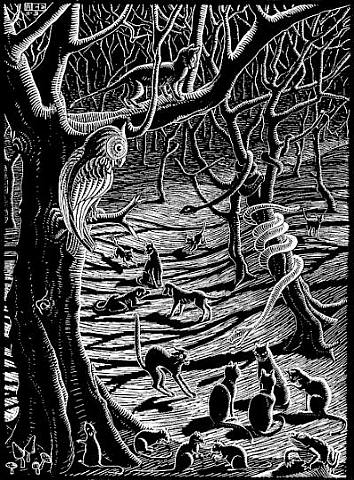 (Illustration: M.C Escher's 'Scholastica,' found here).