Sunday used to be usually a slow news day, but not in the nowadays. Although there's less posting by most blogs, the major news sites keep churning it out, mostly with shit from talking heads, or rehashed newspaper reports, blended with breaking events as pandemic action never stops, until it stops, people die even on a weekend.
America is fucked right in the corona, and quickly, too, — less than a freakin' month! The following is surreal as a Twilight Zone episode played backwards to Enigma music (again h/t Digby):
Good lord this video. Like a thoroughbred making a late break in a horse race pic.twitter.com/EHdbTCviiU

— Josh Marshall (@joshtpm) March 29, 2020
If that's not hypnagogic enough, couple it with actual speech and a shitty possible-scenario to make it even-more grim, a load of Americans yet to die — this morning at CNN:
"Whenever the models come in, they give a worst-case scenario and a best-case scenario. Generally, the reality is somewhere in the middle. I've never seen a model of the diseases that I've dealt with where the worst case actually came out. They always overshoot," Dr. Anthony Fauci, a key member of the White House's coronavirus task force, told CNN's Jake Tapper on "State of the Union."

"I mean, looking at what we're seeing now, you know, I would say between 100 and 200,000 (deaths). But I don't want to be held to that," he said, adding that the US is going to have "millions of cases."

The comments come as the number of reported coronavirus deaths doubled to more than 2,000 nationwide in two days.
The US has the most confirmed cases worldwide, with more than 121,000 as of Saturday morning.
Warnings, warnings? Were there warnings? Maybe Stephen King — via the Guardian this afternoon:
"Just in the last three or four weeks people are saying to me, 'We are living in a Stephen King world,' and boy, all I can say is I wish we weren't," King, who has sold an estimated 350m books worldwide, told CNN.

"This has been waiting in the wings for a long, long time. I wrote The Stand about a pandemic that wipes out most of the human race, and thank God this one isn't that bad, but I wrote that in 1979 and ever since then this has just been waiting to happen.
"The fact that nobody really seemed prepared still mystifies me."
Speaking of which, not much of a mystery — a review:
Every American should see this ad. pic.twitter.com/TEfkrkDsWP

— Matt Rogers ? (@Politidope) March 20, 2020
And this one, too. I posted both videos last Thursday, but life changes for the worse, and they should be watched again and again — except it's freaky-nauseating to see if you're fully conscious of what is actually being presented:
The trump campaign sent a cease and desist letter to Priorities USA for this ad. So I'm retweeting it. pic.twitter.com/0Q1QO9TeQT

— Adam Parkhomenko (@AdamParkhomenko) March 26, 2020
The horror of the T-Rump has crossed into actual death and destruction
In a piece this afternoon at The Washington Post poses a same time-frame, different reactions — local vs. federal:
Across the country, state and local officials, frustrated by what they described as a lack of leadership in the White House and an absence of consistent guidance from federal agencies, took steps on their own to prepare for the pandemic and protect their communities.
In some cases, these actions preceded federal directives by days or even weeks as local officials sifted through news reports and other sources of information to educate themselves about the risks posed by the coronavirus.

In other instances, cities and counties wrestled with how to handle individuals who tested positive or were placed under mandatory quarantine, and in the end, who was going to pay for it all.
With scant information about the virus and no warnings against large gatherings, cities such as New Orleans moved ahead in February with massive celebrations that may have turned them into hotspots for the virus.
…
"The leader in global pandemics and protecting the United States starts at the federal level," said Nick Crossley, the director of emergency management in Hamilton County, Ohio, and past president of the U.S. Council of International Association of Emergency Managers

He praised Republican Gov. Mike DeWine for taking bold steps early, including declaring a state of emergency when there were only three reported cases on March 9, four days before the federal government followed suit.
Thirty states had declared a state of emergency by the time Trump declared a national emergency on March 13.

"They didn't move fast enough," said Crossley, of the federal government.
"And what you've seen is more local and state officials sounding the alarm.

"We needed a national response to this event."
Unfortunately, past tense ('needed') as that horse might have already left the barn.
If you must, then start to cry…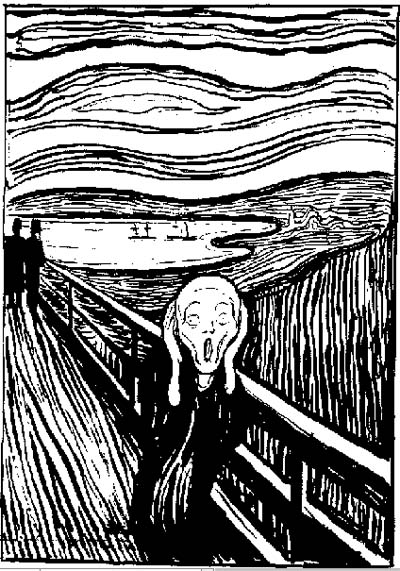 (Illustration: Edvard Munch's 'The Scream,' lithograph version, found here).