End of what-used-to-be another work week, but Friday now could easily be a Wednesday in the current state of affairs. Or a Tuesday.
Chief topic, of course, remains COVID-19 and all connecting subjects. 'Surreal' is a word I'd use, but it's getting a bit worn lately, maybe 'bizarre,' or 'freakish' in replacement, or perhaps a leap to the more shocked-intellect level, and 'phantasmagorical?'
Worldwide, the coronavirus is really all of the above — there's almost 1.1 million people infected, killed more than 59,000, and the US as of this writing has more than 275,000 COVID-19 cases, more than 7,400 deaths.
Locally, Merced County here in California's Central Valley reported three new cases today, bringing our total to 19. The big pop is that one of those new cases is our first 'person-to-person' infection. 'Community spread' is when it is not known how or where they were exposed; 'person-to-person spread' happens between those in close contact, and is thought to be the main method of exposure. (Merced Sun-Star this evening).
Meanwhile, way back East the T-Rump held another asshole performance of a coronavirus briefing/rally today and all-around shit-show:
One for the history books. "I want to come way under the models. The professionals did the models. I was never involved in a model. But—at least this kind of a model," Trump says at the coronavirus briefing. pic.twitter.com/nIICDFUS3y

— Jennifer Jacobs (@JenniferJJacobs) April 3, 2020
He's a thoughtless, nasty, degenerate creep, turning the serious into a hideous self-joke (Mediaite):
At today's White House coronavirus task force briefing, President Donald Trump was asked about the models this week projecting 100,000 to 240,000 deaths with serious mitigation.
Dr. Deborah Birx talked about what we're witnessing in other countries and warned that despite the models this week,
"All of that can be changed by our behaviors… all of it can be changed in a different way if we don't follow those behaviors."

"If another major metropolitan area ends up having an epidemic like the New York metro area, that could dramatically change, not the model, but the reality of the impact of the virus on Americans," she added.

Trump said, "The models show hundreds of thousands of people are going to die. You know what I want to do? I want to come way under the model."

And he added, "The professionals did the models. I was never involved in a model — at least, this kind of a model."
And this:
WATCH: @weijia presses President Trump on Jared Kushner's comment that the federal stockpile is not meant for states https://t.co/b9FtmY5sM4 pic.twitter.com/IWfuxXPb7Q

— CBS News (@CBSNews) April 3, 2020
Further per Deadline this evening:
CBS News White House correspondent Weijia Jiang asked Trump about a comment that his son-in-law, Jared Kushner, made at the previous days briefing.
As he outlined steps the White House was taking to improve the supply chain, he said, "You have instances where in cities, they are running out but the state still has a stockpile. And the notion of the federal stockpile is it is supposed to be our stockpile. It is not supposed to be the state stockpile that they then use."

The comment caused some confusion and some puzzlement, as it raised the question of whether the federal government was for some reason holding back its reserve of medical equipment in the midst of a national emergency.

After Jiang asked Trump's what Kushner meant when he said "our stockpile," Trump lashed out at her.

"Why are you asking me? What's that a gotcha? A gotcha? You use the word 'our.' Our — you know what our means? The United States of America," he said.
"That's what it means. Our. Our. The United States of America. Then we take that our and we distribute it to the states."

He added, "The federal government needs it too, not just the states. …As example, we have 10,000 ventilators and we are going to rock with those ventilators, and we are going to bring them to various areas of the country that need them. But when he says 'our' he's talking about our country. He's talking about the federal government.
It's such a basic simple question and you try and make it sound so bad. You ought to be ashamed of yourself. … Don't make it sound bad. You just asked your question in a very nasty tone."

She also tried to ask him why, in the wake of Kushner's comment, the Strategic National Stockpile website was changed to more clearly mirror his comments. But Trump went on to another question.
…
When ABC News' chief White House correspondent Jon Karl asked the president whether he could assure New York that they will have enough ventilators, given that the governor has warned that the supply would run out in the next six days, Trump said, "They should have had more ventilators at the time. They should have had more ventilators."
…
Trump also was defensive about his administration's response to the crisis.
CNN's chief White House correspondent Jim Acosta asked why, if the administration was preparing for a pandemic, "Why is it we don't have enough masks? Why is it we don't have enough medical equipment in this country?"

Trump blamed his predecessors.
"The previous administration — the shelves were empty. So what you should do is speak to the people from the previous administration, Jim, and ask them that question. And you know what else? The military shelves were also empty. We had no ammunition."

Trump has made the ammunition claim before, and The Washington Post fact checker gave it three Pinocchios. He's also contended that the shelves of the national stockpile were empty, but Factcheck.org has deemed that false.
Critics also quickly ask why, if the shelves were bare, they weren't restocked in the three years that Trump has been in office.
Once again, with much gravity, I ponder Pinball's fatal words: "We be fucked."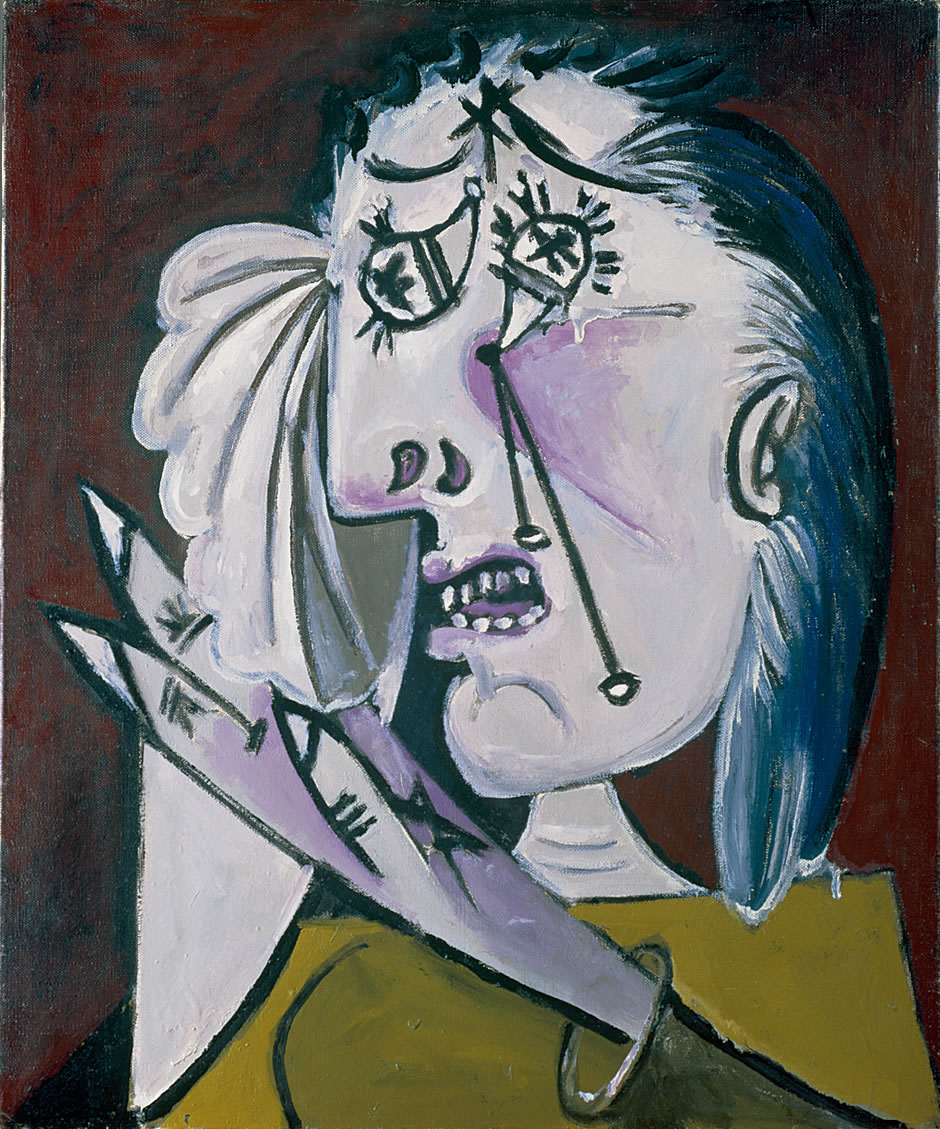 (Illustration: Pablo Picasso's 'The Weeping Woman [La Femme qui pleure],' found here).