Another Friday, and the end of whatever, and the beginning of whenever. As I've whined before, hard to tell the day of the week without the little note on my cell-phone — it's a flip-type, no iPhone for me. However, I can just touch a little thingie on the side to get the info without flipping, so there's that to ponder endlessly.
In this freakish time, we've encountering hardcore idiots without a simple-single brain ounce left to consider any thoughts on reality, much less gather particulars off a flip-phone. Not only are we facing a bizarre, nasty pandemic, but maybe even worse, cruel morons flashing wise.
A most-excellent rendering of what we face came this morning when I spied the following on the spread of COVID-19 and what we face regarding massive testing to track the movement of the virus and isolation to slow/hopefully stop the advance of the disease. Video at the end is really eye-opening (h/t BJ):
Video that explains to the general public but also to the medical community why the asymptomatic/minimally symptomatic population is both the reason why mortality is "low" but also why this disease causes so much disruption https://t.co/U5aqZx61tg

— Franz Wiesbauer (@medmastery) April 16, 2020
Yesterday, the US recorded our highest daily death toll, 4,591 deaths in just 24 hours. We've now the highest number of cases (672,200), and deaths (34,000) worldwide.
And the spread might/might-not be slowing.
Yet that fact didn't stop the cruel morons, as protests in Michigan, Ohio, North Carolina, Minnesota, Utah, Virginia and Kentucky this week sparked a new wave of an insanity virus. In the case with Michigan's Gretchen Whitmer, the result on Wednesday was a screaming, idiotic crowd blocking even hospital ERs, and hindering medical work. All a loud, nauseous wail at her lock-down orders with a sprinkling of Confederate and pro-Trump flags.
In Ohio the hub of irony, protesters resembled zombies in this photo.
The T-Rump loves it, tweeting this morning, "LIBERATE MINNESOTA", "LIBERATE MICHIGAN" and then "LIBERATE VIRGINIA" — all in caps, of course.
The problem here is death warrants. A warning via CNN this afternoon:
Just as cases are starting to plateau in some big cities and along the coasts, the coronavirus is catching fire in rural states across the American heartland, where there has been a small but significant spike this week in cases.
Playing out amid these outbreaks is a clash between a frontier culture that values individual freedom and personal responsibility, and the onerous but necessary restrictions to contain a novel biological threat.

The bump in coronavirus cases is most pronounced in states without stay at home orders.
Oklahoma saw a 53-percent increase in cases over the past week, according to data compiled by Johns Hopkins University.
Over same time, cases jumped 60-percent in Arkansas, 74-percent in Nebraska, and 82-percent in Iowa.
South Dakota saw a whopping 205-percent spike.
…
With the real potential for higher prices and even food shortages, insufficient action by Republican governors in the heartland could continue to ripple across the country in ways that would adversely affect the lives of Americans everywhere.
Yeah, those idiots in Michigan, Ohio, wherever, can ruin the movie for all of us.
This song I have to hear about daily:
'Falling on my head like a memory, falling on my head like a new emotion…'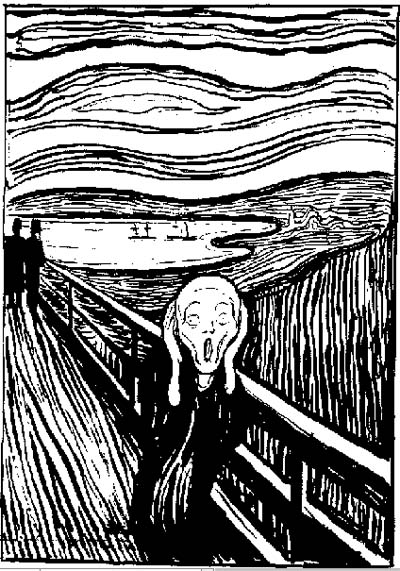 (Illustration: Edvard Munch's 'The Scream,' lithograph version, found here).