We got it! Karma calls from Pennsylvania!
(h/t Susie):
Holy shit. pic.twitter.com/4YxmrNATro

— Vote Saved America (@votesaveamerica) November 6, 2020
Simplicity from CNN just a few minutes ago: 'Joe Biden will become the 46th president of the United States, CNN projects, after a victory in the state where he was born put him over the 270 electoral votes needed to win.'
Joe's with his family at his home in Delaware and is expected to address the nation tonight.
Raining here this early Saturday morning in California's Central Valley — first this year — and supposedly clear as a bell on the east coasr as the T-Rump will finally have to face the wonderful music featured with the sound of doors banging on his ass on the way out the door.
He's going to be a terror, though, and in the next couple of months he'll sow as much shitty chaos as time will allow, and deeds have time to fester.
When the announcement came through the airwaves, I was working on this post, but themed differently with the way-emphasis on continuing to await the slow-moving outcome, figuring use of the tweet below. A friend called with the news, I quickled clicked on CNN, and then had to way-happily change my lede. However, the image (h/t BJ) still glows:
Breathe………… pic.twitter.com/s6l2KQOTY9

— Laurie Garrett (@Laurie_Garrett) November 6, 2020
And as predicted, the T-Rump ain't going without a baby-faced, tantrum-infected fight — via the Guardian's live blog, also pretty simple:
Donald Trump is showing no signs of conceding, after Joe Biden was declared the winner of the US presidential election.

"We all know why Joe Biden is rushing to falsely pose as the winner, and why his media allies are trying so hard to help him: they don't want the truth to be exposed. The simple fact is this election is far from over," Trump said.

The simply fact is that this election is over. The final votes will continue to be counted in dozens of states, but there is no way for Trump to come back in the presidential race at this point.

"Beginning Monday, our campaign will start prosecuting our case in court to ensure election laws are fully upheld and the rightful winner is seated," Trump said.

The president's reelection campaign has filed lawsuits in multiple battleground states this week, but several of them have already been dismissed, and Biden's team has dismissed them as "meritless."

It's also worth noting that Trump does not have to concede, although it is considered a hallmark of the peaceful transfer of power.
The fact of the matter is, Biden has the electoral votes to win the White House, and he will be sworn in as president in January.
And to make matters worse for the orange-bloated shithead — yesterday Fox News understood the losing qualities of a loser, despite a network policy of not calling Biden 'president-elect' already:
On Friday morning, anchors Bret Baier and Bill Hemmer appeared to flout the seeming instructions.
"This, Bret and Martha, is where we come back into the conversation here and talk about the significance and the importance of determining an outcome in the Keystone State. If the president were to get it, he'd be at 274. But at the moment, it appears that that is getting further and further from his grasp," said Hemmer.
"And if you make a call for Joe Biden at 264, the math is pretty obvious. In Pennsylvania, that would give him 284 electoral votes."

Baier replied: "And he would become the president elect of the United States."

"That is correct," Hemmer said.
So, if you lose Fox, where do you stand?
Waing is over, and now for something conpletely different…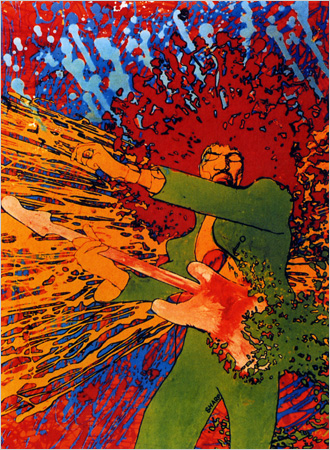 (Illustration found here).