The T-Rump is one nasty-faced human being.
Culture in the face of such profound ugliness and an appreciation for it is really, really hard to explore, much less bring to any kind of decent closure — T-Rump has no redeeming qualities whatsoever, and looks it. He's pure, worthless shit.
Surfing the news this afternoon, I came across this great piece by Jess Cartner-Morley, associate fashion editor at the Guardian, and a truthful, withering look at T-Rump's public style through the lens of sincerity:
The age of Trump was an ugly one.
An ugliness in profound and harrowing senses — racism, lies and callousness — extended into a literal ugliness that, while in no way as significant as the president's actions, has often made the past four years feel like an assault on the senses.
This administration has looked and sounded like no other, just as it has acted like no other.
The nastiness of Trump's pronouncements has many times been made more shocking by his language: the barked, capitalised tweets littered with errors and exclamation marks; the misogyny underscored by snickering profanity.

Every unmasked public appearance has been a visceral reminder of a shirking of leadership and responsibility in the face of a public health crisis.
To critique the Trump aesthetic is not to trivialise abominations, because his values and beliefs run through both.
It starts at face value, where Trump's brazenly artificial shade of salmon reflects not only his vanity, but his misconception that a three-week-Caribbean-cruise suntan is an appropriate look for a man entrusted with the highest and most serious of jobs.
His overlong tie and oversized suits speak to a supersized ego.
And the women within the gross circus of the T-Rump:
It feels tricky to unpick the looks of the women in Trump's orbit without veering into sexism.
There is no moral high ground in sneering at the tightness of dresses or the generic 90210-blond shade of hair dye.
Yet there is something deeply unsettling about the Fox-News-adjacent wardrobe of the women around Trump.
It is a look in which people-pleasing girlishness fights against steely vampishness, leaving no space for women to simply be adult humans.
…
Meanwhile, Melania Trump ripped up the first lady fashion playbook with a wardrobe that was strangely, strikingly militaristic.
…
First daughter Ivanka, who had her own label until it closed in 2018, has perhaps the most elevated taste level, the most sensitive antennae, in the Trump camp.
And this conclusion:
What we choose to wear does not make us good people, or bad ones.
But when populism is centre stage, then style, show and swagger are at the heart of politics.
The past four years in US politics have been tough to watch on many levels.
The changing of the guard in the White House is a sight for sore eyes.
Indeed.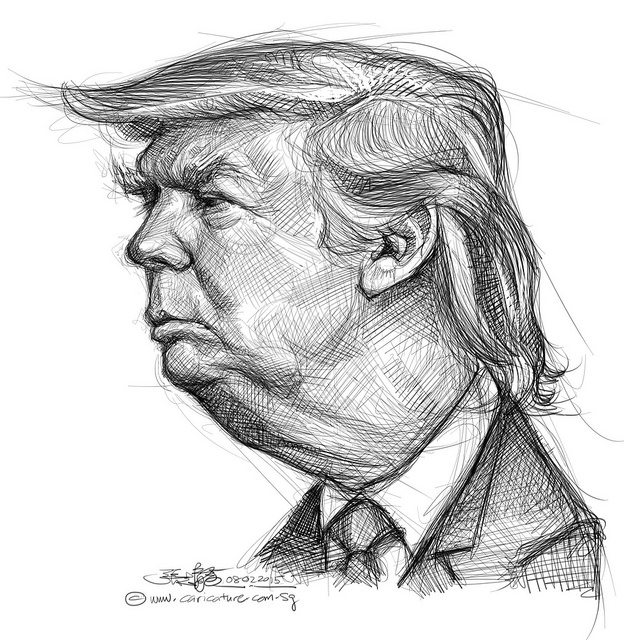 This is my favorite of the T-Rump mugs, though, 'favorite' does not mean in any form or fashion, as in, 'my favorite movie,' or 'my favorite song.'
It's more of an anti-appreciation/like.
And aptly titled, 'Basic Shapes,' by caricaturist/illustrator Chong Jit Leong (found here), and displays the elemental form of a purloined sociopath — a bloated profile of flatulent bile, and arrogant ignorance.