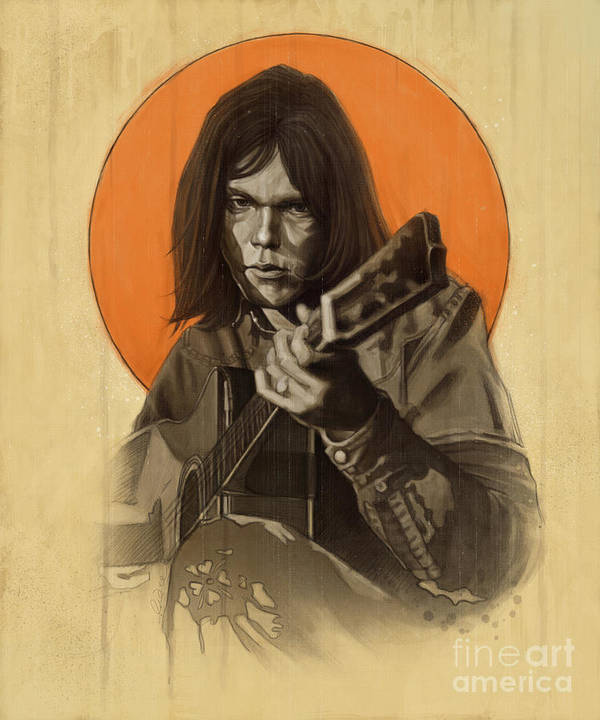 (Illustration: 'Neil Young,' by graphic artist Andre Koekemoer, and found here).
As I performed by daily routine of an early-morning first-sweep of news sites on the Interwebs, which includes one stop at IMDB to check the birthdays — along with Anne Hathaway, Ryan Gosling, and a host of others, including the late-great Grace Kelly, there at the very end of the scroll was Mr. Neil Young, who turns 75 today.
He's only three years older than me, even closer in time-of-arrival as I turn 72 at the end of this month. Young was a big atmospheric influence in one of the most-upheavel-ish years of my life, 1974 — I graduated from the University of Florida that June, and at about the same time, in an even-bigger life-quake, I also discovered marijuana at the ancient age of 26.
During that enlighting summer of '74, I was way-captivated by a sharp shift in music. In a matter of a few short weeks, my musical tastes jumped from AM to FM rock with Mott the Hoople leading the way, surrounded by Emerson, Lake and Palmer, and, Pink Floyd.
And, of course, Neil Young — I discovered 'Harvest,' and 'After the Goldrush,' spinning the albums at every available moment, and 'Everybody Knows This Is Nowhere,' especially with its "Down By The River," and "Cowgirl In The Sand," worth a listen:
In them days I was wonderfully freaked it could go on for so long — more than 10 minutes — as I had been condtioned to short two/three-minute AM songs. Loved it!
Off 'Harvest' with a personal slant — "Alabama:"
Born and raised in Alabama, the song touched a chord of truth.
The song so upset the whine of Southerners, Lynyrd Skynyrd released "Sweet Home Alabama" to seemingly offset the noise — didn't work. (Lynyrd Skynyrd did produce a classic, though, in "Free Bird")
A couple more from my traumatic year of '74:
And probably my most-favorite with its poetry of being future-charged to the nowadays:
Also worth checking out is a most-excellent Neil Young birthday post by Paul Campos at LG&M, which caused me to do this one. Well worth the read…
Now back to our normal programing — 'Red lights flashing through the window in the rain..'