In context of this particular Thursday, the news cycle is getting old. Generally the same daily shit twisted as if in a Twilight Zone-influenced-Groundhog Day episode, and then repeats the repeating. Against the grain, though, we must continue to move forward.
However, I did have a nice experience due to a couple videos that crossed my sight today, both titled, "Forward," with the first a great h/t to Miss Cellania:
Ths remarkable short film was found at Viral Viral Videos from March 2013:
Israeli artist Messe Kopp just published this new art video, titled Forward, and already it has begun to spread across the web.
He creates an interesting perspective by walking backwards through downtown Jerusalem wearing a bizarre outfit while performing weird and interesting tasks as he strolls.
For the artsy twist, he reversed the video of his walk so it looks like he, in fact, is walking forward, yet everything else seems to be going backwards.
The scene seems like it belongs in The Matrix or Inception.
Actually, a very similar video made in NYC went viralviral back in 2011.
As this is the Internet, Anything897 untwisted Messe's art piece, reversing Forward and publishing Backwards.
Wrap your head around that.
Yeah. Trippy, dude, with a strong, sweet vibe of nice people meeting in a kinetic-charged front/back/maybe sideways POV-walk down/up a city street. I don't know how technical-film shit like that is done, but when creative the results can captivate over and over — I've seen it a bunch of times since an early stop at sweet Miss Cellania's place this morning.
The second video, named same as the first, "Forward," is a bit longer and the action is all going the same direction to a hopeful, way-touching conclusion. I found this 'Forward,' by surfing the YouTubes for the first one, came across it, started watching, and was captivated:
Credits: 'Forward is a short film about finding love in an unexpected place. A man finds a woman's purse on the train, tries to return it to her and falls for her in the process.
Written, Directed & Produced By Matthew A. Cherry.
Shot & Edted By Jayson Vaughn; Producers: Monica A. Young, Jerome Caldwell; Original Score By: Donald Hayes, and Stars Kenny Cooper, Ciera Payton, Brittany C. Richards & Reesha Archibald.'
Writer/Director/Producer Cherry appears a talented craftsman, and an ex-jock — via Fortune magazie last year:
The vast majority of NFL players are forced to think about what they'll do when they retire far earlier than Tom Brady or Drew Brees. The average career span is little over three years.
Matthew A. Cherry — a receiver with stints on the Jacksonville Jaguars, Cincinnati Bengals, Carolina Panthers, and Baltimore Ravens — was in the league for just under that. After packing away his pads and cleats, Cherry moved to Los Angeles to pursue a career in entertainment, taking gigs as a production assistant before becoming a music video director for artists such as Snoop Dogg and Michelle Williams, and directing for film and television.
Cherry's animated short film, "Hair Love," about a Black father attempting to do his daughter's hair for the first time, was funded by Kickstarter and won the Academy Award in 2020 for Best Animated Short Film.
"Hair Love" has since been adapted into a book and a series for HBO Max.
Keep advancing…
Due to these two short blips I feel better about today, which is kind of rare in the nowadays. Film has always done that to me, long ones, short, and in-between ones, movies had/sometimes-currently-have a great bang on the creative brain. I posted a long piece in November 2018 about the three movies that impacted my life, all when I was way-younger (first one in fourth grade, the last as senior in high school), and although I've seen a shitload of movies since, nothing in the past 50-plus years has arranged my way of thinking like those from long ago.
And that last one was the torch, too. In regards to influence in the mysterious ways of life, nothing tops, "Blow Up" (1966), and as far as I'm personally concerned, the greatest movie ever made:
An unsung cinema masterpiece. Rogert Ebert, in a retrospective review in 1998 — more than 30 years later — gave 'Blow Up' four stars, a rarity — opening graph:
Michelangelo Antonioni's "Blow-Up" opened in America two months before I became a film critic, and colored my first years on the job with its lingering influence.
It was the opening salvo of the emerging "film generation," which quickly lined up outside "Bonnie and Clyde," "Weekend" (1968), "The Battle of Algiers," "Easy Rider" and "Five Easy Pieces."
It was the highest-grossing art film to date, was picked as the best film of 1967 by the National Society of Film Critics, and got Oscar nominations for screenplay and direction.
Today, you rarely hear it mentioned.
Now 20 years later than that, and still. Yet Ebert touches upon the reality of the late 1960s and three decades later — the last graph:
There were of course obvious reasons for the film's great initial success. It became notorious for the orgy scene involving the groupies; it was whispered that one could actually see pubic hair (this was only seven years after similar breathless rumors about Janet Leigh's breasts in "Psycho" (1960)).
The decadent milieu was enormously attractive at the time.
Parts of the film have flip-flopped in meaning. Much was made of the nudity in 1967, but the photographer's cruelty toward his models was not commented on; today, the sex seems tame, and what makes the audience gasp is the hero's contempt for women.
Horribly odd that point wasn't plain/obvious back then. Hopefully, we're going forward…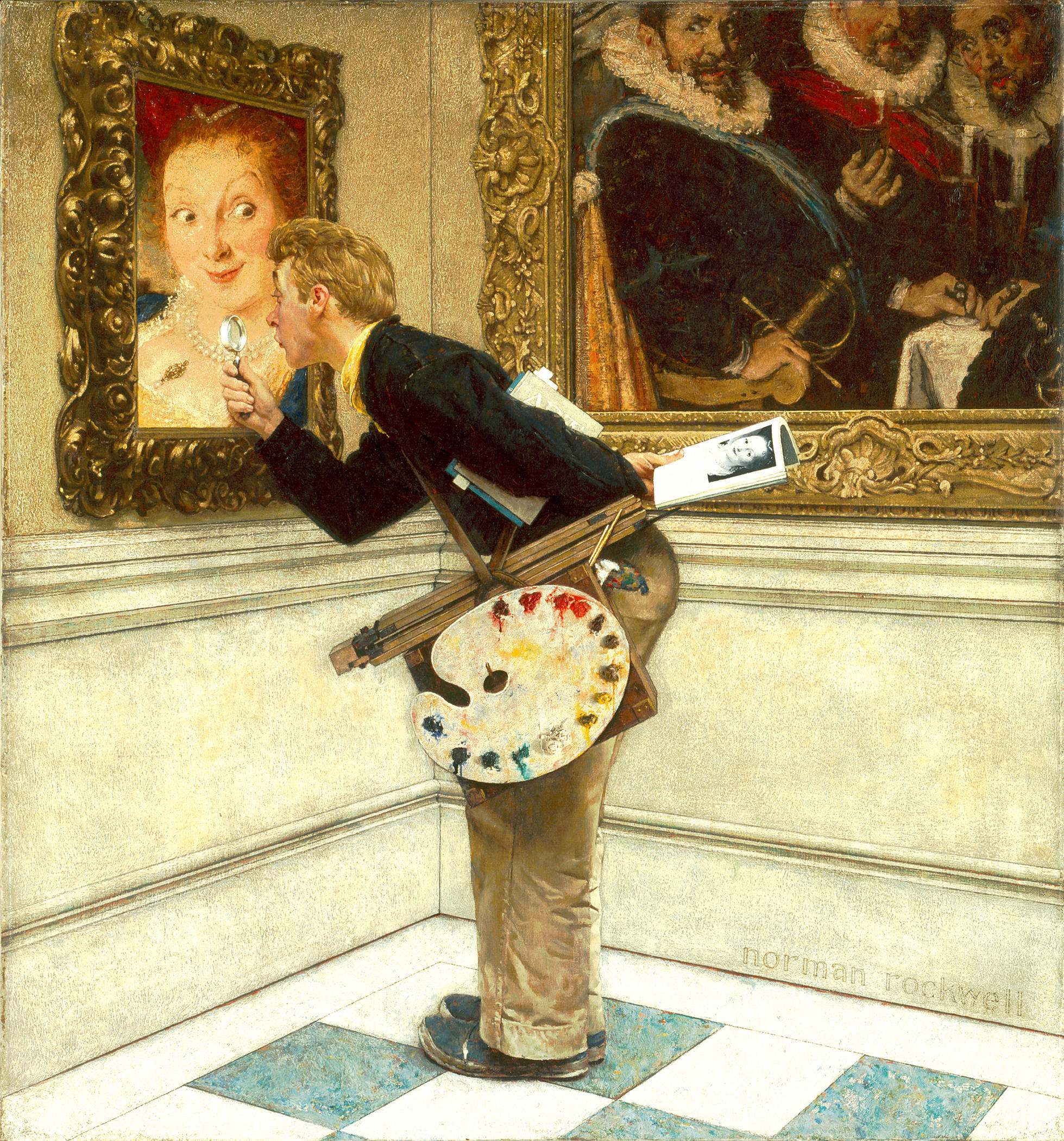 (Illustration: 'Art Critic' by Norman Rockwell, found here)