(Illustration: 'The Starry Night,' by Vincent van Gogh, and found here).
A break from the blood-thirsty throes of the nowadays with some idiotic instances of musical crazy awash with non-connecting vibes of absolutely wackiness — beats the living-shit out of T-Rump calling MoscowMitch a sonofabitch, wouldn't you say, an ass calling the hole?
And first, a train ride of clipped water-filled glasses being tinkled down the tracks:
Germany's Miniatur Wunderland has set a new world record for the longest melody played by a model train https://t.co/xe2IjY1nlf pic.twitter.com/RY9Mya81HL

— CNN (@CNN) April 11, 2021
And so (Reuters):
At Hamburg's Miniatur Wunderland museum, shut during Germany's coronavirus lockdown, a model train chugs along a track lined with thousands of water-filled glasses, tapping out a medley of classical music hits as it passes.

With the museum forced to close, founder and model train enthusiast Frederik Braun and his team had time on their hands, and spent weeks setting up the musical project here.

The effort was worth it, as the museum earned a Guinness World Record for the longest melody played by a model train.

"It's not all perfect, but just try to play Verdi on wine glasses. Or worse, the Bolero, when you only have two octaves at your disposal," Braun said.

Setting up the course, which passes intricate miniature landscapes and tiny colourful versions of cities like Hamburg and Las Vegas, posed significant challenges.

By the time the nearly 3,000 glasses were filled to the right level, the water had already started to evaporate, making them off-key.

"We tried it with plastic wrap, to cover the surface, and we found out that a light oil … creates a layer on top that preserves it, and then there is barely any evaporation," Braun explained.

The team also had to make sure that the mallets attached to the model train did not shatter any of the 2,840 wine glasses, set up to play 20 different classical tunes including Johann Strauss's Radetzky March and Ludwig van Beethoven's Für Elise.

"This world record is a mega-record. It won't be beaten anytime soon, I'm certain of that," Braun said.

It's not the first time that the museum has made it into the Guinness World Records.
It also boasts the world's largest model train set, with a total track length of 15,715 metres (9.76 miles).
If waterglasses don't shake your musical quads, how about just-pure cute (h/t Miss Cellania):
Or maybe some asinine adaptation of British funeral-Lit 101 (h/t tengrain):
The transition into the Prince Philip News on BBC R1 Dance was something else ?? pic.twitter.com/HoYseQMcYa

— Mark Holt (@MarkHolt4) April 9, 2021
Plus, perhaps a bit of egg before the chicken song while scratching:
4/ Epilogue: Now back to important chicken-work in the backyard. Soundtrack compliments of a neighbor's adorable new Huskie. pic.twitter.com/N29YikIiTj

— Joyce Alene (@JoyceWhiteVance) April 11, 2021
And a goat screaming like a guy scared shitless:
Mood ?? Happy 9th anniversary to this screaming sheep first uploaded on AjQ2891's channel. ? https://t.co/bt1OS6yLDN pic.twitter.com/XTnNHPwjTv

— YouTube (@YouTube) April 11, 2021
Or a black cat inside tranquillize:
Like this Tweet to give Blackcat Dahong a pat on the head and to say congrats for making it on This Week in Trending. #NationalPetDay ?????? https://t.co/t2Oqub1N2i pic.twitter.com/QwnbpjWjP7

— YouTube (@YouTube) April 11, 2021
Finally, music out of this reality — soundtrack composure to 'The Mandalorian' origins:
And cut…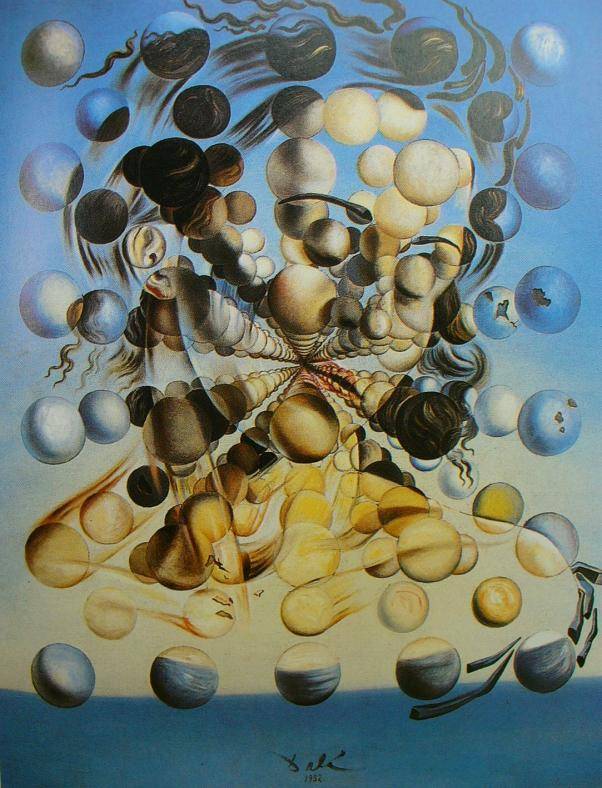 (Illustration: Salvador Dalí's 'Galatea of the Spheres,' found here).