In the wake of the George Floyd verdict, one of my all-time favorite songs, which comes from one of the most-neatest period of musical memories, the 1990s. Although I grew of age in the English invasion of the late 1960s, and the emergence of the American rock sound of the 1970s, the 90s carried the tune.
Collective Soul, and "Shine" — lyrics with the sound:
"Tell me, what will I find?"
And further in passing, my most-favorite poet(ess) — Miss Emily Dickinson of importance: "I know nothing in the world that has as much power as a word. Sometimes I write one, and I look at it, until it begins to shine."
Appropriately, a poem: "Because I could not stop for Death"
Because I could not stop for Death –
He kindly stopped for me –
The Carriage held but just Ourselves –
And Immortality.

We slowly drove – He knew no haste
And I had put away
My labor and my leisure too,
For His Civility –

We passed the School, where Children strove
At Recess – in the Ring –
We passed the Fields of Gazing Grain –
We passed the Setting Sun –

Or rather – He passed Us –
The Dews drew quivering and Chill –
For only Gossamer, my Gown –
My Tippet – only Tulle –

We paused before a House that seemed
A Swelling of the Ground –
The Roof was scarcely visible –
The Cornice – in the Ground –

Since then – 'tis Centuries – and yet
Feels shorter than the Day
I first surmised the Horses' Heads
Were toward Eternity –
Here we are, and onward…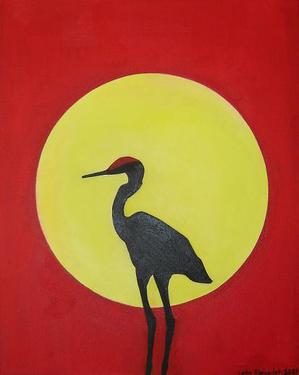 (Illustration found here).