In the hallowed-halls of Congress not much is accomplished nowadays, especially anything the majority of Americans support, or want done, so last week another step in the right direction for marijuana reform — except, of course, the cold, un-stoned hearts of Republicans:
Congressional leaders have reintroduced a bill to strike marijuana from the list of controlled substances and invest in communities disproportionately affected by the so-called drug war.

"This bill will give a lot of individuals a fresh start." https://t.co/DYNFpW05KL

— Kyle Griffin (@kylegriffin1) May 30, 2021
Details from NBC News last Thursday:
The Marijuana Opportunity Reinvestment and Expungement Act of 2021, also known as the MORE Act, would also eliminate criminal penalties, clear criminal records and create social equity programs focused on repairing damage to individuals and communities impacted by decades of prohibition.

The bill was introduced by House Judiciary Committee Chairman Jerry Nadler, D-N.Y.

"Since I introduced the MORE Act last Congress, numerous states across the nation, including my home state of New York, have moved to legalize marijuana," Nadler said in a statement.
"Our federal laws must keep up with this pace."

The bill failed to advance last year in the Senate, where a companion bill also died.
A second Senate bill is expected to be introduced later this year with the backing of Senate Majority Leader Chuck Schumer, D-N.Y., and Sens. Cory Booker, D-N.J., and Ron Wyden, D-Ore.

The revised bill contains stronger social justice measures intended to address the generational effects of prohibition, including removing language that would have denied federal permits to applicants with felony cannabis convictions.

It would set a 5-percent tax on cannabis retail sales that would increase to 8-percent over three years. Revenue would go to the Opportunity Trust Fund, which would pay for job training, re-entry services, legal aid and health education programs for impacted communities.
…
"The whole intention and vision behind this bill is that it would repair past harms of drug prohibition," said Maritza Perez, national affairs director at the Drug Policy Alliance, a nonprofit working to reform drug laws.
"We're hoping that another successful House vote would continue to pile on momentum."

Despite the move toward decriminalization, people of color continue to be most affected by existing drug laws. According to a 2020 report by the American Civil Liberties Union, a Black person is 3 times more likely to be arrested for cannabis possession than a white person.
The ACLU estimated that enforcing cannabis prohibition laws costs taxpayers approximately $3.6 billion a year.

"This bill will give a lot of individuals a fresh start," said Stuart Titus, CEO of cannabis company Medical Marijuana Inc.

But it could take a "herculean effort" to advance cannabis legislation, Titus said, adding that Democrats will need to pick up more Republican support if they intend to end prohibition.
And the biggest problem — asshole Republicans. Of course, they go against the popular view — via a poll in mid-April from Pew Research:
As more states, including Virginia and New York, continue to legalize marijuana, an overwhelming share of U.S. adults (91-percent) say either that marijuana should be legal for medical and recreational use (60-percent) or that it should be legal for medical use only (31-percent).
Fewer than one-in-ten (8-percent) say marijuana should not be legal for use by adults.
Still, the old folks still find reefer offsetting — except us boomers:
There have long been age and partisan differences in views about marijuana, and that remains the case today.
Very few adults of any age are completely opposed to the legalization of marijuana.
However, older adults are far less likely than young people to favor marijuana legalization for recreational use.

This is particularly the case among adults ages 75 and older: Just 32-percent say marijuana should be legal for recreational and medical use, by far the lowest share for any age category and 21 percentage points lower than adults in the next-oldest age group, those ages 65 to 74 (53-percent of whom say it should be legal for both recreational and medical use).

Among younger adults, there is wider support for legalization for medical and recreational uses, including 70-percent of adults under age 30.
Time is not on our side.
Yet in days of yore:
"Listen Bart … Good luck…"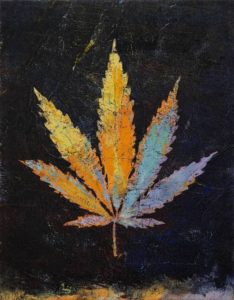 (Illustrarion outfront: 'Cannabis,' canvas print by Michael Creese, and found here).