Good Sunday morning, and another musical intermission from all the terrible, disquieting bullshit rambling about out in the world, especially in these here United States, instead give a listen to some really good, topnotch covers of some really good topnotch rock/near-about-rock sounds — last installment here — and today coming from a new place.
Usually these posts centered around The Running Mates, a husband/wife duo that captured my musical attention a few months ago (first post in the series) with their emotional, well-performed acoustic covers of some of my personal favorites with such a zing and character you'd think they were originals — I listen to their version of The Cranberries' "Dreams" a lot, as well as "Linger," though, their's a bit more sadder than the original (and I adore the late-great Dolores O'Riordan) — and today is kind of an indirect combo of a movie and a school.
I was well-aware of the film, "The School of Rock" (2003), having seen it in a theater and again multiple times on video, but wasn't aware there was also an actual 'School of Rock,' a musical education program, which was established a couple of years before the movie — I thought at first the school was an offshoot of the movie — wrong! They' seem not to be affliated at all, at least from what I could gather from the InterWebs (I might have overlooked something).
And like a lot of other shit while online looking for something else (can't remember what), I accidently discovered at the end of last month some awesome music videos from the 'Rock' school students — rock it is!
However, tragically coincidental at about the same time came news of the death of Kevin Clark in a Chicago bicycle/car accident. He was only 32.
Clark at 12-years-old played the drummer, Freddy "Spazzy McGee" Jones, in the film "School of Rock." Sadly, he's in the movie clip with Jack Black featured below.
Anyway, this first number is "I Want You To Want Me," and it struts hard. These kids rock! The lead guitarist is astounding! (original by Cheap Trick found here):
Next is a way-keeper of music-sounds that stay pumping in the brain all day: Still can't get enough!
"Another One Bites The Dust" — (original by Queen found here):
Back aways to one of my long-ago faves and "California Dreamin'" (original by the Mamas & Papas found here):
Bonus track: Jack Black displays 'Classroom Leadership,' forming-up the band; from the movie:
"Piano Man, front and center…"
And, finally the song that first triggered my appreciation of the' Mates,' the 4 Non Blondes, "What's Up," and it's sort of become the anthem of this series (original here):
25 years and my life is still
Tryin' to get up that great big hill of hope
For a destination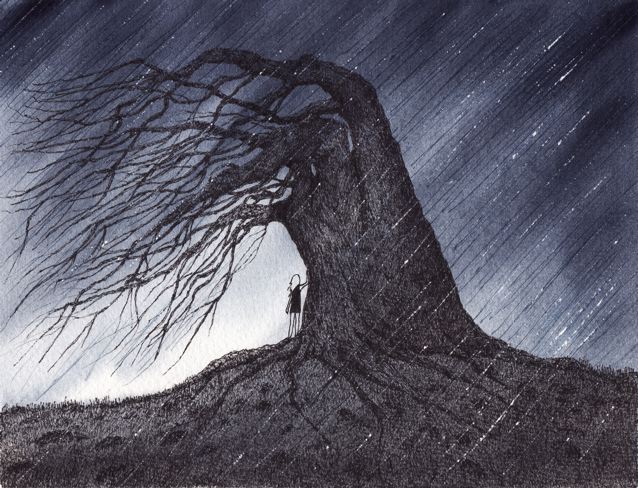 (Illustration out front: 'Shelter in the Storm," found here).