Despite what your eyes and ears tell you, a shitload of Americans are just plain brain-fucked as the attack last January on the US Capitol building has gone from an insurrection/riot to a tourist walk to FBI-induced event to now it's all Joe Biden and Democrats fault — Repubicans are atrociously insane, gripping the country in a choke hold.
A new poll out this morning shows it:
NEW: In the aftermath of Jan. 6, GOP voters saw Trump and Republicans in Congress as at least somewhat culpable for the insurrection.

Six months later, that's started to fade – they're now more likely to blame Joe Biden and Dems in Congress than their own https://t.co/JuKqyT7lfX pic.twitter.com/7BN55IH2P8

— Eli Yokley (@eyokley) June 28, 2021
Details via Morning Consult:
In the aftermath of the Jan. 6 attack on the Capitol by a mob of then-President Donald Trump's supporters, a handful of Republican leaders were joined by a number of their voters in bestowing at least some culpability on Trump and the GOP in Washington.

Nearly six months later, Morning Consult polling has found that while the bulk of the overall electorate still shares that perspective, Republican voters appear to be following their leaders as they become increasingly likely to disassociate themselves, their party and Trump from the insurrection.

Republican voters are now more likely to blame President Joe Biden and congressional Democrats for the events that led to the Capitol attack than they are Trump and GOP lawmakers, many of whom supported his false claims of widespread election irregularities.
That stance puts them at odds with the broader electorate, whose views on the matter have gone virtually unchanged.

"What's happening isn't partisan polarization but asymmetric polarization, with Republicans separated from Democrats and independents on everything from whether the 2020 election results were legitimate, to assessments of how Trump handled and Biden is handling COVID, to views about how the economy is doing," said Amy Fried, the chair of the University of Maine's political science department and the co-author of a new book probing conservatives' distrust in institutions.
…
But most voters have no illusions about whom the Capitol's attackers were fighting for: 64-percent said the people who breached the Capitol were Trump supporters, down 6 points from January.
That drop was driven by Republican voters, 45-percent of whom still agreed with the sentiment.
…
The survey also found Republicans are tired of hearing about the event. Six months later, 68-percent of GOP voters agreed with the statement that "there has been too much focus on the January 6th events at the U.S. Capitol," while half of the electorate disagreed.
Among GOP voters, 27-percent said the rioters were opponents of Trump, aligning with some of the conspiracy theories propagating on the right that allege the presence of outside meddlers.
And some weird shit:
Despite aligning with the statement that too much attention has been paid to Jan. 6, a 46-percent plurality of GOP voters said it was important that the federal government continue to investigate what happened six months ago, joining 9 in 10 Democrats and 67-percent of self-identified independents.

But that gap — reflected across much of the survey probing voters' views on an inarguably historic event six months later — reflects something broader: Republican voters are less likely than others to say they were shaken by Jan. 6.
…
Just 1 in 5 Republican voters said the Jan. 6 attack has had a major impact on their worldview, ranking it at the bottom of a list of a dozen big moments in recent history.
On the other hand, 2 in 3 Democrats said Jan. 6 had a major impact on their worldview, marking the biggest gap between the two parties on the question.
Divided we stand. Beyond their blind ignorance, would these half-baked MAGA hatters still love them some T-Rump if they knew how much he hates them — near-about 'trailer' trash he calls them.
Another insider book coming out, Michael Wolff's third T-Rump expose, "Landslide: The Final Days of the Trump Presidency," set for release next month, but an excerpt was published this morning at New York Magazine, which included this note about another boisterous rally about three weeks before the Capitol stunt:
Four people were stabbed and 33 arrested, most in the several-hour mêlée that took place after sundown. This was, in hindsight, a run-through. But it was also a pretty good insight into Trump's relationship to his army of supporters. The president often expressed puzzlement over who these people were with their low-rent "trailer camp" bearing and their "get-ups," once joking that he should have invested in a chain of tattoo parlors and shaking his head about "the great unwashed."

The fan base had always been peculiar to him. For most politicians, vox populi is a pretty remote concept, one brought home only with polling, press, and elections. Trump's regular and, during some periods, nearly constant performances at stadium rallies gave him a greater direct route and connection to his base than any politician in the modern television age.
It was adulation on a par with that of a pop star — a massive pop star. ("The only man without a guitar who can fill a stadium," he liked to say about himself in another of his 1960s-stuck references.)
Stars like him needed fans, but this did not mean that a fan was not a strange thing to be. The more devoted the fan, the odder the fan. Like any megastar, Trump saw his fans from a far distance out.
Certainly, there was no personal connection. A star could not assume responsibility for his fans, could he?
He doesn't give a shit about anyone but himself.
And another recent T-Rump curtain-lifter via Billy Barr: 'And over the weekend, ABC's Jon Karl writing for the Atlantic had former Trump Attorney General Bill Barr debunking Trump's claims about the 2020 election results. "If there was evidence of fraud, I had no motive to suppress it. But my suspicion all the way along was that there was nothing there," Barr said. "It was all bullsh!#."'
Yeah, right. Now you say it…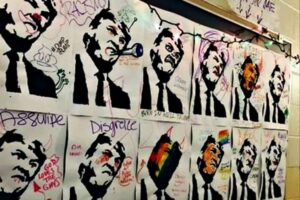 (Illustration out front is of a New York state high-school student exhibit: 'The piece was displayed during student-driven art show at Shenendehowa High School. It consisted of at least 12 identical black-and-white pictures of Donald Trump. There was also a sign above the pictures that read, "Draw on Me." Using markers from the art classroom, some students opted to scribble critical messages and profanities on the pictures' — and found here).