A bit cooler than 'normal' this late-morning Monday here in California's Central Valley, though, we're scheduled for triple-digit temperatures again today, it's off the full-blown crazy of this past weekend. Supposedly, we're on a downward slide from this particular 'mega-heat-wave' with temps set for the low 90s by Friday, but back up for Saturday and Sunday.
There's no real break from this boiling madness.
Beyond the dangerous temperatures, there's the way-dangerous forest fires coming from all this dry, hot setting, with one quick-spreading blaze on the California/Oregon border which threatens our electrical grid:
Now is the perfect time to start a load of laundry and the dishwasher. Remember to use major appliances before #FlexAlert begins at 4 p.m. today. Visit https://t.co/SvLoptiUH6 for more #energyconservation tips.

— Flex Alert (@flexalert) July 12, 2021
A coy message based on an announcement yesterday from the agency overseeing the operation of California's bulk electric power system:
With transmission lines from Oregon still unreliable due to #BootlegFire & continued high temperatures, the California ISO issued a statewide #FlexAlert for Monday, July 12, from 4-9 p.m. Consumers are urged to #conserveenergy to help stabilize the grid. https://t.co/PQHFuzyHyx pic.twitter.com/PZtz8SE4Xn

— California ISO (@California_ISO) July 12, 2021
Above-mentioned Boot Leg Fire up in Oregon worrying our electricity here down in the Valley — vie The Washington Post from yesterday, updatedthis afternoon:
The Bootleg Fire had burned more than 153,000 acres in southwest Oregon as of early Monday, as officials warned of "dangerous and rapid growth" and much of the western United States continued to endure yet another heat wave.

More than 1,000 firefighters were battling the fire as of Monday morning, and officials said more are expected to join the effort.
The National Weather Service in Medford said Sunday that the fire had doubled in size every day for the past three days, leaving California's electricity supply at risk and forcing officials to order the evacuation of at least hundreds of residents from the area.
…
"The fire behavior we are seeing on the Bootleg Fire is among the most extreme you can find and firefighters are seeing conditions they have never seen before," Al Lawson, an incident commander for the fire, said in a statement.

The California Independent System Operator, which manages electricity for a power grid that serves 80-percent of California, warned that the Bootleg Fire had made transmission lines from Oregon "unreliable."
The California ISO said the fire "tripped off transmission lines" on Friday and Saturday, "limiting electricity flow from the Pacific Northwest to California and other states."

The operator issued a "flex alert" for Monday evening, urging customers to conserve energy to help stabilize the power grid.
The problem with this summer's heat tsunami is about all of this shit is in some part, 'conditions thay have never seen before,' and only to get worse. And once again, climate change is playing a dangerous part in this scenario — more on the the fires from The New York Times, also updated this afternoon:
Charles Smith, a meteorologist with the National Weather Service in Medford, Ore., said the fire was especially worrying because Oregon's fire season had only just begun.
"There's concern because of how early this is starting, and how far it has grown within a relatively short amount of time," he said.

Climate change is playing a role in the hot, dry conditions that are driving wildfires across the West.
The record-shattering temperatures in the Pacific Northwest in early July would have been all but impossible without climate change, according to a team of climate researchers.
Because climate change has raised baseline temperatures nearly two degrees Fahrenheit on average since 1900, heat waves are likely to be hotter and deadlier than those in past centuries, scientists said.

The Bootleg fire's intensity at this early stage in Oregon's fire season has officials calling it "unprecedented."

"The fire is changing so dramatically — in the past couple days, it's doubled in size," said Mark Enty, a spokesman for the Northwest Incident Management Team 10, which is working to contain the fire.
"It's going to take a long time before it's safe for people to return."
And further of the reality-horror of climate change — from the LA Times this morning:
One thing everyone agrees on is that climate change is a factor that cannot be ignored.

"The exceptional fire weather this year and in recent years does not represent random bad luck," said Jacob Bendix, a Syracuse University professor who specializes in pyrogeography, or the study of wildfire distribution.
"It is among the results of our adding carbon to the atmosphere — results that were predictable, and indeed that have been predicted for decades."

About 4,600 fires scorched 74,000 acres across the parched state between Jan. 1 and July 4, compared with roughly 3,800 fires and 31,000 acres during the same time in 2020, the California Department of Forestry and Fire Protection said. Those numbers do not include losses from fires over the last week.

Though last year was the worst wildfire season California has seen — with over 4 million acres burned — the potential to surpass it is there, said Cal Fire spokeswoman Lynne Tolmachoff.
"We just kind of have to wait and see what Mother Nature does," she said.
And you know, don't fuck with Mother Nature.
Or you could get a boot leg burn:
Just one of many…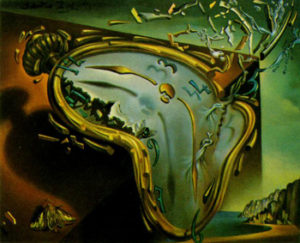 (Illustration out front: Salvador Dali's 'Soft Watch at the Moment of First Explosion,' found here).