As the immature, cranky dust-up between Nancy Pelosi and Kevin McCarthy continues, Republicans' nefarious scheme to put a lid on any investigation into the fever dream of a stolen election comes further into daylight. GQPers are guilty of sedition and they know it.
McCarthy tried to put loudmouth quacks on the House Select Committee, but Pelosi nipped it in the bud:
Jim Jordan: "I never said the election was stolen."

Also Jim Jordan: pic.twitter.com/vpZfK6Fkky

— Jeff Sites for Congress (@Sites4Congress) July 22, 2021
So ironic it's literally criminal, Republicans are cornered with the reality of the insurrection, not only in the actual, physical attack on the Capitol building, but the double-timing of the Big Lie over months, and despite that particular January day being forced out of Congress by a riotous mob, returned and continued pushing that massive whopper: 'McCarthy, of course, was one of the 147 Republican in Congress who tried to overturn the election after a Trump mob attacked the Capitol to stop the democratic process.'
Nearly three months later in tandem with McCarthy's bluster-bullshit (CNN this morning): 'And the hysterical and hyperbolic reaction by GOP leaders to Pelosi's move also emphasized how the House Republican Party will do anything in its quest to shield Trump from accountability and to prevent Americans — and ultimately history — from having a true understanding of what happened on January 6.'
This entire Republican campaign against reality is all they have, as they really don't know how to govern, and their complete profile is bullshit — rank and file. McCarthy's ploy is any asshole-tactic created to fuck-over any plans to uncover the real truth of the Capitol attack, before the event, during the event, and after — the political life of the GQP is on the line.
Aaron Rupar at Vox this afternoon has an interesting, readable sketch of the grift — noted points:
McCarthy's news conference came hours after Pelosi rejected the nomination to the committee of two of McCarthy's five proposed Republicans: Reps. Jim Jordan and Jim Banks, who both voted in January against certifying two states' results which contributed to President Joe Biden's victory over Donald Trump.
Instead of nominating more suitable Republicans to the committee, McCarthy opted to try to blow the whole thing up.

And while McCarthy accused Pelosi of "playing politics" by rejecting Jordan and Banks, the irony is it's his party that has an electoral interest in maintaining a fog of confusion around an insurrection that will be a major issue heading into next year's midterms and the 2024 presidential election.
…
Despite McCarthy's opposition to the Thompson-Katko deal (the bilateral commission), legislation to set up an independent commission passed the House with 35 Republicans voting in favor, but was blocked by Senate Republicans in their first filibuster of the Biden era.
Pelosi responded by creating a commission with eight Democratic appointees and five Republican ones, with Pelosi having veto power over the members McCarthy appointed.
One of the Pelosi appointees is Republican Rep. Liz Cheney (WY).

McCarthy's move to appoint Jordan and Banks to the commission, meanwhile, signaled how disinterested he is in an independent January 6 investigation.
Not only did Jordan and Banks vote against certifying parts of Trump's loss, but as recently as two months ago, Banks was still unable to say Biden's win was "legitimate" (despite Trump's own officials repeatedly stating there is no evidence of widespread fraud) and was defending his vote against accepting the election results.
Jordan, meanwhile, is actually a witness of the events leading up to January 6.
He was part of a group of House Republicans who publicly worked with the Trump White House last December to scheme about ways to overturn the election results on January 6.

Beyond trying to protect Trump and his party from an investigation that is likely to result in a damaging report issued just before next year's midterm elections, McCarthy has self-interested reasons to try to kneecap a January 6 committee.
He's just as guilty as anyone for pushing lies about the 2020 election that persuaded Trump supporters the presidency was stolen and motivated them to storm the Capitol.

Just days after the election, for instance, McCarthy went on Fox News and proclaimed, "President Trump won this election, so everyone who's listening, do not be quiet. We cannot allow this to happen before our very eyes … join together and let's stop this."

Two months later, McCarthy joined Banks and Jordan in voting against accepting the election results from Arizona and Pennsylvania (he's since tried to claim he never supported efforts to overturn the election results wholesale).

McCarthy might not have been in favor of the storming of the Capitol itself — as Trump supporters rioted inside the Capitol on January 6, McCarthy had a phone call with Trump that remains shrouded in mystery, but during which McCarthy reportedly confronted Trump about why he wasn't doing more to quell the unrest.
But he also doesn't seem in favor of interrogating why that unrest happened or what role his party and the former president could have played in prompting it: Asked about that call during Wednesday's news conference, McCarthy quickly pivoted to law enforcement failures on January 6 — a topic he made clear will be a focus of the Republican investigation.

In the immediate aftermath of the insurrection, McCarthy gave a speech on the House floor in which he acknowledged that Trump "bears responsibility" for the events of January 6 — but in a remarkable turnaround, during a July 1 news conference he refused to acknowledge Trump bears responsibility for January 6.
All out in the obvious open, too. All these people know reality, but they're such low-life asshole politicians they allow the T-Rump (and the base) to make them vile and gutless. Yet without care.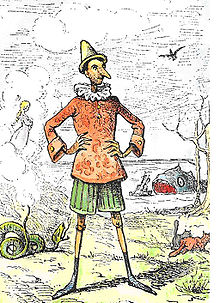 (Illustration out front: 'Pinocchio,' by Enrico Mazzanti (1852-1910), found here)