Environmental news seems to pop up in the afternoons lately, and today was no exception — hot records melting in the heat:
(2 of 5) #July 2021 global surface temp was 1.67°F (0.93°C) above avg — making it the hottest July recorded to date.https://t.co/xKGLizOml4 via @NOAANCEIclimate #StateOfClimate report #July2021 pic.twitter.com/8hHkF8ndVM

— NOAA (@NOAA) August 13, 2021
According to data released today by NOAA's National Centers for Environmental Information, last month was not only the hottest July, but also 'earned the unenviable distinction as the world's hottest month ever recorded,' a situation, of course, with an accumulation effect:
The global temperature for July 2021 was the highest for July in the 142-year NOAA record, which dates back to 1880. The year-to-date (January-July) global surface temperature tied as the sixth highest on record.
According to NCEI's Global Annual Temperature Rankings Outlook, it is very likely that the year 2021 will rank among the 10 warmest years on record.
NOAA's Administrator Rick Spinrad, Ph.D., placed hot July as right in sequence with shit from the UN's latest, though, biggest environmental warning, released earlier this week. Not a happy blend:
"In this case, first place is the worst place to be … July is typically the world's warmest month of the year, but July 2021 outdid itself as the hottest July and month ever recorded. This new record adds to the disturbing and disruptive path that climate change has set for the globe … Scientists from across the globe delivered the most up-to-date assessment of the ways in which the climate is changing … It is a sobering IPCC report that finds that human influence is, unequivocally, causing climate change, and it confirms the impacts are widespread and rapidly intensifying."
Not a surprise with the blasts of heat; except the real-blowtorch wave was in June, especially in the Pacific Northwest and BC Canada (which is getting a hot blast again this weekend), but I guess it was so hot, apparently, the following month was scorched, too. Despite all that, July didn't seem any hotter than normal here in California's Central Valley — there were a few days of 105-plus days, though.
Globe-wise it was boiling all over — details on the NOAA report via the Guardian this afternoon:
The global land and ocean surface temperature last month was one degree Celsius, 0.9C (1.6F), hotter than the 20th-century average of 15.8C (60.4F), making it the hottest month since modern record keeping began 142 years ago.

It has beaten the previous record set in July 2016, according to the National Ocean and Atmospheric Administration (Noaa).
…
Last month's record heat was driven by soaring temperatures across the world, with Asia experiencing its hottest July on record and Europe, which has been scorched by heatwaves and wildfires in countries including Greece and Italy, recording its second hottest July on record.
Europe's hottest ever recorded temperature was reportedly set in Sicily on Wednesday, where it reached a roasting 48.8C (119.8F).

Australia had its fourth warmest July on record, while North America, which has been confronted with extreme heat, drought and wildfire across much of its western half for much of the year, has its sixth-highest July temperature on record.

The Noaa climate report also found that Arctic sea ice extent was more than 18-percent below an average set between 1981 to 2010, the fourth smallest extent since satellite records began in 1979.
Options available for this shit are limited. In all the reports, studies, all kinds of research I've seen, we're in shitsville, with the real-only avenue at this point is pretty-much unattainable — near-about shutdown of our current civilization. No one says that in so many words, but it's drawing close-to/going beyond our climate's tipping points, and soon people will be calling for it. Right now almost all research includes some hope/optimism near the bottom of assessments/reports, whatever.
And on that hottest-month-ever, a chorus of warnings:
Pennsylvania State University climate scientist Michael Mann: '"This is climate change … It is an exclamation mark on a summer of unprecedented heat, drought, wildfires and flooding."'
University of Illinois meteorology professor Donald Wuebbles: '"One month by itself does not say much, but that this was a La Nina year and we still had the warmest temperatures on record … fits with the pattern of what we have been seeing for most of the last decade now."'
Princeton University climate scientist Gabriel Vecchi: '"So if you're younger than 45 you haven't seen a year (or July) where the mean temperature of the planet was cooler than the 20th-century average."'
Finally, an ending of CGI reality in the fevered zone — "The Day After Tomorrow" was non-science and childish, but there's Sela Ward, and some awesome special effects — this being one:
And, again, here we are again, this time it's Friday…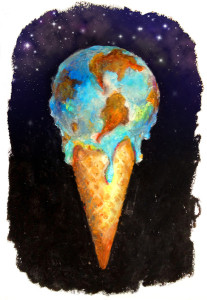 (Illustration out front found here).