A brownish, dystopian environmental ambiance this Thursday morning in California's Central Valley as apparently the wildfires rampaging statewide is worsening human/animal sight and breathing conditions.
I took my daughter's basset hound/greyhound mix, Leroy, for our normal walk earlier and it appears large noses can be an even worse indicator of bad air quality — he was hurting by the time we returned.
And I didn't feel prone to dancing like Fred Astaire, either. We're a couple of old guys, who need to take it easy.
Maybe a mask mandate for this Mars-analogous shit — the view in my local area not too long ago:
Here is the latest view from the Merced1 webcam courtesy of AlertWildFire & PG&E. For reference, the city of Merced is roughly 5 miles south of this camera. Try to limit outdoor activities as much as possible today! #CAwx pic.twitter.com/LAXrwW3cR0

— NWS Hanford (@NWSHanford) August 19, 2021
There's a shitload of fires burning in California and it's still way-early in the fire season, and from all indications is going to get worse — from the LA Times this morning:
And while the fire-prone state has seen gusty winds this season, many experts fear that the impending arrival of strong Santa Anas and Diablos — which typically move in around mid-September — could mark even more misery for weary residents and beleaguered fire crews.

"We're coming into the high fire season, and right now we're on our knees," said climatologist Bill Patzert.
"The weather is the wildcard, and the weather patterns have shifted. Looking ahead here, it's hard to be optimistic."

Already, strong winds caused a fire north of Sacramento to explode, burning through one town and spurring evacuations. A second fire raged in Lake County, destroying homes.

Then there is the monstrous Dixie fire — the second-largest in the state's recorded history — now making a run toward Susanville.
Dixie has been burning for more than a month, and the danger zone now stretches across a wide swath of the region from Lassen to Butte.

Firefighters and climate experts are bracing for a challenging few months, with strong winds expected to move in soon. Winds have always fanned devastating fires, but it remains to be seen how they will combine with the dry terrain that has already created so much unpredictable fire behavior this year.

"To have fires of this magnitude so early is very unusual," said Alex Hall, director of the UCLA Center for Climate Science.
"And in much of California, historically, the heart of the fire season — especially for big fires — is the time of year when the Santa Ana and Diablo winds kick in."
And then there's our drought added as kindling:
For the third straight week, Extreme (D3)/Exceptional (D4) Drought in the USA has set a #DroughtMonitor record.

22.4% of the USA is in D3/D4 compared to 22.1% last week

The high prior to the 2020/2021 drought was Aug 7, 2012, at 20.2%.https://t.co/HtSRATnpTz @NOAA pic.twitter.com/bQsA2XnyPX

— NIDIS Drought.gov (@DroughtGov) August 19, 2021
Dry drought is the worse. A condition like the dry-heaves only over a much-wider area and with a shitload more people — and causes electric bills to surge — via Scientific American, also this morning:
A drought worsened by climate change has caused hydropower supplies in California to reach their second-lowest level since 2001, leading electricity prices in the state to soar 150-percent in three months' time.
Yet some of the biggest beneficiaries of the price surge, according to a credit ratings agency report yesterday, are fossil fuel-fired power producers whose emissions only exacerbate global warming.

California's predicament — in which emissions-free hydropower is replaced by planet-warming power from natural gas plants — underscores the need to rapidly decarbonize the electric grid, according to sustainability experts.

"That way, if we do have challenges with generation from one renewables sector, we'll be able to make up for it with renewables from another," said Kristen Averyt, a research professor at the University of Nevada, Las Vegas, who's focused on climate resilience efforts.

In May, monthly power prices in California were under $30 per megawatt-hour, Moody's Investors Service said in the report.
By July, they'd topped $80 per MWh — their highest level since at least 2016.
"High power prices are credit positive for non-hydro-dependent power generators that sell into the California power market," the report said.
…
Sourcing power from those companies may help California keep on the lights in the short term, but it's harmful to the nation's long-term climate goals, Averyt said.

"The last thing we want to be doing right now is increase our emissions," she said.
A feedback loop as they say in the climate biz…
Instead, a lot of fire, with way-little rain:
This fits, though:
Been walking my mind to an easy time
My back turned towards the sun
Lord knows, when the cold wind blows
It'll turn your head around
Well, there's hours of time on the telephone line
To talk about things to come
Sweet dreams and flying machines in pieces on the ground
And here we are — again…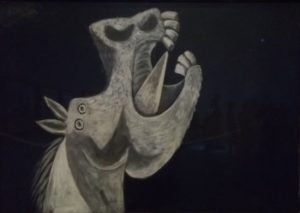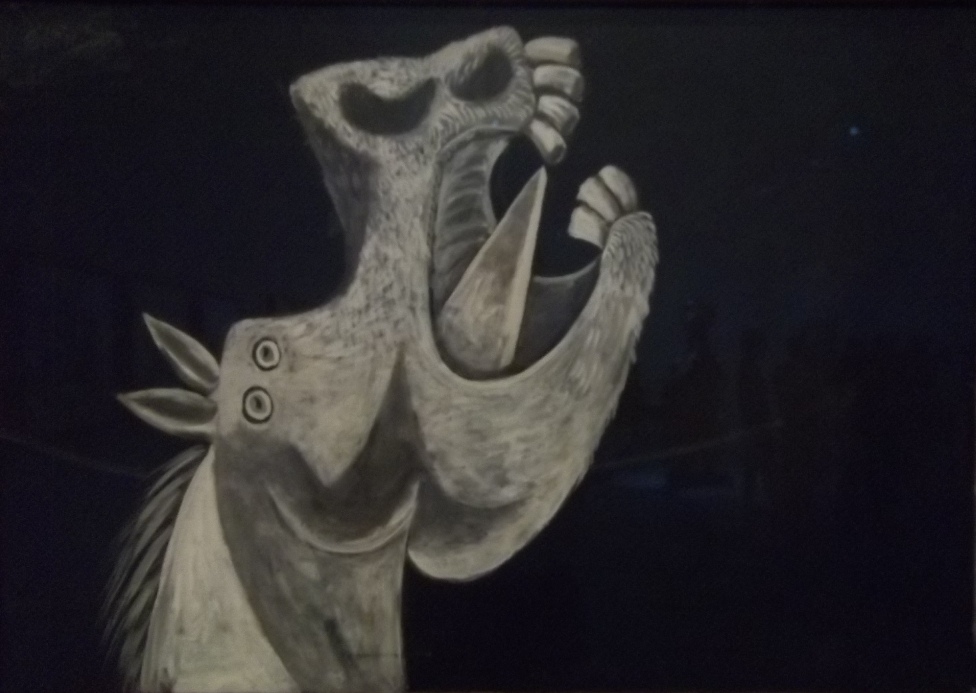 (Illustration out front: Pablo Picasso's 'Agonizing Horse,' found here),