Partly cloudy with an occasional glimpse of sunshine here in California's Central Valley — our version of the first big storm of the season was quick and short with hard rain ending this morning.  Although we didn't seem to catch the blunt impact of the system, we did see some heavy wet stuff earlier, and the West Coast tempest 'atmospheric river/bomb cyclone' was one for the record books:
As the storm system pushed on land, its barometric pressure dropped to 945.2 millibars, making it the strongest storm ever recorded to hit the West Coast of the United States. Hurricane-force winds were recorded in multiple locations in the state, downing trees and leaving tens of thousands of people without power.
With 4.02 inches of rain, San Francisco set a record for the most rain on an October day in the city's recorded history.
Sacramento received 5.44 inches, an all-time single-day record that came on the heels of another notable milestone: 212 days with no measurable precipitation.
Yet this shit is all part of the script for the damaging climate change era — warmer air, more water in the air, many, many studies/research later and we have reality:
Several recent studies have modeled how atmospheric rivers will change in the coming decades. The mechanism is simple: Greenhouse gases trap heat in the atmosphere, warming the planet. This causes more water to evaporate from oceans and lakes, and increased moisture in the air makes storm systems grow stronger.

Like hurricanes, atmospheric rivers are projected to grow longer, wider, and wetter in a warming climate. Our finding that damages increase exponentially with intensity suggests that even modest increases in atmospheric river intensity could lead to significantly larger economic impacts.
And the whacks will only get worse as climate change gets worse. Despite what we can see and feel near-nothing is being done to slow down this horrible onslaught of great environmental upheaval, in fact,  it appears the situation is going from bad to worse — a turnaround might be impossible short of an immediate full stop:
Greenhouse gas levels are at new records. Again
Concentration of CO2 in 2020 was 149% of pre-industrial times
Economic slowdown from COVID-19 had no real impact
We are set for a ?? increase much higher than #ParisAgreement target of 1.5°C-2°C.https://t.co/LQ5sVilzcE#COP26 pic.twitter.com/S0NHxa5jg9

— World Meteorological Organization (@WMO) October 25, 2021
Details/background at the Guardian late this afternoon:
The concentration of carbon dioxide, the most important greenhouse gas, is now 50-percent higher than before the Industrial Revolution sparked the mass burning of fossil fuels.
Methane levels have more than doubled since 1750.
All key greenhouse gases (GHG) rose faster in 2020 than the average for the previous decade and this trend has continued in 2021, the WMO report found.

The data shows the climate crisis continues to worsen and send a "stark" message to the nations meeting at the Cop26 climate summit in Glasgow in a week's time, according to WMO chief Prof Petteri Taalas: "We are way off track."

The negotiators at the summit must deliver action to keep alive the goal of ending GHG emissions by 2050 and avoiding the worst climate impacts.
Only stopping emissions will stabilise the levels of the gases and halt the temperature rises that drive the increasing damage from heatwaves, floods and droughts.

"At the current rate of increase in GHG concentrations, we will see a temperature increase by the end of this century far in excess of the Paris Agreement targets of 1.5C to 2C," said Taalas.
"[Rising levels of GHGs] have major negative repercussions for our daily lives and wellbeing, and for the future of our children and grandchildren."

"It is hoped Cop26 will see a dramatic increase in commitments," he said.
"We need to transform our commitment into action that will have an impact on GHGs. We need to revisit our industrial, energy and transport systems and whole way of life — the needed changes are economically affordable and technically possible. There is no time to lose."

The burning of coal, oil and gas is the biggest source of CO2, which is the cause of 66-percent of global heating.
CO2 emissions fell by about 5-percent in 2020 due to Covid restrictions, compared to 2019.
But many billions of tonnes of CO2 were still pumped into the atmosphere, meaning the Covid economic slowdown "did not have any discernible impact on the atmospheric levels of GHG and their growth rates", the WMO said.
…
Levels of atmospheric GHGs are higher than ever experienced by the human race, and the highest for 3-5 million years. At that time, global temperature was 2-3C hotter and sea level was 10-20 meters higher than today, said Talaas: "But there weren't 7.8 billion people then."

"The true success, or failure, of Cop26 will be written in our skies in the form of greenhouse gas concentrations. This WMO report provides a brutally frank assessment of what's been written there to date. So far, it's an epic fail," said Prof Dave Reay, at the University of Edinburgh.
"The small window of opportunity to stabilise greenhouse gas concentrations at a level that meets the Paris climate goals is about to vanish," he said.
"Will this 26th Cop find success where the previous 25 have fallen short? Our atmosphere will bear witness."
And this graphic observation: '"Greenhouse gas measurements are like skidding into a car crash. The disaster gets closer and closer but you can't stop it," Euan Nisbet, from the Greenhouse Gas Group at Royal University, told the Science Media Center.'
This upcoming Sunday, the 26th UN Climate Change Conference (COP26) starts in Glasgow, Scotland, and the situation sucks even within the dire circumstances bubbling off our planet's fragile health and the meeting might be just another brick pulled from the wall. The main problem is certain parties just don't give a shit — first whole countries, like China announcing plans to build more coal-fueled power plants, to a single American asshole, Joe Manchin.
Via The New York Times, also this afternoon:
Mr. Manchin, a centrist Democrat from one of the country's top coal- and gas-producing states, wants to remove or modify a provision that would impose a fee on emissions of methane, a powerful planet-warming pollutant that leaks from oil and gas wells. He has already effectively succeeded in stripping the bill of its most powerful climate change provision, a program that would have rapidly shut down coal and gas-fired power plants and replaced them with wind and solar power.
Manchin is a pure-as-the-driven-snow piece of shit.
Climate change is caused by humans, from the top-of-the-line disasters like coal-fueled power plants to seemingly insignificant items we take for granted or even hear every day. And it's become so routine you don't even think about it anymore, but tune it out –lawn care:
A billion times this. https://t.co/mcuTZ1xEsG

— Molly Jong-Fast (@MollyJongFast) October 25, 2021
The fricking leaf blower:
The two-stroke engine found in most consumer gas-powered leaf blowers is an outmoded technology. Unlike larger, heavier engines, a two-stroke engine combines oil and gas in a single chamber, which gives the machine more power while remaining light enough to carry.
That design also means that it is very loud, and that as much as a third of the fuel is spewed into the air as unburned aerosol.

How loud?
"Some produce more than 100 decibels of low-frequency, wall-penetrating sound — or as much noise as a plane taking off — at levels that can cause tinnitus and hearing loss with long exposure," Monica Cardoza wrote for Audubon Magazine this year.

In his Oct. 2 newsletter, the writer James Fallows summarized the emissions problem this way: "Using a two-stroke engine is like heating your house with an open pit fire in the living room — and chopping down your trees to keep it going, and trying to whoosh away the fetid black smoke before your children are poisoned by it."
Finally today,  the real sad, shitty horror of climate change is climatologists have been screaming-out warnings for decades (for instance, James E. Hansen of NASA testified before the US Congress in June 1988 on the then-coming calamity, which no one heeded and the time is now here), producing sharper and shaper signals as the years progressed until they're bellowing out right now — do something!
And even worse, some people knew 50 years ago and did nothing — from DeSmog last week:
French oil giant Total knew that its fossil fuel extraction could contribute to global warming as early as 1971 but stayed silent about it until 1988, according to a new study.

Research published today in the journal Global Environmental Change, based on internal company documents and interviews with former staff, found that personnel "received warnings of the potential for catastrophic global warming from its products by 1971."
…
The research – which has sparked the hashtag #Totalknew on social media – follows similar revelations about ExxonMobil and Shell in recent years which exposed how companies were aware of the impact of their emissions on the climate as early as the 1980s.

Today's study also finds that ExxonMobil "coordinated an international campaign to dispute climate science and weaken international climate policy, beginning in the 1980s" through the International Petroleum Industry Environmental Conservation Association (IPIECA).

"These revelations provide proof that TotalEnergies and the other oil and gas majors have stolen the precious time of a generation to stem the climate crisis", climate justice campaign groups 350.org and Notre Affaire à Tous said in a joint statement.

They added: "The dire consequences of climate change we are now experiencing could have been avoided if Total executives fifty years ago had decided that the future of the planet is more important than their profits."
What will happen now? Off my weather/rain-related songfest from yesterday, but somehow left off the list, but fits here today:
Yet once again, here we are…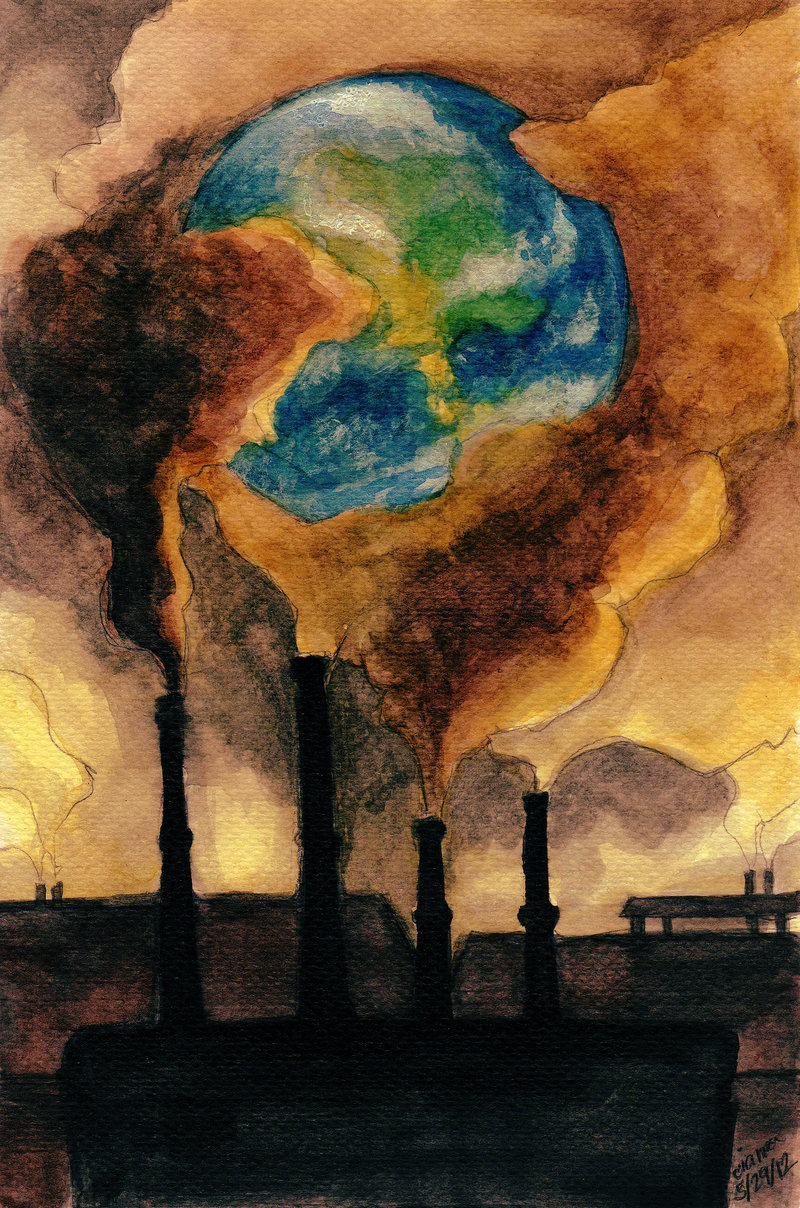 (Illustration out front found here).