(Illustration: 'Increasing Forest Fire Activity,' (watercolor and colored pencil, 2015), by Jill Pelto, and found here).
On the eve of the UN climate conference in Glasgow, Scotland, our environment is reeling from one catastrophe to another with recent studies painting an ominous, dire future picture of our one-and-only planet. In the look-alike squabbling taking place all over, the outlook-results for the gathering are not real optimistic, so the tension at the 12-say summit is reported on the high side.
Thus in an age of almost no cooperation between anybody, one country can't stop climate change on its own — it will take all nations working together to stop the bad shit from happening, especially the rich-ass counties. We're in a bind.
One main fact: Climate change is already here, and it's not some on-down-the-line bullshit: '"That we are now so perilously close to the edge for a number of countries is perhaps the tragedy of our times," said Mia Mottley, the prime minister of Barbados, in an interview.'
This will be the UN's 26th annual 'Conference of the Parties,' (thus, this session is titled COP26), and comes on the heels of a G20 meeting, a group of countries that reportedly account for 80-percent of CO2 emissions — they/we need to heed and shift the weight.
Highly unlikely.
Once again, a fork in the road of a last-chance stand in a do-or-die moment — we've had a number of these points in recent history, and will this time be different?
However, the unfolding scenario not so good:
#COP26, which begins on Sunday, "can be a turning point towards a safer, greener world" – UN Chief @antonioguterres at #G20.

But: "On all our climate goals, we have miles to go. We must pick up the pace." https://t.co/9c9anQA8mZ

— UN Climate Change (@UNFCCC) October 30, 2021
Warnings and flashing lights (DW):
"The time has passed for diplomatic niceties," said UN Secretary-General Antonio Guterres in a tweet ahead of a meeting of the G20 group of big economies at the weekend.

"If all governments — especially G20 governments — do not stand up and lead efforts against the climate crisis, we are headed for terrible human suffering."
Major problem is none of the participants have kept up the Paris accord guidelines, mostly making speeches without taking action. As climate activist Greta Thunberg remarked last month on leaders' failed promises, "Blah, blah, blah."
Of course, that situation wasn't helped by four years of the T-Rump, who make a mess of any climate-change action, or worse. Right now, we're 1.1 C hotter than before the Industrial Revolution, with that horrible heat wave that scorched Northwest America this past summer was made 150 times more likely and 2 C hotter because of climate change, and it's only going to get worse.
Yet as we see — what do these people think will happen? Another code-red-like climate warning — via the Guardian this afternoon:
The 1.5C temperature limit to be discussed by world leaders at critical meetings this weekend is a vital physical threshold for the planet's climate, and not an arbitrary political construct that can be haggled over, leading climate scientists have warned.

World leaders are meeting in Rome and Glasgow over the next four days to thrash out a common approach aimed at holding global temperature rises to 1.5C above pre-industrial levels, the lower of two limits set out in the 2015 Paris climate agreement.

But some countries are unwilling to peg their emissions plans to the tougher goal, as it would require more urgent efforts. They prefer to consider long-term goals such as net zero by 2050.

Johan Rockström, the director of the Potsdam Institute for Climate Impact Research and one of the world's foremost climate scientists, warned that the 1.5C target was not like other political negotiations, which can be haggled over or compromised on.

"A rise of 1.5C is not an arbitrary number, it is not a political number. It is a planetary boundary," he told the Guardian in an interview. "Every fraction of a degree more is dangerous.
…
"This is real science – it is a real number. Now we can say that with a high degree of confidence," he said, as 1.5C indicated a physical limit to the warming the planet can safely absorb.

Rockström added: "[Staying within] 1.5C is achievable. It is absolutely what we should be going for."

The leaders of the G20 group of the world's biggest economies – developed and developing – are meeting on Saturday in Rome. They will fly to Glasgow for Monday morning, where they will be joined by more than 100 leaders from the rest of the world for the UN Cop26 climate summit.
And then…what?
Maybe they don't understand what's at stake:
Seems not great https://t.co/dnqMG1pACq pic.twitter.com/Us7qRco79f

— Molly Jong-Fast (@MollyJongFast) October 30, 2021
Some bad vibes via BuzzFeed News this morning — go read the whole piece, it's a deep dive. Some snips:
All of this, as climate scientist Daniel Swain of the University of California, Los Angeles put it, would be bad: "Bad for humans. Bad for ecosystems. Bad for the stability of the Earth systems that we humans depend on for everything."

Experts can't say exactly how likely this future is because that depends on what humankind does to mitigate the worsening climate crisis, especially over the coming decade. But for world leaders gathering this weekend in Glasgow for the 26th United Nations Climate Change Conference (COP26), this future may well become an inevitability if they don't agree to more aggressive and immediate measures to limit greenhouse gas emissions.

The collective global goal under the Paris climate agreement is to prevent rising global temperatures from increasing no more than 2 degrees Celsius (3.6 Fahrenheit), with no more than 1.5 degrees (2.7 Fahrenheit) as ideal.
But currently, we're on track for almost double that — a potentially catastrophic 3 degrees.

"I fear that without science-based policy, and that most ambitious target being achieved, we will be facing a 3 degree C world by later this century," Kim Cobb, a climate scientist at Georgia Tech and one of the authors on the latest Intergovernmental Panel on Climate Change (IPCC) report, told BuzzFeed News.
"It's almost unimaginable, frankly."
…
"What I think about is: What would the shocking event be in a 3-degree-warmer world?" Swain said.

It's impossible to know the answer exactly. But the general contours of what it could look like are already clear: even more common and intense extreme heat events and similarly more frequent and intense downpours, even in places that are expected to get drier in such a world.
This is true for almost anywhere on the planet.

"There are very few places on Earth that are not going to see an increase in the maximum precipitation intensity," Swain said, later adding: There are "very likely zero places that are not going to experience an increase in the most extreme hot days."
And so forth and so on — a terrible future. If there is one:
Once again, here we are…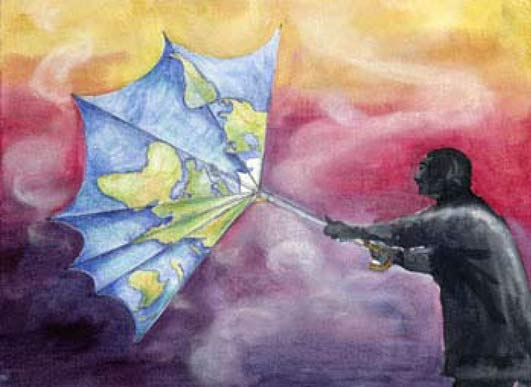 (Illustration out front from the UN's International Children's Painting Competition, and found here).