Hey to the way-few readers of Compatible Creatures — I'll most-likely not be posting for a while. My children will be in town this week — we've got an Airbnb not too far away and it looks to be a fun time.
A lot of shit will happen — or not — before I post again, but it would anyway.
Take a good-family break yourself, and see you on the other side:
Once again, here we are…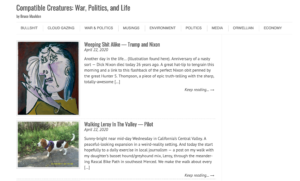 (Illustration out front: Just a pix of the site from earlier this year — big deal).